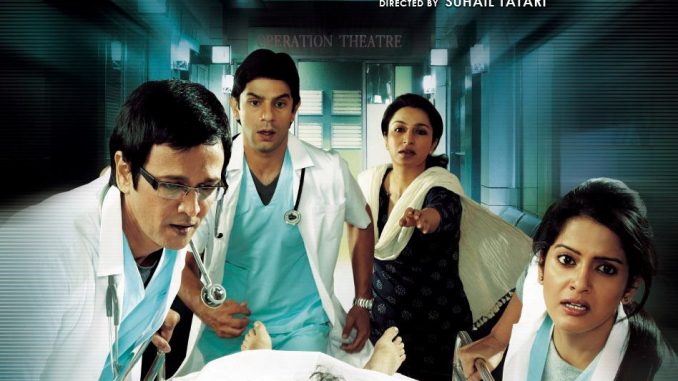 Movie Review:
Ankur Arora Murder Case
Cast: Kay Kay Menon, Paoli Dam, Tisca Chopra, Vishaka Singh, Arjun Mathur
Directed by: Suhail Tatari
Review by: Faisal Saif
Ratings: * * 1/2
There are films which are either commercial or intelligent cinema. But there is also one more cinema which could be easily termed as "Important Cinema". Films which might fall into this "Important Cinema" criteria could be those films which entertains you and educates you as well. Aamir Khan's Taare Zameen Par or Lagaan could be the best example here.
Going by Ankur Arora Murder Case's plot and trailer, You definitely get a feeling that this one is an important film. But what kills this (Could be a Fantastic Experience) film is it's long dragging first half and half baked and rushed second half. The film leaves you confused and paranoid just like it's Posters.
If the plot can be told in a very simple manner, It is about Dr. Asthana (Not from Munnabhai MBBS) (Kay Kay Menon) the Chief of Surgery of the Shekhawat General Hospital and an eight year old boy Ankur dies due to his medical negligence. A good surgeon is not necessarily a good person. We don't say this, This film does.
Ankur's mother Nandita (Tisca Chopra) along with another surgeon Romesh (Arjun Mathur) sets out on a devastating journey to fight for what is right. No nonsense lawyer Kajori Sen (Paoli Dam) takes on this system and the fight begins.
As far as the performance is concerned, Kay Kay Menon is good and impressive. However you get a feeling of him being repetitive. Tisca Chopra plays the mother again. Her performance has nothing new to offer. Vishaka Singh can be seen mostly crying in the film, But gave a good performance. In fact, She made herself registered in front of such a talented star cast. Arjun Mathur is powerful and promising. But the surprise packet of the film is Paoli Dam. She totally steals the entire show with her power-packed performance. If you have seen her playing the victim in Hate Story, Here you will see her in a totally new avatar of a Lawyer who stands out as a Hero.
Director Suhail Tatari who directed the forgettable Summer Of 2007, Picks up a story which is hard hitting and important at the same time. He has also successfully executed some fine performances by the players. But the film looks too lengthy especially in the first half. By the time the second half proceeds, You know the happenings. On the writing side, Too much of Medical Terms have been used in the dialogue part. Which can be understood only by Doctors. I have my own doubts if a common cine goer will relate to those medical terms.
Musically, The songs in the movie looks out dated and forced in the screenplay. Camera work and production value of the movie is good because it comes from the banner of Vikram Bhatt. The Editing is not up to the mark.
Ankur Arora Murder Case could have been an amazing film. Sadly it ends up as a long and dragging routine fare which have been seen and witnessed many times. The film is watchable only for the performances of the actors, Especially Paoli Dam and to an extent Kay Kay Menon.