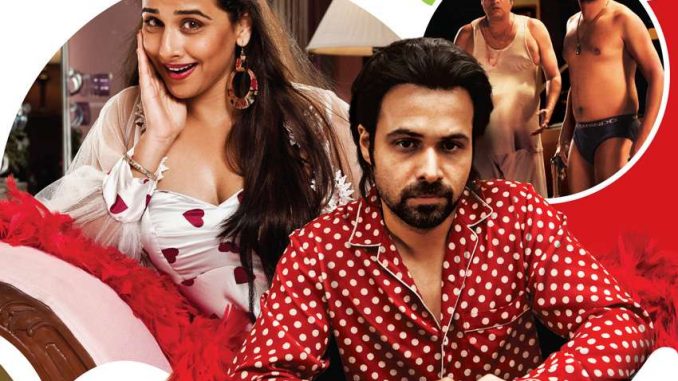 Movie Review
Ghanchakkar
Cast: Emraan Hashmi, Vidya Balan, Rajesh Mishra, Namit Das
Directed by: Rajkumar Gupta
Review by: Faisal Saif
Ratings: * * *
Ghanchakkar is directed by Rajkumar Gupta who made films such as Aamir and No One Killed Jessica earlier. These two films made critics stood up and take notice at the Film maker. This time the director makes a crazy comedy about a Heist that successfully goes wrong after the person who has money looses his memory.
Sanjay Athray (Emraan Hashmi) wants to take a retirement from his criminal life but plans a one last perfect bank robbery with his partner in crime friends (Rajesh Mishra and Namit Das). The Heist goes absolutely perfect but when Sanjay looses his memory, All hell break loose. Why? Because it is Sanjay who knows where he has kept the money, But he now doesn't remember.
Sanjay's friends decides to stay with him till the time he get's recovered. But there is another hitch. They will also have to face Sanjay's quirky and insane wife Neetu (Vidya Balan).
Emraan Hashmi as Sanjay is simply outstanding. He is one such actor who can even perform on any empty frame with no dialogues at all. But it is Vidya Balan actually who steals the show with her perfect comic timing and typical Delhi-Punjabi accent. Rajesh Mishra and Namit Das who plays Emraan's partner-in-crime friends are fabulous. Please note them both in the scene when the doctor declares Sanjay has lost his memory and it may take longer to recover.
Like i stated earlier, Rajkumar Gupta has chosen a different script this time. The film might looked hilarious and fast on paper, But sadly on the screen the film drags at many points. It also looked that the writers ran out of comical punch-lines at few places. What could have been a rib-ticking scene, Turns out to be a just another normal scene. There are some good twist and turn in the film. The camera work and production value are very good. Music wise, The title track is good. Rest of the music will not be remembered much according to me. The editing of the film is on the lower note.
Since there are no other films this week, Ghanchakkar can be touted as a good and funny Time Pass. The film is good, But not the amazing one.