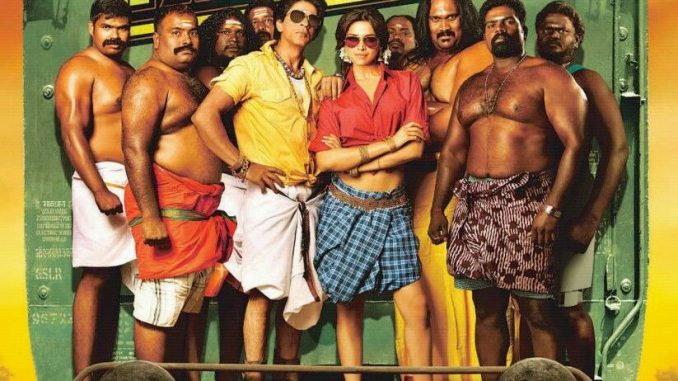 Movie Review

Chennai Express
Cast: Shahrukh Khan, Deepika Padukone, Sathyaraj, Nikitin Dheer, Kamini Kaushal, Mukesh Tiwari
Directed by: Rohit Shetty
Review by: Faisal Saif
Ratings: * * * 1/2
And the wait is finally over for all the SRK and Chennai Express fans who were waiting for the movie to hit cinemas. Chennai Express has been the most awaited film for various reasons. A special reason which embarked few days back was King Khan's "Friendship-Hug" to fellow superstar Salman Khan in a function. So not only SRK fans watches Chennai Express, But the film will (Definitely) have Salman Khan fans watching it too.
The film's story has been told many times earlier. Rahul (Shahrukh Khan) is a 40 year old man who goes on a journey to a town in Tamil Nadu to fulfill the last wish of his grandfather (Lekh Tandon) to have his ashes immersed in Rameshwaram. On his way, He stumbles upon a South Indian girl Meenamma a.k.a Meena (Deepika Padukone), who wants to flee from the clutches of her father (Sathyaraj) who wants her to get married to a person she doesn't love Thangaballi(Nikitin Dheer).
Meena is being escorted back home by four beefy cousins after a failed attempt to flee her village. Rahul is caught in the game that the girl decides to play with her dad (Which might be next-to-impossible).
As i informed earlier, The film's story has been told several times by various Film makers. What makes the movie special here is the finest execution by Rohit Shetty who is the "King" of Masala Pot Boilers.
Shahrukh Khan as Rahul is just amazing. Once again, The King Khan goes on to prove that he is just unbeatable. Especially when he opens up his stretch-arms (The SRK Trade Mark). So in that case, Welcome back to the world of "Badshah". Deepika Padukone is the finest actress of the country and we cannot deny this fact, But with Chennai Express character, She will steal your heart and make you fall in love with her again and again. Sathyaraj in his first Hindi Film is just awesome. Back home in South, Sathyaraj is considered a Legend. Nikitin Dheer, Mukesh Tiwari and others land in with a good support.
Yes, This is an out an out Rohit Shetty masala entertainer with his own Trade Mark. The flying bodies and cars that the director has a penchant for, Rohit Shetty is undisputed. People may also say that this is Dilwale Dulhaniya Le Jaayenge in a Rohit Shetty style, But i will say this a Romantic Action adventure from the director who just know how to entertain a Common Man. The production value and camera-work is at Top Notch. Music wise, The film's songs are already a chart-buster. Editing is little weak and drags at many part. Especially 2 songs in the second half looked forceful.
My final words for Chennai Express? Board this Train (Blindly) as this is the only entertainer which has arrived after a long time.