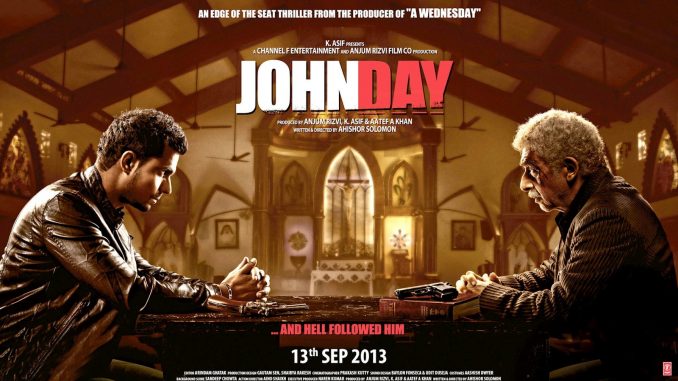 Movie Review
John Day
Cast: Naseeruddin Shah, Randeep Hooda, Elena Kazan, Sharat Saxena, Makrand Deshpande
Directed by: Ahishor Solomon
Review by: Faisal Saif
Ratings: * * *
John Day is a film from the house of Anjum Rizvi. The same producer who gave us 'A Wednesday' (2008). A Wednesday was a political patriotic thriller which received a Standing Ovation from the audience in Cinemas, And John Day is a decent performance oriented thriller here which requires a lot of mind games.
John Day (Naseeruddin Shah) a banker by profession is shattered after the demise of his daughter Maria Day (Shernaz Patel). After a heist at the bank in which he works as the manager, John stumbles upon some important documents that uncover a bitter truth. These documents are very important for Gautam (Randeep Hooda) a cop who works for the mafia and enjoys giving pains to others. The two men set off on a deadly mission which unfolds later in the final showdown.
Naseeruddin Shah is just amazing. The actor has tried to give us something new and unique in each of his films. John Day is an added attraction in the actor's resume which surprisingly has more maverick films. Randeep Hooda is country's finest talent and he goes on to prove this with John Day too. He perfectly fits the character and makes you believe in him. Sharat Saxena, Makrand Deshpande and other actors have performed their part very well.
Ahishor Solomon successfully debuts with this Cat and Mouse thriller and tries his level best to keep you at the edge of your seats. At many parts, Solomon conquers your mind too. The camera work and production values are very good. The background score is perfectly matched with the script's proceeding. The Editing of the film is little weak. There are some unwanted scenes in the second half which could have been easily avoided.
It is said when you watch a Thriller or a Suspense or a Mystery film, A Detective immidiately takes birth in you. And you involve yourself with the on-going's on the screen. John Day is a good thriller churned out by debutant Ahishor Solomon, But is a common cine-goer ready for playing this hugely Mind Games involved racy thriller Chess? I cannot promise this!