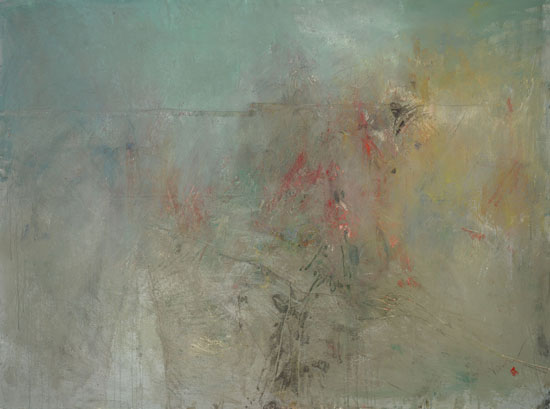 This article was last updated on May 31, 2022
Canada:

Oye! Times readers Get FREE $30 to spend on Amazon, Walmart…
USA:

Oye! Times readers Get FREE $30 to spend on Amazon, Walmart…
Artists Stephanie Visser and Hunt Rettig to be Celebrated May 13th at FP Contemporary
When asked what inspires Stephanie Visser to create her abstract works of art, Visser reveals that her paintings are born from deep intimate moments. Her non-pictorial abstract works
are shadowed by her own perception of life and all that it encompasses. Each work was inspired by different situation. Visser recounts what prompted her to create the above work, entitled Perseus, "Some time ago, I've read that astronomers in England had detected a sound, a single note really, emitted by the black hole in the center of the Perseus galaxy cluster. Immediately, I saw the image of this solitary cosmic denizen calling through all of eternity like some giant space whale. That image has since stuck with me and given visible form to feelings of loss and sadness."
Visser will exhibit work for the first time at FP Contemporary in Culver City. She was introduced to Gallery Director Paul Dahmen by a mutual friend. "I connected to Stephanie's paintings immediately because of their atmospheric and painterly quality. Stephanie is really wonderful." The two soon realized that they were both originally from Michigan.
Visserattended Kendall College of Art and Design in Grand Rapids, MI. She later continued her fine arts education at Western Michigan University and finally Pasadena College of Art and Design. She moved to LA to further pursue her art career and has exhibited her art at TAG Gallery, bG Gallery, Beyond the Lines Gallery at Bergamot Station in Santa Monica, as well as Wallspace Gallery, Santa Monica Art Studios and the 2016 LA Art Show.
Visser approach to her painting continues to evolve. She recently finished a six painting series that has taken about three years to complete. "All six are monumental pieces approximately eight feet high by five feet wide," said Visser. "All are inspired by an anthropological study about human emotion…but at this point having finished them I have come to understand they are really about how similar we all are despite being from different places."
Visser said, she is very excited to be showing at FP Contemporary. 'It's a well-established gallery with a thirty-seven-year history here in Los Angeles so when the invitation came, I jumped at the opportunity."http://stephanievisser.com/
The art of Hunt Rettig will also be celebrated. His three-dimensional assemblages create the illusion of 2D digital images. process. He cited his 'process' as his means of constant discovery. "I mold, shape and embed polyester on an acrylic substrate and then overlay this with a proprietary "coat" developed through years of experimentation with paint, film and negative surfaces. The three dimensional configurations that emerge invariably evoke the recognizable – sometimes subtle, sometimes complex – and offer an inviting bridge to our natural world."
The opening Reception takes place on Saturday May 13th, 2017 from 6-8pm. FP Contemporary is located at 5835 Washington Blvd. Culver City, CA 90232. The exhibition will remain on view through June 17th, 2017. Phone: 323.935.1355; Gallery hours are Tuesday – Saturday 11am – 6pm. http://fpcontemporary.com/
You can publish this article on your website as long as you provide a link back to this page.