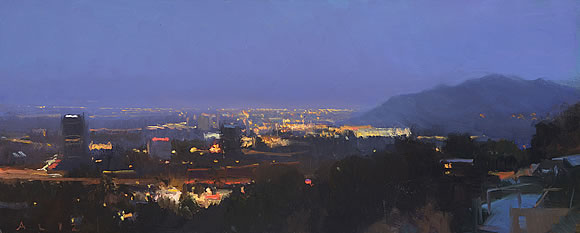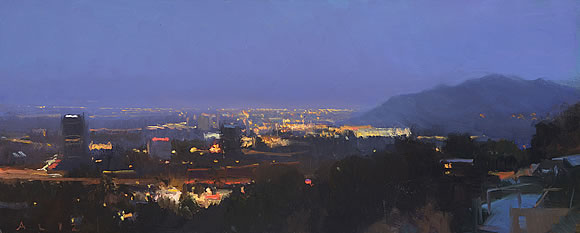 Ann Lofquist, celebrates her first one-person exhibition in Los Angeles this Saturday, June 9th at Skidmore Contemporary (D-2) at Bergamot Station
Lofquist's landscapes resonate with a strong sense of place. Her intimate views capture transitory moments such as twilight, dusk, and dawn. Like her predecessors in the French Barbizon School and the 19th-centruy American painter, George Inness, Lofquist shares in the search for meaning through an intimate and nuanced portrayal of nature's changing light and mood. By continually revisiting the same sites she shows the transcendence of nature and its inherent spirituality, and the importance of maintaining harmony between the natural and manmade worlds.
After living in New England for twenty years, Ann Lofquist relocated to California in 2008. Her realistic style and fascination with singular objects—a tree, ridge, or structures at sunset—imbue her California landscapes with an atmospheric serenity and warmth. Lofquist explains "A painting begins with a search for a subject which moves me—one which usually involves driving many miles along backcountry roads seeking the right combination of terrain and atmosphere."
Despite their calm and objective presence, Lofquist's paintings are imbued with a sense of the sublime that is as much a function of her artistic imagination and memory as it is of external reality. She paints directly from the subject on small wooden panels in short, single sessions, then returns to her studio and uses these small sketches as source material for large studio paintings that take months to complete and often deviate from the original scene considerably.
Ann Lofquist received her master of fine arts degree from Indiana University in 1990. The recipient of several fellowships and awards, she is represented in New York by the prestigious Spanierman Gallery. Skidmore Contemporary Art is proud to present her first one-person show in Los Angeles.
Be sure to stop by Skidmore Contemporary Gallery (D-2) this Saturday, June 9th at Bergamot Station 2525 Michigan Ave., in Santa Monica. http://skidmorecontemporaryart.com/