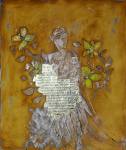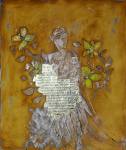 Love, a painting by Faiza Shaikh in subdued gold, has a verse from the Bhagavad Gita that says: "In order to achieve a permanent, blissful abode for eternal happiness it is essential to be in Krishna consciousness, engaged in the transcendental loving service of the Lord".
Another titled "Contentment" also quotes the Gita: "The liberated living entities belong to that place where there are no material miseries".
Shaikh's maiden show in India that opened at Studio Napean on Thursday features 22 or more works — depending on whether the Customs department clears them in time — each a reflection on the religious and philosophical thoughts that have influenced the artist.
Shaikh's exhibition in December 2008 was cancelled in the wake of the terror attacks in Mumbai. Nandini Singh, owner of Studio Napean notes, "There is a dreamlike quality about Faiza's work. She plays around with the texture of her canvas."
Designer Nandita Mehtani who saw Shaikh's work in London last year says that she would buy her work because it is peaceful and serene and something "I would love to look at it day after day".
Another admirer of Shaikh's works, Vanita Bhandari, director, DBS office business centers, says, "The use of colours is very striking and the texts scripted on gold leaf in different languages and from cultures around the world give you a positive feeling. They are uplifting and thought provoking."
As for herself, the artist quotes Urdu poet Ghalib's verse that says "I look at this world as an onlooker, detached and see and enjoy the going on, the tamasha as it unfolds" and adds, "My outlook on life is completely optimistic".