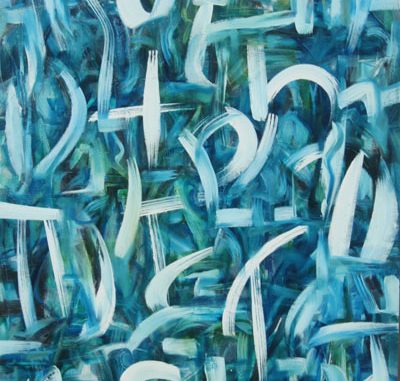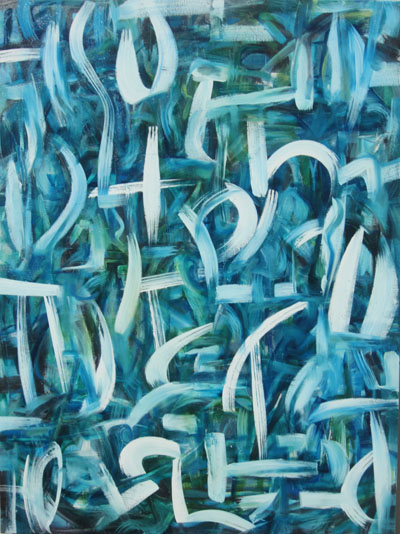 Artist Michael Temple is perhaps best known as Mike Tempo, the creator and percussionist of the popular band the Bonedaddys.
Mike started painting when he was just a child. His father loved to paint-usually images from photographs in oil on canvas board. Family and Navy and National Geographic pictures supplied him with all the subject matter he needed. Mike explains, "The earliest drawings I've seen by him were drawn aboard a sub in WWII…combat tours that produced chalk images of my Mother, Pin-Up Girls and drawn-from-life claustrophobic submarine interiors. It is "Sunday Painting" indeed, but it showed me something about the nobility of artistic accomplishment, however humble it may be. I like painters because they paint."
Having graduated from the Kansas City Art Institute with a BFA in Painting and Printmaking in 1972. Michael's work has been a part of many exhibitions in cities such as Kansas City, New Orleans, and Los Angeles.
After moving to Los Angeles in 1977, music started to bring in more money.Temple has performed with the worldbeat band The Bonedaddys since 1984. Though music has always been a part of his creative life and will continue to be so, Temple's art is now his main focus.
Michael will share the exhibition with his longtime friend and artist/musician Moris Tepper. Mike talks about his longtime friend Moris, "He's a great painter and a famous working musician who, in addition to many albums and tours of his own-was with Captain Beefheart for many years (a true rock and roll claim to fame) and often collaborates with P.J. Harvey.
The opening reception takes place on Saturday, October 6th from 7:00 p.m. until 11:30 p.m. at Trunk Gallery, located at 12818 Venice Blvd, 90066. The show will feature new works, by both artists such as paintings, prints sculpture and more. Refreshments will be served. Cairo Cowboy, a Mobile Mediterranean Mom and Pop Cuisine food truck will also be part of the event. Stop into their new Restaurant at 46 Windward Ave in Venice Beach. www.CairoCowboy.com
For more information about the gallery, see http://trunkgallery.org/. For more information about the artists see http://miketempleart.com/; http://www.candlebone.com/;