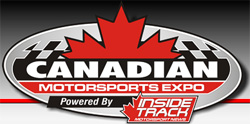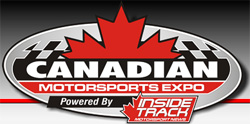 2012 Canadian Motorsports Expo
Top Fuel Dragsters, NASCAR Stock Cars, drift machines, and even the new 2012 IndyCar are amongst the displays at this year's premier gathering place for Canadian racing enthusiasts. The Canadian Motorsports Expo takes place at the Toronto International Centre in Mississauga, Ontario and runs from February 10th – 12th. Currently in its 6th year, the 2012 CME is bigger, badder, and better looking than ever.
Highlights
The all-new 2012 IndyCar chassis is being shown at this year's CME for the first time in Canada. Presented by Honda Indy Toronto, this new vehicle design will be the staple for IndyCar going in to the future. Read about the new IndyCar chassis here.



Canadian Tire presents a massive 5,000 sq. ft. display this year which includes the #22 Canadian Tire / Motomaster Dodge of two-time and current NASCAR Canadian Tire Series champion Scott Steckly, as well as the #88 Canadian Tire NASCAR Nationwide Series show car of legendary Canadian racer Ron Fellows.

Over the weekend Canadian Tire is also offering race fans an opportunity to take part in a pit stop challenge where they'll get to execute a timed tire change on a stock car.

Live life a quarter-mile at a time? Then you'll not want to miss three spectacular drag cars being shown off at the show by the folks at DragRaceCanada.com



Dale Earnhardt Jr.'s #88 Diet Mountain Dew / National Guard Chevrolet Impala, as well as Jeff Gordon's #24 Drive to End Hunger Chevrolet Impala NASCAR Sprint Cup show car, will come straight from Hendrick Motorsports' shop in North Carolina and be displayed at the show.
Look for star NASCAR driver at the CME on Saturday signing autographs followed by fan favourite Canadian IndyCar driver James Hinchcliffe on Sunday.
This year's CME also features a variety of grassroots road racers and manufacturers of specialty aftermarket kit for those aspiring road racers.
Fans of drifting will be in for a treat this year at the CME, with a number of drift cars on display at the show including a classic Toyota AE86 we spotted hiding out on the sidelines.

Check out Canadian Motorsports Expo for more information about this year's show.
Photographs by Kanishka Sonnadara.
Contact Kanishka Sonnadara by email at kanishka@oyetimes.com or on Twitter @autoKsS.