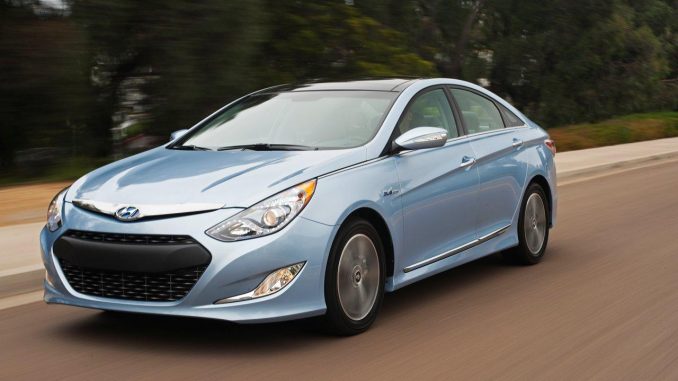 This article was last updated on April 16, 2022
Canada:

Oye! Times readers Get FREE $30 to spend on Amazon, Walmart…
USA:

Oye! Times readers Get FREE $30 to spend on Amazon, Walmart…

Hyundai, if you haven't noticed, has been on a roll lately. Almost a month doesn't go by where Hyundai doesn't win a trophy: Not on racing tracks but for first place finishes in surveys of consumer satisfaction, safety, design and quality. And what survey after survey is proving is that Hyundai builds cars that people love. In the latest example, US research firm AutoPacific announced last month that the Hyundai Sonata Hybrid was the top-rated Hybrid/EV in its Vehicle Satisfaction Survey. In clinching the coveted number one spot, the Sonata had surpassed numerous big-name rivals such as the Toyota Camry and even the Lexus CT. This news was hardly a surprise to Hyundai owners. This latest crown, like dozens before it, only confirmed what millions of Hyundai owners worldwide already knew: Hyundai builds amazing cars.
Eye-catching design is key ingredient of Hyundai's formula for success. Sonata's "fluidic design" commands instant attention. It's a bold, unique and sophisticated look that defines Hyundai's new brand values: modern premium.
But there's more to the Sonata story than a sleek and sexy exterior. Ask any German or Japanese automotive engineer, and they'll tell you that Hyundais are impressively well-engineered. So well, in fact, that rival automakers can't wait to get their hands on the newest Hyundai model in order to tear them apart and figure out Hyundai's engineering and manufacturing secrets.
The Hyundai Sonata, for example, has been awarded with the NHTSA's five-star Crash Rating. As a U.S. federal agency, the National Highway Traffic Safety Administration conducts highly comprehensive collision testing of all vehicles sold in the United States and the results are recognized globally, including Canada. The Insurance Institute for Highway Safety (IIHS), a highly respected industry body, gave the Sonata its Top Safety Pick, a reassuring message for families who put safety at the top of their shopping list.
Not only is the Sonata safe but it is surprisingly fuel efficient for a car in its class. In a pioneering step, Hyundai dropped V-6 engines from the latest generation of Sonatas in favor of an all four-cylinder engine line-up. To achieve best-in-class fuel efficiency, the Sonata utilizes Gasoline Direct Injection (GDI) technology in the base 2.4-litre engine to produce 198-horsepower while consuming just 5.6 L/100km on the highway. The turbocharged 2.0T engine delivers 274-horsepower by utilizing GDI and twin-scroll turbocharging to give the Sonata the performance of a V6, but the fuel efficiency of a four-cylinder. For the ultimate in fuel-saving technology, consider the 206-horsepower Sonata Hybrid which consumes just 4.6 L/100 km on the highway due, in part, to its cutting-edge Lithium Polymer batteries, efficient 6-speed automatic transmission and aerodynamic design.
Another accolade for Hyundai came earlier this year when Natural Resources Canada announced the Government of Canada's 2012 ecoENERGY for Vehicles Awards and recognized the Hyundai Sonata as the most fuel efficient full-size car. "I'd like to say this came as a surprise, but we knew the Sonata was a winner," said Steve Kelleher, President and CEO of Hyundai Auto Canada Corp. "The ecoENERGY awards program is an excellent way to help consumers pick the most fuel-efficient vehicles available in Canada. For the full-size segment, that means it's the Sonata."
Despite its sporty, coupe-like lines, the Sonata cabin is impressively roomy making it a popular and practical choice among young families. And in keeping with Hyundai's engineering philosophy, the Sonata delivers a thoroughly delightful driving experience. Pricing starts at $23,999. for the base GL trim and tops out at $31,399. for the fully equipped Limited edition which includes the built-in GPS navigation feature. This summer, Hyundai's 204 dealers across Canada will be tempting new car buyers with special deals on the Sonata. Visit one of the 204 Hyundai showrooms in Canada to arrange a test-drive of the Sonata to discover for yourself just why Hyundai is winning is so many awards and why owners love their Hyundais so much.
You can publish this article on your website as long as you provide a link back to this page.