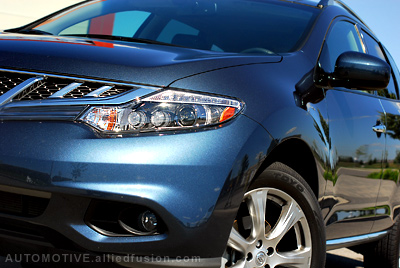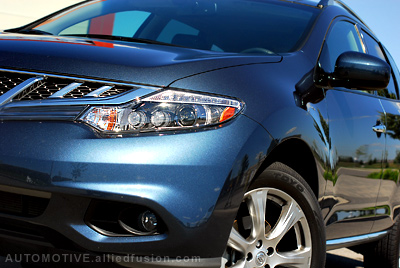 How do you make a mid-size crossover stand out? Easy, do what Nissan does with the Murano.
Opt for the Platinum Edition package like that of our test vehicle, and buyers would be hard pressed to see why anyone would buy a luxury CUV; this well appointed Nissan has even been nicknamed "the everyman Infiniti".
Currently in its second generation, the 2012 Nissan Murano sports a very sleek and contemporary look. Since its introduction in 2003, the Murano has always been a distinctive crossover in its segment. For 2012 that distinctive look gets a little sharper while maintaining strong resemblances to the outgoing model and the rest of the Nissan family.
A passing glimpse of the 2012 Murano on the road, and you'd be able to tell that this is the more grown up and mature of the two Nissan crossovers (the other being the Rogue). 'Mature' really does describe the 2012 Murano LE Platinum edition accurately; it is very much the sophisticated, classy, and capable vehicle you'd expect for its sub-$50k price point.
Normally, I'd say something to the effect of how the base trim Murano can be had for $34k; that even with base trim you can have 18-inch alloy wheels, fog lights and dual zone climate control as standard kit. But despite being well appointed across all trim levels, the must have Murano really is the LE Platinum edition.
Standard on all Murano models is a 3.5L V6. An engine capable of producing 260hp @ 6,000rpm and 240lb-ft of torque @ 4,400rpm the 2012 Murano is no slouch. All this power is sent to either the front-wheels or AWD system — if equipped — through a CVT (Continuously Variable Transmission) setup that Nissan has become known for. Whether drivers are looking for spirited off the line performance or confident highway passing manoeuvres, in typical Nissan fashion, the Murano delivers in spades.

Our biggest gripe with the Murano however, comes in the form of fuel economy. Nissan's official fuel economy figures for the 2012 Murano are 11.7L/100km City and 8.5L/100km Highway. Through 30/70 City/Highway mixed driving I managed an average fuel economy of 10.8L/100km; although it isn't quite the worst fuel economy numbers I've personally managed with a crossover, it is far from the best.
Fuel economy may not be a Murano highlight, but comfort most certainly is. Whether you sit in the driver's seat, or rear passenger seats, the Murano features supportive seatbacks and use of plush seating materials. Our LE Platinum trim test vehicle featured quality leather seats throughout and even rear heated seats. It will be rare to find a passenger in your Murano who finds the rear seats lacking in space; for even at over 6ft, I found there to be ample head room and decent leg room for myself even when front seats were set for someone my size and height.
True to typical Nissan driving characteristics, the 2012 Murano has a suspension set up allowing for a very capable vehicle in the corners. Throw the Murano in to the bends and it manages surprisingly well for a crossover. As a result the vehicle isn't as softly sprung as it could be, resulting in some road vibrations being transferred in to the cabin. Far from being a discomfort, this allows drivers to be a little more aggressive in their driving style as they exploit the smooth power delivery of that afore mentioned V6.

If you're the kind of driver who cares less for spirited driving and more for tech features, then the 2012 Nissan Murano does not disappoint. Our test vehicle featured a 7-inch touch screen navigation system that was easy to read and even easier to use. The system also featured streaming Bluetooth audio — which allows media devices equipped with Bluetooth to directly stream audio through the in car audio system. The audio system itself was impressive in its own right; a Bose setup featuring 11 speakers including 2 subwoofers. The system is capable of carrying crisp sound to almost its maximum volume. A little more overall system power would have been nice, but perhaps that's just my preference.
Higher trim 2012 Murano models also feature a heated steering wheel, power tilt and telescoping steering column, along with seat, steering wheel, and mirror position memory. While fold flat rear seat backs with cargo area accessible releases are standard across all trim levels, power-return rear seat backs are only available on SL and LE models. Combined with the available power lift gate, Murano owners can enjoy hassle free loading and unloading of the cargo area. Nissan also made sure the Murano's cargo area included a standard retractable cargo cover, cargo organizer which folds flat in to the floor when not in use, and eight tie-down hooks/rings. Commendable crossover utility? We happen to think so.

Buyers looking for a crossover featuring strong power delivery, comfortable seating for five, and a bevy of tech toys will find the sculpted sheet metal of the 2012 Nissan Murano an appealing choice. Poor fuel economy and slightly higher than ideal price tag for the premium Murano models make this CUV a little less desirable in our books.
Considering both those prior objections revolve around cost of ownership, the Murano comes across as the ideal vehicle for those who are less restricted by budget. But if that's the case, why not consider Murano's luxury cousin, the Infiniti FX?
Photographs by Kanishka Sonnadara and Nissan Canada
Kanishka Sonnadara is a member of AUTOMOTIVE.alliedfusion.com and can be found on Twitter @autoKsS