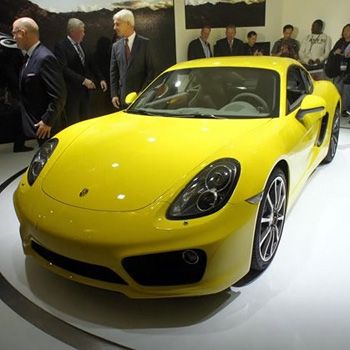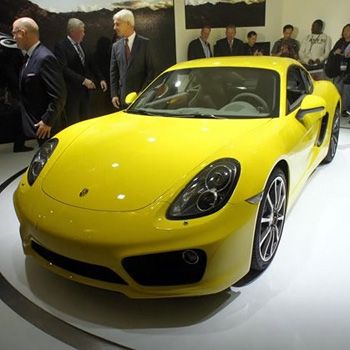 If Porsche were a kingdom in Game of Thrones, the 911 would be a stalwart yet paranoid ruler who keeps a wary eye on the
Cayman
– the younger, charismatic and upstart cousin destined to usurp the throne. Instead of dragging the engine behind the rear wheels, the Cayman puts the powerplant where it should be—at center. But Porsche isn't shifting the balance of power, and the
2013 Porsche Cayman
unveiled at the 2012 Los Angeles Auto Show comes with a bevy of upgrades that while are appreciable come with few surprises. Porsche CEO Matthias Mueller succinctly summed it up as being "lighter, longer, faster and more efficient." And still living under the shadow of the marquee car.
But not being a 911 also has its stylistic perks, because Porsche designers aren't tied down to the same rear-engined shape penned by Ferdinand Porsche in 1948. Thanks to a longer wheelbase, gone is the hunched back C-pillar from the previous generation that abruptly rakes down, and the silhouette draws a smoother, more natural line. Aside from the small, circular daytime running lights, other details bear close resemblance to the droptop Boxter on which it's based. It also raids the 911 parts bin for the front brakes.
At launch, two versions will be offered—the Cayman and Cayman S—both with the option of the snappy PDK automatic transmission or a six-speed manual. The base model is powered by a 2.7-liter, 275 hp engine that moves from 0-60 in 5.1 seconds, and is rated at 22/32 city/highway mileage; the quicker Cayman S gets a 3.4-liter, 325 hp motor touting a 0-60 time of 4.6 seconds and an estimated 21/28 city/hwy mpg.
Although 25 horsepower under the 911 Carrera, the strength of the Cayman has always been its predictable chassis and responsive feel. The latest mid-engine coupe promises even crisper dynamics with torsional rigidity boosted by 40 percent, and weight savings of over 60 pounds in the S. Ironically, that weight loss introduces the one significant drawback to the next-gen coupe: following the Boxter's footsteps, Porsche dropped hydraulic power steering in favor of electric, which usually means a more muted feel when gripping the wheel. Following heritage and tradition, it uses MacPherson struts up front and multi-link suspension for the rear.
Pricing for both trims predictably get slotted above the open-top Boxter, with the base Cayman starting at $52,600 and the Cayman S starting at $63,800. While the 911 still reigns supreme, an edgier Cayman R is undoubtedly on the horizon, ready to watch the throne. – MensMag
Click HERE to read more from Fashion Central.