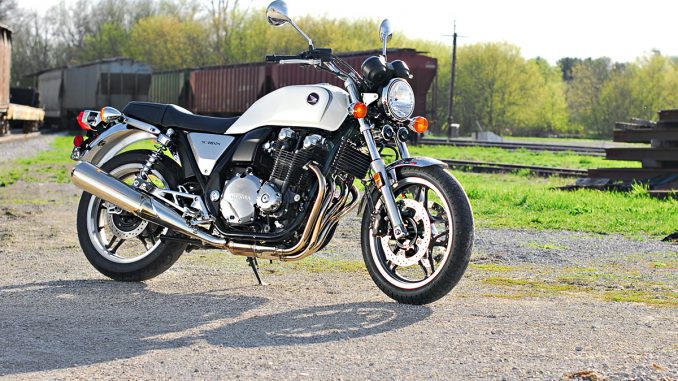 You can publish this article on your website as long as you provide a link back to this page.
This article was last updated on April 16, 2022

Classic styling, muscle bike power, smooth like butter: that's the 2013 Honda CB1100A in a nutshell.
First seen as a concept in 2007, a production ready model a couple years later, then being sorely disappointed by news that this motorcycle was not for North America, only to be surprised that it is… the CB1100 has had quite the build up, and tickled our imaginations every step of the way.
I first laid eyes on this old puppy at the Toronto Motorcycle Show in December 2012. There's something to be said about seeing a properly vintage styled bike sitting amidst clearly modern machines like the Gold Wing F6B and CBR600RR. An air of humble superiority perhaps, the CB1100's direct ancestors paved the way for the rest of these new fangled rides.

The 2013 Honda CB1100 features a dual overhead cam 1,140cc inline-four cylinder motor that is air cooled in a nod to its 1969 CB750 ancestor, but utilizes a properly modern fuel-injection system which allows for great fuel economy and predictable throttle response. This 86 hp, 68 lb-ft of torque producing motor is mated to a five-speed manual transmission. Stopping power comes from dual disc, triple-piston front brakes and a single disc, single piston rear brake brought together by a combined ABS set up (the letter 'A' at the end of the CB1100A denotes an ABS equipped bike, which all 2013 model year Canadian bikes are.) The bike rolls on a 110 width tire upfront and a 140 in the back mounted to 18-inch wheels.
Between the solo circular front headlamp and the chrome bezeled elegant tail lamp the CB1100 dares not reveal touches of excessive modernization. Honda designers and engineers have carefully crafted every bit of this retro-modern muscle bike to be reminiscent of the much loved CBs of the 60s.
An analog rev counter and speedometer flank an instrument cluster that features a small LCD screen displaying all the rider essentials along with the expected warning lights. This is one of the few bits on the CB1100 that gives it away as a modern motorcycle.

Whether or not you appreciate the classic styling of this big displacement bike, the riding experience it offers is simply fantastic. An upright seating position combined with raised bars puts the rider in a position of confident control over this 547 lbs motorcycle. Roll on the throttle in virtually any gear, and the power surges you forward in what feels like an effortless sweep.
It's not all rosy though, as once you get in to the higher RPMs the bike gets a little buzzy. Riders will particularly feel it through the seat that isn't as well padded as I'd like; anything more than an hour promises definite introduction to rear end pains. The CB1100 does well in the low-mid rev range and it should go without saying that this machine was not designed to offer redline pushing riding thrills.
I wasn't around for the original CB750 this machine is based on so I can't tell you how nostalgic this all is, but let me tell you this, even amongst new bikes, there aren't many rivals to how well this CB1100 rides.

Priced at $13,199 in Canada, the 2013 Honda CB1100A is sure to be a crowd pleaser. Although with rumours suggesting less than 100 models available in Canada, when you do see one, expect it to stand out of the crowd.
Kanishka Sonnadara can be reached by email at kanishka[at]oyetimes.com or found on Twitter @autoKsS