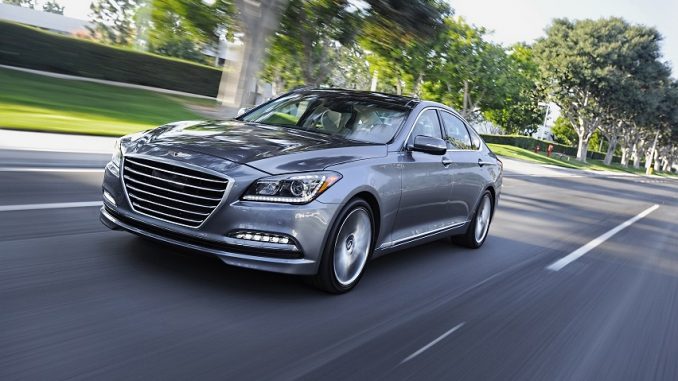 Hyundai today ushered in a new era for its world-class premium product range with the Canadian debut of the all-new second-generation 2015 Genesis sedan at the 2014 Canadian International Auto Show. With a single-minded focus on delivering the driving and ownership experience expected of the best premium sedans in the world, Hyundai has redesigned the Genesis from the ground up with bold styling, cutting-edge technologies, and exceptional driving dynamics.
Powered by a choice of Gasoline Direct Injection (GDI) V6 or V8 engines, all 2015 Genesis sedans sold in the Canadian market will come standard with Hyundai's all-new HTRAC active all-wheel drive (AWD) system. Performance of the vehicle's all-new platform was validated in some of the world's most demanding driving environments, including Germany's famed Nürburgring Nordschleife racing circuit.
"In developing the all-new Genesis, Hyundai engineers focused relentlessly on the small details that define an authentic, premium experience," said Steve Kelleher, President and CEO of Hyundai Auto Canada Corp. "The result is a sedan that exemplifies Hyundai's world-class expertise in product development. Confident ride and handling, advanced features, and fine craftsmanship are blended seamlessly to create a special connection from the moment owners approach the car for a drive to the second they put it in park and walk away. It's a holistic experience that's unlike anything Hyundai has accomplished before."
The 2015 Genesis will be built at Hyundai's plant in Ulsan, Korea and pricing will be announced closer to the vehicle's on-sale date in the spring of 2014.
FLUIDIC SCULPTURE 2.0
Originally introduced in 2009, Hyundai's signature "Fluidic Sculpture" design language has since influenced every model in the brand's line-up. The all-new 2015 Genesis is the first Hyundai product to feature the styling theme's second generation, dubbed Fluidic Sculpture 2.0.
DESIGNED TO EMPOWER
The 2015 Genesis features a modern look punctuated by fluidic elements and premium styling cues. The bold hexagonal front grille is tied into a dynamic character line running the length of the car and culminating in the strong rear fenders. Design surfaces convey a kinetic elegance, creating dramatic forms with a focus on voluminous body sections rather than surface details. A long wheelbase, sleek C-pillar, and short overhangs provide a confident stance and classic premium sedan proportions. With a combination of HID and LED exterior lighting, a focus was placed on giving Genesis a striking night-time presence.
HTRAC ALL-WHEEL DRIVE
The 2015 Genesis will be the first Hyundai model to incorporate the brand's all-new HTRAC all-wheel drive (AWD) system, offering consistent all-weather traction while improving the vehicle's dynamic behaviour. The system will be offered at standard equipment on all Genesis models sold in Canada.
V6 AND V8 ENGINES REVISED FOR IMPROVED TORQUE
Genesis will offer a choice of revised 3.8-litre GDI V6 and 5.0-litre GDI V8 engines for 2015. Each receives a series of enhancements aimed at improving low-end torque, driveability, and fuel economy. The V6 and V8 engines produce an estimated 311 and 420 horsepower, respectively.
ALL-NEW PLATFORM
The 2015 Genesis is underpinned by an all-new platform incorporating 38 percent more advanced high tensile-strength steel than its previous-generation counterpart. Torsional and bending rigidity have been increased by 16 and 40 percent, respectively, surpassing the BMW 5-series in both measures. The structure of the vehicle was engineered to meet the most stringent international government and independent agency safety standards.
WORLD-CLASS CHASSIS FOR EXCEPTIONAL ROAD MANNERS
Building on the vehicle's stiff structure, Hyundai engineers designed all elements of the 2015 Genesis' suspension and steering to deliver world-class ride and handling behaviour. Suspension geometry has been completely revised for improved lateral stiffness, cornering, and stability.
CAREFULLY CRAFTED INTERIOR
Inside the 2015 Genesis, occupants will find a design that's both elegant and intuitive, with all primary controls fully redesigned to maximize ease-of-use. Special attention was paid to the steering wheel, switchgear, and touch points to ensure a high quality feel as well as satisfying tactile responses. System interfaces are intuitively laid out with all controls easy to reach and grouped by function. Rich materials are used throughout the cabin, including textured aluminum, supple leather, and soft micro-suede. For a truly upscale environment, Napa leather and matte-finish genuine wood trim are available.
MODERN PREMIUM FEATURES
To surpass the expectations of premium sedan buyers, the 2015 Genesis offers a comprehensive list of advanced features and technologies. The new Smart Trunk feature provides automatic hands-free actuation of the trunk lid when the vehicle's smart key is detected near the rear bumper for more than three seconds. A full-colour Head-Up Display (HUD) projects useful information including vehicle speed, navigation directions, and driving assistance indicators onto the windshield, allowing drivers to keep their eyes on the road ahead. For convenience and safety, a High-Beam Assist (HBA) function can automatically switch on the vehicle's low beams when an oncoming vehicle is detected.
STATE-OF-THE-ART DRIVER ASSISTANCE AND SAFETY TECHNOLOGIES
A Hyundai-first Autonomous Emergency Braking (AEB) function uses a forward camera and sensors to detect rapid closing speeds to the vehicle ahead. For increased situational awareness, Genesis offers Blind Spot Detection (BSD), Rear Cross Traffic Alert (RCTA), a Lane Departure Warning System (LDWS), Lane Change Assist (LCA), and a Lane Keeping Assist System (LKAS), the latter two of which are new to Hyundai. In order to help maintain driver alertness, Genesis benefits from an industry-first CO2sensor control system located under the glove box. It monitors CO2levels and brings in additional ambient fresh air as required to keep occupants comfortable and alert.
HYUNDAI AUTO CANADA CORP.
Hyundai Auto Canada, established in 1983 and headquartered in Markham, Ontario, is a subsidiary of Hyundai Motor Company of Korea. Hyundai vehicles are distributed throughout Canada by Hyundai Auto Canada and are sold and serviced through 210 dealerships nationwide. Learn more at www.HyundaiCanada.com.