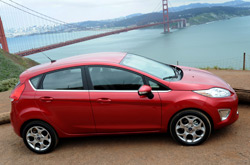 On October 29th, the Automobile Journalists Association of Canada (AJAC) announced its annual list of 'Best New Cars' for 2011.
For one week every October, seventy of Canada's top automotive journalists descend upon the picturesque tourist town of Niagara-on-the-Lake. Journalist members of AJAC are here for the sole purpose of determining the 'Best New' cars and SUV/CUVs in 11 different vehicle categories, as part of AJAC's annual Canadian Car of the Year Awards program.
The four days of intensive, back-to-back testing and evaluation are happily referred to in the automotive industry as "TestFest". "Test Fest" takes place every year at the Niagara District Airport, and is Mecca for automotive journalists in Canada.
144 different vehicles were tested this year, and over 40,000 individual data points were gathered during the event. The results are analysed by internationally recognized accounting firm KPMG, and are kept a secret even from AJAC until the official press conference on the morning of October 29th, when this year's results were released.
AJAC's annual 'Best New' list goes a long way in establishing purchasing trends for that year and is a highly respected source of unbiased automotive review. The purpose of the AJAC annual awards is to provide consumers with a valuable source of information when they are researching the purchase of a new vehicle.
Without further ado, here are the category winners for 2011:

BEST NEW SMALL CAR (under $21k) Ford Fiesta

BEST NEW SMALL CAR (over $21k) Chevrolet Cruze

BEST NEW FAMILY CAR (under $30k) Volkswagen Jetta TDI Clean Diesel
BEST NEW FAMILY CAR (over $30k) Buick Regal
BEST NEW LUXURY CAR (over $50k) BMW 5 Series Sedan
BEST NEW PRESTIGE CAR (over $75k) Porsche 911 Turbo S
BEST NEW SPORTS/PERFORMANCE CAR: Cadillac CTS-V Coupe
BEST NEW MINIVAN: Toyota Sienna
BEST NEW SUV/CUV (under $35k) Hyundai Tucson
BEST NEW SUV/CUV ($35k-$50k) Ford Edge
BEST NEW SUV/CUV
(over $50k) Volkswagen Touareg