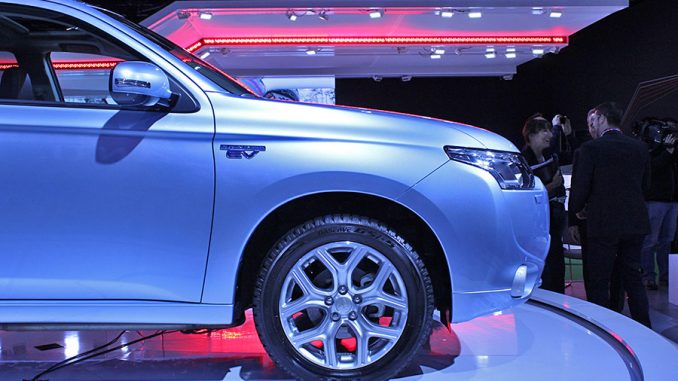 The first Canadian auto show of the New Year touches down in Montreal on Friday, January 16, giving winter-weary residents a taste of what new wheels they can expect to see hitting dealer lots in 2015.
Running until January 25 at Palais des Congres de Montreal, the show features the latest offerings from automakers, as well as concept cars that–fingers crossed–just might make it into production.
Here are ten that stand out from the crowd this year.

Mitsubishi Outlander PHEV
– This is Mitsubishi's familiar large SUV, but with a key difference. A 60 kWh battery pack and four electric motors means this plug-in hybrid SUV (already on sale in Europe) is easier on gas than a stock Outlander. For those interested in the technology behind it, a cut-away model allows showgoers to literally peer inside the vehicle.

Subaru VIZIV 2 concept
– Making its North American debut, the Viziv 2 concept car shows that Subaru has higher aspiration that simply making wagons. Blending a hybrid drivetrain with innovative technology, versatile body style and futuristic design language, the Viziv 2 could very well be the Subaru of the future.

Magnum MK5
– A home-grown supercar, this Quebec-built open-top roadster is the closest thing you can get to having a Formula One car in your driveway. This ultra-exclusive racer isn't built in large numbers, meaning this show could be the closest you ever get to one. For show goers, it's an opportunity to stand back and let your imagination do the driving.

Toyota FT1 concept
– Maybe the wildest thing Toyota has ever built, company reps say this concept car (one of two built) reflects a design direction the company plans to go in. No word yet on whether this far-out supercar from the company made famous by Camrys will see production, but we have our fingers crossed.

Honda HR-V
– Exotics are fun, but 'regular' cars are more likely to find buyers no matter where you go. Honda is betting that its spacious and stylish 2016 HR-V (a subcompact crossover with the room of a CR-V) will win over new car shoppers when it goes on sale this spring.

Hyundai Intrado concept
– Known mostly for sensible family transportation, Hyundai let its hair down with the Intrado concept car, which is making its North American debut in Montreal. The sporty crossover isn't like any Hyundai on the road today, and that's the point. The South Korean automaker is experimenting with a new design direction that aims to make its stodgy reputation a thing of the past.

Fiat 500X
– the biggest Fiat built since the brand was re-introduced to Canada might also be the most attractive one yet. Sharing a platform with the upcoming Jeep Renegade, the Fiat 500X is a shapely crossover that seamlessly blends style and capability. Worth seeing purely for the cheeky promotional film.

Cadillac Elmiraj concept
– Perhaps one of the most beautiful concept cars made in decades, the Elmiraj represents everything many people feel a Cadillac should be–big, luxurious, with understated style to spare. Making its Canadian debut here, the Elmiraj sparked a flurry of interest (and drooling) when it was first unveiled in the U.S. last year.

Lexus RC-F
– Not your grandfather's Lexus, this V8-powered performance coupe shows what the luxury brand is capable of. Buyers looking for the kind of fun that only 467 horsepower brings should know that this coupe is no concept–it's real and ready to buy.

Volkswagen T-ROC concept
– Few concept cars scream 'affordable fun' like the T-ROC concept from Volkswagen, which makes its Canadian debut in Montreal. A 2-door roofless compact crossover, the T-ROC looks like it would turn any trip into an adventure.
Photographs by Steph Willems.