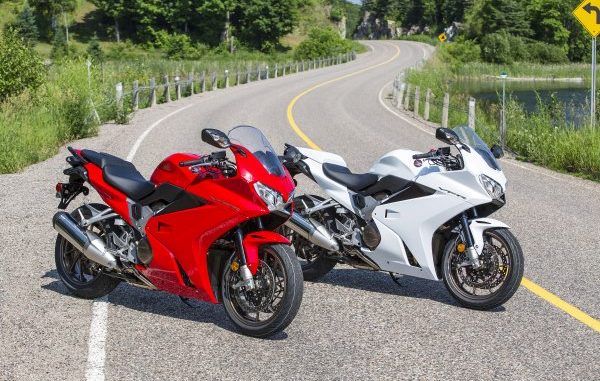 For the first time since 2007 Honda Motorcycles takes the title of 'best-selling motorcycle brand in Canada' for 2014.
Honda Canada has announced that with total new bike sales of 10,390 units last year, the company controlled nearly 20% market share in the country and beat out the nearest competitor by more than 1,000 new motorcycle sales.
This sales success for Honda has by no means been an accident. The company has launched a great many new models in the past two years, giving customers a wide variety of machines to choose from. Whether it be one of the three mid-range CB500s, the all-new CBR650F, two iterations of NCs (700, then 750), the much admired dual sport CRF250L, the redesigned Gold Wings, the reborn VFR, the quirky Grom, or even the three new scooter models, Honda's product developers have been on a roll and show no sign of letting up anytime soon.
In addition to new products driving sales, Derek Verheyen, National Sales Manager for Motorcycle and ATV at Honda Canada had the following to say about what made 2014 a remarkable year for the company: "Honda Canada also has a strong belief in getting customers to ride and enjoy our products through our various demo programs. Come Ride with Us and Junior Red Riders are two great examples of industry leading customer experience programs that saw a record number of participants in 2014."
He also went on to point out that the brand's strong national dealer network not only allows for customers to easily access Honda product, but also to buy with confidence knowing that they can rely on proper servicing throughout the life cycle of their motorcycles.
Getting to the top is one battle, staying on top is another.
"To continue our momentum into 2015 we are going to stay with what worked for us in 2014. Incredible machines at competitive prices that offer customers our legendary dependability, quality and reliability. We want even more people to ride our products so our demo programs will have a greater reach in the new year through national events, regional rides and Dealer in house demos" says Verheyen.
2014 also saw Honda successes in the racing arena. The company celebrated wins for Honda riders in both the Canadian MX Championship as well as the Canadian Superbike Championship.
Photography by Bill Petro for Honda Canada.