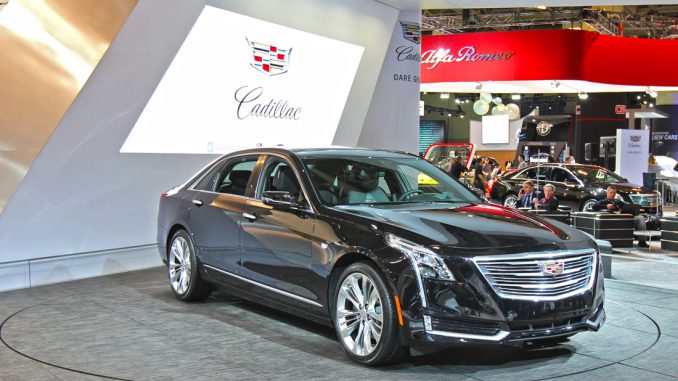 The 2016 Canadian International Auto Show kicks off today. Here are some of our favourite not-to-miss vehicles at the show.

2017 Cadillac CT6
This new luxury flagship sedan from Cadillac boasts innovative engineering and beautiful craftsmanship. With an advanced chassis, 4-wheel steering and an available 3.0-litre V6 twin-turbo engine, Cadillac says it sets a new standard for luxury performance vehicles.

2017 Honda Ridgeline
Honda's pickup truck has received a well-deserved makeover for 2017, with the second generation acquiring more of a truck look as well as more cargo and bed space. The 2017 Ridgeline will be equipped with the fuel-efficient 3.5-litre V6 shared with the company's very popular Pilot SUV.

2017 Chevrolet Cruze Hatchback
Based on the best-selling 2016 Cruze sedan, the new 5-door hatchback adds functionality and a sporty choice for new and returning customers. The new hatch will offer 42 cubic feet of cargo space with the rear seats folded down.

Buick Avenir Concept
Buick's flagship luxury concept offers a sophisticated and modern expression of the brand. The Avenir, French for future, is distinguished by its luxury proportions and traditional Buick cues.

Nissan Titan Warrior Concept
Based on the new Titan XD, the Titan Warrior Concept is a design study from Nissan intended to showcase the pickup truck's off-road potential.

2017 Ford Fusion
The midsize sedan gets some slight updates for 2017, most notably is the addition of the Sport model which is powered by a 2.7-litre EcoBoost V6 that's capable of 325 horsepower and 350 lb-ft of torque.

2017 Ford Raptor
The new Raptor will have its own dedicated chassis and powertrain which will be mated to Ford's new 10-speed automatic transmission. The second-gen truck will launch in fall of 2016 as a 2017 model under Ford's new performance banner.

Genesis G90
Not to be confused with the existing Hyundai Genesis, the G90 is the first vehicle of the newly minted Genesis brand. The luxury sedan is intended to compete with the likes of BMW 7-series and Mercedes-Benz S-class. By 2020 the Genesis G90 will be joined by six other luxury vehicles fleshing out Hyundai's upmarket brand.

Hyundai Enduro Concept
With the styling of a crossover and the robust off-road ready fender flares, this concept looks the part of a Veloster on steroids. Hyundai says the concept crossover will be designed for urban-dwellers. Under the hood the Enduro Concept will sport a 2.0-litre four cylinder engine.

Subaru Impreza Sedan Concept
Subaru shows off what the future holds for the Impreza. The sharp lines and C-shaped front and rear lamps are attractive, here's hoping they make it onto the production model. Subaru may tone down the front and rear fascias for the Impreza, but expect them to tone them back up for the inevitable WRX and WRX STI that will follow.

Tesla Model X
Kept hush-hush, the Tesla Model X makes a surprise appearance at the Toronto auto show this year and is its first Canadian public showing. The Model X's Falcon Wing doors are its most striking feature, but take a moment to look around, and inside, this is one fascinating crossover–yes, it seats seven.

2017 Alfa Romeo Giulia
This stunning sports sedan boasts near perfect 50/50 weight distribution through the use of aluminum fenders and doors, as well as a carbon fiber hood and roof. With a claimed 3.8 second 0-100 km/h time and a Nurburgring lap time of 7:39, the Giulia is quicker than the Ferarri 430 Scuderia.
The 2016 Canadian International Auto Show takes place at the Metro Toronto Convention Centre from February 12th to 21st. Regular tickets are $23 for adults with coupon and discount options available on www.autoshow.ca.
Photographs by Chris Bucik and Kanishka Sonnadara