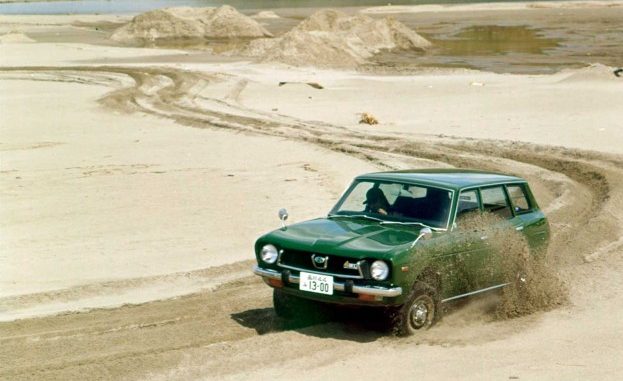 Over the past 44 years parent company Fuji Heavy Industries (FHI) has produced a grand total of 15 million all-wheel drive (AWD) vehicles under the Subaru brand.
In late 1972 the Subaru Leone 4WD Estate Van would begin a trend for the brand that no one could've anticipated at the time. Despite what you might've imagined, it was this humble station wagon that kicked off a brand legacy of playing in the dirt and inspiring confidence in adverse weather.

At a time in our history when four-wheel drive was reserved for off-road vehicles and pricey exotics, Subaru was breaking the mold by offering it on affordable road-going passenger cars. Their first four-wheel drive car, the Subaru Leone would make it's way to America in 1974 and then on to Canada in 1976.
Through the late 70s and all through the 80s, in markets mostly saturated with rear-wheel drive vehicles, Subaru made a name for itself as the four-wheel drive brand. Certain markets, particularly ones with strong winters, embraced the what was then optional, four-wheel drive drivetrain.

Today, AWD vehicles account for 98 percent of the Subaru's global sales.
In Canada, Subaru's full-time AWD system is standard on all Forester, Impreza, Legacy, Outback, Crosstrek, WRX and WRX STI models. The only Subaru to not offer AWD? The compact BRZ sports coupe.
Images courtesy of Subaru