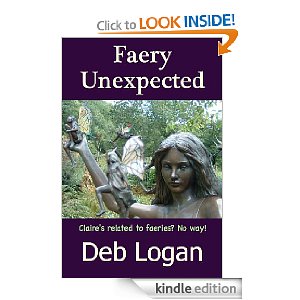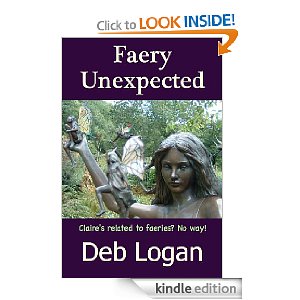 Paul Collins: Today we have Deb Logan introducing her novel, FAERY UNEXPECTED. I haven't read this book myself, but Deb was kind enough to agree to do an interview about her book to any readers who might be interested in the subject. Deb, how would you describe your novel to your prospective readers? In broad terms, what is your novel about?*
**
Deb Logan*: FAERY UNEXPECTED is the story of a typical American teen that discovers she's anything but typical when she comes into the family inheritance on her fifteenth birthday. Claire inherits the family guard-dragon, discovers she's a descendent of a long dead faery princess, and that she's the culmination of the family line. She's the girl destined to transform into a true faery and return under hill to take her rightful place as the next in line for the throne of Faery. It's a lot for a fifteen-year-old to take in.*
**
Paul Collins: What themes does your novel explore and what do you hope the reader will take away from the experience? Is there a particular feeling or experience that you hope to evoke in the reader? Essentially, do you hope your novel will mean to a reader?*
**
Deb Logan: I think the message of this novel is that while you can't change your genetics, you can still make your own choices, and those choices are what define you. Claire's family heritage is faery. She didn't choose to be faery, didn't even know faeries existed until she turned fifteen, but through the course of the book she learns how to become faery, but remain Claire. How to make her own decisions about who she will be and how she will live her life, despite some fairly major disruptions to her American girl dreams. Ultimately, this book is about owning who you are, but choosing who you will become.*
Paul Collins: What prompted you to write this novel and did you have a specific inspiration in mind? Were you influenced by a certain author or work that inspired you to add your voice to this genre? What motivated you to write this book?*
**
Deb Logan: This novel sprang from a children's short story I wrote several years ago. I wanted to write a story about a special gift shared between a grandmother and her granddaughter. A family heritage that no one else knew anything about…in this case an inherited dragon passed down through the generations from grandmother to granddaughter, that appeared to be nothing more than a toy to any other mortal who happened into the conversation. I originally envisioned it as a set of frame stories: Gran and Claire sitting before the fire with their dragon while Gran told Claire about her adventures. Each adventure would be a different story. But after the first story, the novel blossomed, so I grabbed the idea and ran.*
**
Paul Collins: If you could compare your novel to any other existing works, which ones would it be and why? If the one thing you could say to a prospective reader was, "If you like X, you'll love my book!" which work would be invoked so that a reader could judge whether or not your novel is their cup of tea? *
**
Deb Logan: Wow. That's actually a tough question. I guess I'd have to say that if you enjoy fantasy and coming-of-age tales, then you'll probably enjoy FAERY UNEXPECTED. It's not as complex as the Harry Potter series, but it has a similar sense of wonder, and kids dealing with some fairly adult decisions that will shape the rest of their lives. If you're looking for horror or lots of teen angst, this isn't the book for you. My stories deal with strong themes, but with a light touch.*
**
Paul Collins: Is this your first or only published work, or have you published other novels? If you have published other novels, how do they compare to this one? Do you have any more novels planned, either as a follow-up to this one, or as a completely different novel or genre?*
**
Deb Logan: This is my first middle grade / young adult novel. I have several fantasy romance novels and novellas published under another name. Debbie Mumford writes for adults; Deb Logan writes for the younger crowd. Deb Logan also has a middle grade contemporary fantasy / adventure novel out titled THUNDERBIRD.*
**
Paul Collins: Where can readers obtain a copy of your novel for them to enjoy? How can they contact you with any thoughts or questions? And do you have a means by which they can "sign up" to be notified when your next novel comes available? *
**
**
Paul Collins: Thank you, Deb Logan. I understand you have the first chapter of your novel available as an excerpt for interested readers? And is there anything else you wish to add for our readers?
**

Deb Logan: Thank you, Paul. I've enjoyed our chat and hope your readers have enjoyed it as well. The first chapter of FAERY UNEXPECTED is available on my website
http://deblogan.wordpress.com/excerpts/
.
Happy Reading!

Paul Collins, author of Mack Dunstan's Inferno/ Mystery of Everyman's Way
Article viewed on Oye! Times at www.oyetimes.com