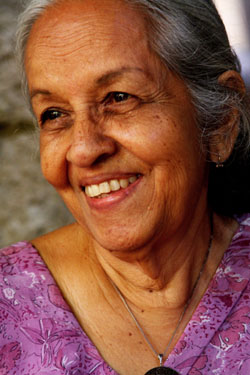 By trying to be all things to all people the Galle Literary Festival (GLF) has degenerated into being nothing to anyone except to the fashionistas and ex-pats who dominate Colombo's social scene and don't seem to have read anything in their lives other than a book of nursery rhymes.
With the notable exception of Scottish crime fiction writer Ian Rankin the "C" and "D" list of imported authors was a good indication that in its fourth incarnation the festival had lost the edginess of the first two years.
Non Literary Events Outshine Prose and Poetry Events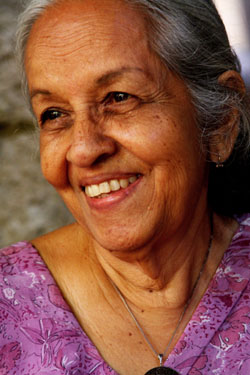 GLF's decline as a literary event was underscored by the fact that the non literary or "fringe" events by far outshone the events that were poetry and prose oriented. The eighteen piece Ravibandu Vidyapathi Drum Ensemble performance on the historic Law Court Square was nothing less than spectacular. In addition to the traditional drums from various regions of Sri Lanka Maestro Ravibandu also uses drums from Africa as well as South and Central America. The intermittent use of an electric piano and an upright string base also enhanced the drumming rather than detracting from it. This free event was sponsored by the Royal Norwegian Embassy probably as part of its efforts to rebuild Norway's sullied image among many Sri Lankans.
Two days later the Norwegian Embassy also sponsored a vibrant performance by the internationally famed Chitrasena Dance Company which was also held on the Law Court Square.
Iranganie Serasinghe Rewards Early Risers
Without doubt the best event at the festival was the effortless reminiscing by Iranganie Serasinghe the eighty two year old doyenne of the Sinhala and English stage and screen. Nobody else could have spoken so simply but eloquently of youthful indiscretions of cavorting with communism during her student days at the Paradeniya campus of the University of Ceylon, drama training in England and East Germany, working with cultural giants such as Lionel Wendt, Henry Jayasena, Lester James Pieris and Basil Wright In such classics as Maname, Rekawa , Sandeshya, and Song of Ceylon, and the formation of the Arts Centre club to create a common meeting place for Sinhala and English speaking actors and actresses.

Serasinghe though having made an amazingly successful transition into acting in Sinhala teledramas lamented about her lack of fluency in Sinhala. Serasinghe who says she has no cooking or other domestic skills had the audience in stitches when she explained that she "felt like a thorough fraud" as a Sri Lankan mother when her children complained "you can't even make a pudding for us". Interviewer Meneka Vanderpooten must be congratulated for realizing that her guest is a Sri Lankan national treasure who required no prompting and as such refraining from posing dumb questions or comments as was done by the interviewers and moderators at almost all other festival events.

Panelists Deny Possibility of Emergence of "Post Conflict" Literature
One fringe event organized by school teacher Adam Smyth on Post Conflict Writing failed to live up to expectations. Panelists David Blacker a former rifleman in the Sinha Regiment who also authored a book on his soldering experience titled A Cause Untrue, anthropologist Pradeep Jeganathan, prolific newspaper columnist and former Marxist Maiinda Seniviratne as well as Professor of English Niluka DeSilva were initially in unanimous agreement that categorization of literature according to time was arbitrary and meaningless. DeSilva went on to underscore the panels' initial common thesis by noting that pre-feminist, feminist and post-feminist literature were mere labels and meant nothing to her. Seniviratne referred to the fact that his poetry before and after the second JVP insurrection dealt with the same topics.
By the end of the session, however, all the panelists fortunately reversed themselves and admitted the obvious – books written, movies made and plays staged in the next several years would necessarily reflect the undeniable restructuring of every aspect of Sri Lankan society caused by the brutal and debasing thirty year conflict which of course is something that would not have been possible in the midst of the conflict. As such, it was proper to debate the notions of pre and post conflict literature.
A non-literary event that drew rave reviews from attendees was the concert at dusk held in the historic Dutch Reformed Church by the Chamber Music Society of Colombo. Resident composer Stephen Allen completed the orchestra's cycle of work with his latest composition with the music led from the first chair by violinist and artistic director Lakshman Joseph de Saram.

Sri Lanka Needs Honest Cop Such As Rankin Protagonist Malcolm Fox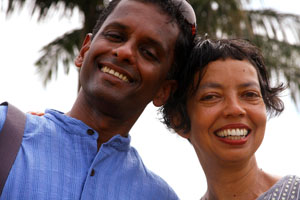 Though UK's bestselling novelist Ian Rankin and the festival's only "A" list author killed off the principal character in his twentieth crime novels titled Exit Music, Rankin will always be known for creating the iconic Inspector Rebus who without doubt was the most famous police officer in Edinburgh, Scotland and took delight in tackling that city's underbelly. Sri Lankans, however no doubt would be more impressed by and dearly wish they too could have just one honest cop such as the Rankin's new hero Inspector Malcolm Fox who as a member of the
Complaints and Conduct Department is tasked with investigating other cops and cleaning up corruption in the police service. The boyish looking Rankin, like fellow Scotsman and movie actor Sean Connery, lives outside his beloved Scotland (in southern France) but continues to be a connoisseur of finely aged single malt scotch.

Sophomoric Invitees Bedevil Festival
The superficiality of the festival was writ large. Kaveri Lalchand the 27 year old founder of Blaft a publisher of English translations of Tamil language pulp fiction could only respond to questions by referring to the on-line encyclopedia Wikipedia which was obviously her sole source of information and education on all things literary. Sanath Banerjee's meaningless interview of Mohammed Haniif the author of A Case of Exploding Mangoes consisted of laconic responses to laconic questions, The audience felt like they were eavesdropping on the bored banter of two south Asian males who would rather be sipping beer and making love to a native girl, underscoring that neither had anything to say of any consequence about reading or writing.
Colonial Attitudes Pervade Festval
This writer who is Sri Lankan born and visits Sri Lanka several times each year was struck by the contrast between the festival and the presidential election that preceded it by just two days.
The two leading presidential candidates campaigned without any hesitation on very similar anti-western, Sinhala Buddhist nationalist platforms. The festival, on the other hand, which was coincidentally situated between the home towns of the two leading candidates in the southern Sinhala heartland, and which received generous funding from the state tourism promotion authority and the state owned airline, was clearly oriented toward Caucasian expats who have no abiding connection with Sri Lanka and their ideologically cousins which form elite Colombo social scene.
Sixty two years after Sri Lanka's independence it was nothing less than galling to observe that over ninety five percent of those attending the exclusive opening night party were non-Sri Lankan.
At the main festival location in the Hall De Galle the first row of seats were cane backed easy chairs occupied by ex-pat Caucasians , family members of foreign authors and pale skinned Sri Lankans with fake British accents who have lived their entire adult lives in Colombo. The "natives", on the other hand, obviously knew their place and sat upright, uncomfortably and uncomplainingly in straight backed chairs. The question and answer sessions were also sadly dominated by non-Sri Lankans. The much ballyhooed private dinners with authors were almost exclusively attended by expat Caucasian ex-pats while the Festival Party at the Lighthouse Hotel also had a disproportionate number of non-Sri Lankans quaffing two thousand rupee cocktails seemingly not having to worry about rising before noon the next day and dancing to music of the 1970's.

Changes Needed
In order to ensure an interesting, financially viable, yet affordable and egalitarian festival British born festival founder Geoffrey Dobbs and his Sri Lankan born staff should rethink the entire premise of the festival and take urgent steps to overcome the colonial mentality that pervades it
Festival organizers must adopt an interesting and cohesive theme instead of the current approach of a hodgepodge of hastily collected ideas; more effort ought to be made to recruit authors and poets from Sri Lanka and elsewhere who write and compose in English on South Asian related themes; finally, but most importantly, the fact that the festival is held in Sri Lanka, and it ought to be focused towards the needs of Sri Lankan born attendees must animate all planning, pricing and execution.
Viresh Fernando is a Toronto based lawyer, chartered accountant, writer and inveterate festival attendee. He can be reached at viresh@oyetimes.com