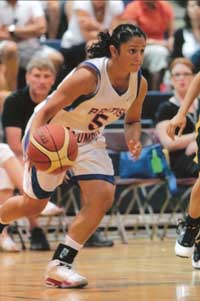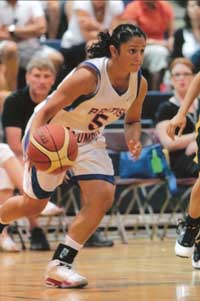 The grade 10 student athlete at Steveston-London continues to work hard at her game and academics.
Anmol Mattu had very strong season this year she earned her second consecutive Richmond Senior Girls League MVP award for the Sharks.
Once her team was eliminated from the Lower Mainland's, she was back at work training hard with her long time coach Pasha Bains at the Drive Basketball academy in preparation for the under 16 Cadette team. Anmol has been working with Pasha Bains and the Drive coaches since 2003.

Anmol has been playing for the senior girl's basketball team since grade 8 and in her first year, she was able to get her first City of Richmond all star awards. Anmol is proud to be Punjabi and enjoys playing in Punjabi basketball tournaments. Last week Anmol participated in the Indohoops tournament in Abbotsford. Her team came second and she received the MVP award. Anmol was very proud of herself for making to the second selection camp held Toronto where she will have to compete for the last 12 spots on the team. She will be attending the national training camp, along with 14 other girls from across Canada. This camp starts on June 5, 2011 and will be finished on June 10, 2011 at this time the final 12 girls that make the team will move forward to play in the Fiba under 16 Women's World Qualifiers in Merida, Mexico. Anmol has been training with her cousin Vijay Dhillon a key member of the Palmer Griffins. Vijay was named the 2011 B.C. AAA Basketball MVP and Palmer won their first ever B.C. title in the AAA Basketball competition. Anmol continues to be on the principal's honour roll while continuing to be a proud Punjabi athlete.


Anmol played for the BC U15 Blue Team last year and was awarded 2nd Team All-star in the National U15 tournament in Toronto. This year, she is selected for the U16 B.C. Provincial Team.