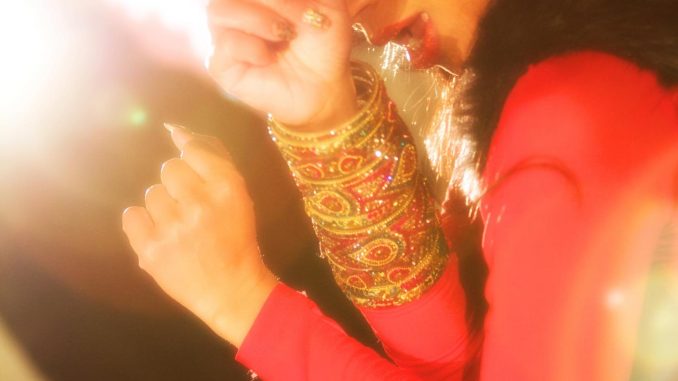 It has been just over a month since Rajé Shwari released her debut single "Ready For Me" on BollyHood Records, and the response has been nothing short of incredible. The single has been playlisted in the U.K. on BBC's Asian Network and is spinning as far as India, Pakistan & South Africa as well. With fans and media, demanding more, Rajé gears up for the release of her music video with a behind the scenes look at the visual project.
In Rajé Shwari's video, we see her experiment with a variety of colorful and trendy looks; the exotic beauty exudes glamour with rich colors and fabrics and then portrays more relaxed vibes dressed in her signature jeans and wifebeater. Staying true to herself, we see Rajé in plenty of red, her favorite color, and showcasing her cultural "bling", the always present bindi and bangles.
With this being Rajé Shwari's debut music video, she wanted the behind the scenes clip to be an introduction to her artistry, with exclusive footage that gives you an in-depth look at Rajé on and off camera as she tells the "Ready For Me" story. After a highly anticipated end to the mystery of "Who is the Indian Flute girl?" from her well-known days with Timbaland, the upcoming music video release will be the first real visual debut of Rajé Shwari and is sure to have been worth the wait. Audiences may be surprised to see just how "hands on" and passionate Rajé really is about every detail of her BollyHood flavor as they watch the behind the scenes reel. This songstress can direct, play the dhol, and, of course, belt out her lyrics in the studio.
"Ready for Me" can be downloaded for free at RajeShwari.com. Be sure to stay tuned for the official music video release later this summer.
Behind The Scenes: http://youtu.be/XrsIeZkyc4U
Website: www.rajeshwari.com
Twitter: http://twitter.com/therealraje
Facebook: http://www.facebook.com/therealraje
YouTube: http://youtube.com/therealraje
Instagram: therealraje