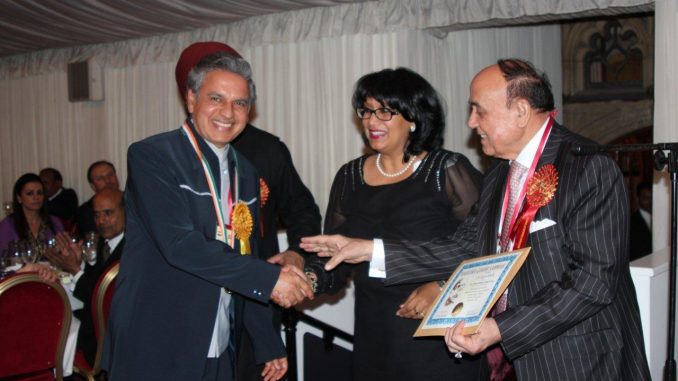 At a glittering awards event held at the prestigious House of Lords in London, U.K., on Friday October 12
th
, 2012 Dr Gagan Bhalla, an Orthodontist from Mississauga, Toronto, was awarded the prestigious Mahatma Gandhi Pravasi Gold Medal in the presence of dignitaries during a function of Global Achievers Conclave.
The event was hosted by Rt. Hon'ble Baroness Sandip Verma, Minister of Energy & Climate Change, U.K. and organised by NRI Society of India. The Mahatma Gandhi Pravasi Gold Medal is given to recognize the people of Indian origin for their significant contributions in their respective field in the country of their residence and in the service of the wider global community. Awards are given to nominated non-resident Indians who are seen to be true representatives and ambassadors of India and help further enhance links between the two countries and who make their full contribution in serving and raising standards in the countries where they have settled and raising high the flag of India.
Dr. Gagan Bhalla was amongst the Fifty Eight global awardees. The award is presented within the framework of the Global Achiever Award Program and is justified by Dr. Bhalla's outstanding achievements and significant contributions in the Orthodontic field and service to the wider global community in respect to promoting health and wellness with the help of Indian culture and heritage of Yoga, that could affect the future lives of people locally and across the Globe.
Dr. Gagan Bhalla is the first Canadian Orthodontist cum Yogi who received the award at the House of Lords in London, U.K.
Dr.Bhalla graduated from the University of New York at Buffalo with his D.D.S., completed his orthodontic program from St. Louis University, and is certified by the Royal College of Dental Surgeons in Ontario. Over the past 18 years he has established a private practice in Mississauga, where he has been making a difference in the lives of many children and adults by giving them a healthy and confident smile. Active in continuing education, Dr. Bhalla is also an active member of the Canadian Association of Orthodontists and American Association of Orthodontists.
He has been actively involved with many fundraising activities including Lions Club, Credit Valley Hospital and Child Haven International, which assists children and women in need in several countries. He is an active member and former Vice-President of the Mississauga Erin Mills Lions Club. He has served as a Board Member for the Credit Valley Hospital Foundation.
He is currently the Vice President and Board of Director for Patanjali YogPeeth (PYP) Canada. The noble vision of PYP Trust is to create a disease free world by adopting a scientific approach to the ancient Indian science of Yoga and Ayurveda. PYP Canada recognizes good health is human beings birthright. In accordance, Dr. Bhalla is dedicated to make Canada one of the healthiest nations in the world.
He conducts free Yoga-Pranayam classes, interactive workshops, seminars and is a speaker for communities, organizations, and schools to promote good health and self-well being. Under his leadership over 700 Yoga teachers have been trained and over 150 free yoga classes are being conducted per week in Canada. Through these classes thousands of people have been guided to attain healthier, happier and stress- free lives. He has been featured in newspapers, radio and television interviews to promote Yoga-Pranayam.
Dr. Bhalla has been recognized with such awards as; Humanitarian of the Year Award presented by the Indo-Canada Chamber of Commerce, the Melvin Jones Fellow presented by the Lions Club International Foundation for his dedication to humanitarian services, Hind Rattan Award. Certificate of Recognition for his promotion of yoga presented by Member of Parliament Hon. Gurbax Malhi. Bharat Gaurav Award of Excellence was presented by SONA, for his dedication and community services. The Mississauga Erin Mills Lions Club presented him with the Lion of the Year award.
Dr. Bhalla also enjoys the art of photography, traveling, reading and playing golf.