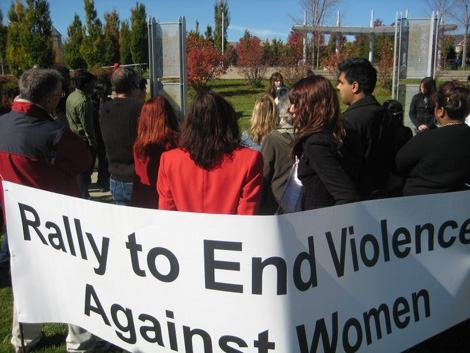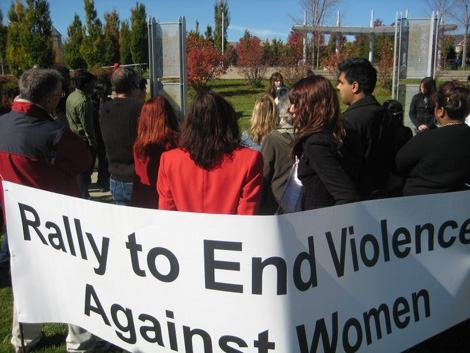 Tahmena Bokhari, Mrs Pakistan World, made a very special appearance at the Rally to End Violence Against Women, held by the youth of Markham and Nirmala Armstrong Regional Council candidate. Seneca Professor Bokhari has been a long time advocate for women and as a social worker, she has worked with victims, abusers, families and communities through counselling sessions, workshops and group work on violence related issues. In addition, Bokhari has a long history working locally as she coordinated the first South Asian-focused Take Back the Nigh March in York Region and she also formerly worked with the Town of Markham on the diversity strategy.

The rally was a youth-led initiative in response to the Markham Councillor Jim Jones' plea of guilty to sexual assault charges. Jones is running again for his position and protesters strongly feel that he should step down. The youth of Markham approached Armstrong, the only female candidate for regional council in the upcoming local election, to organize a protest to inform and appeal to the public. Attendees also included Lui Temelkovski, MP (Oak Ridges-Markham), and Stephen Kotyck, Markham Mayoral candidate. Women survivors also spoke at the event on personal stories of abuse by men. It is estimated that 1/3 women will experience one or more forms of (sexual) violence at some point in their lives.
Statistics by the Canadian Women's Foundation include the following:

·
Half of Canadian women (51%) have experienced at least one incident of physical or sexual violence since the age of 16.
Every minute of every day, a Canadian woman or child is being sexually assaulted.
One to two women are murdered by a current or former partner each week in Canada.
Spousal violence makes up the single largest category of convictions involving violent offences in non-specialized adult courts in Canada over the five-year period 1997/98 to 2001/02. Over 90% of offenders were male.
Bokhari stated, "It is important that women take on more positions of leadership, and even in a country like Canada we have a long way to go on this. When we look at male public figures, we hardly ever wonder, 'Is he a good father? A good husband? What's he like when he is not in the office?' But when it comes to women, we often wonder, 'How will she manage home and work life? What kind of mother and wife is she? What about her morals and values? What is her personality like?' The expectations we have placed on women regarding their roles in the domestic sphere are just part of the many barriers many women face to taking on positions of public leadership. Hence, as we review corporate and public sector hierarchies, we see less and less women near the top."

Bokhari went on to say, "In addition to this, we must ask ourselves as a society, what is happening in our culture when men in positions of power, authority, public trust and working on tax payer salaries are violating the very values that Canadians are known for around the world. We have town councillors, currently the case in the news about a military man, and we have teachers, police officers and more, all men in positions of trust who have been abusive to women."
Asked to come back again to address the youth, Bokhari reminded the youth that, "people in public office are there to represent, you, your family and to reflect your interests. You vote for them and your tax dollars pay their salaries. It is critical that you find out where they stand on issues that matter to you. For example, what do they know about violence against women and how do they feel about the concerns of women and youth? Where are they and why are they not here? How do they feel about someone who pleaded guilty of sexual assault to be in office? Did you know that youth are one of the declared communities of focus at the Town of Markham? Did you know that the Mayor has a Youth Committee that he works with? If not, find out how you can become more informed and engaged with municipal affairs. Youth here have access and opportunity to a democratic system which many around the world do not. Do not take this for granted. I commend your efforts today. However, I encourage you to not stop at this grassroots rally, but to take your cause even further."
The youth marched on a corner in front of the Civic Centre, where voting has already begun in hopes that their efforts will change the outcomes of the election.
To learn more about this initiative and Armstrong's campaign, you can visit the webpage of Nirmala Armstrong at
http://nparmstrong.ca/
To learn more about Mrs Pakistan World, you can visit
www.mrspakistanworld.com

(

Nirmala Armstrong with Tahmena Bokhari)

(

Tahmena Bokhari greeting Lui Temelkovski, MP)