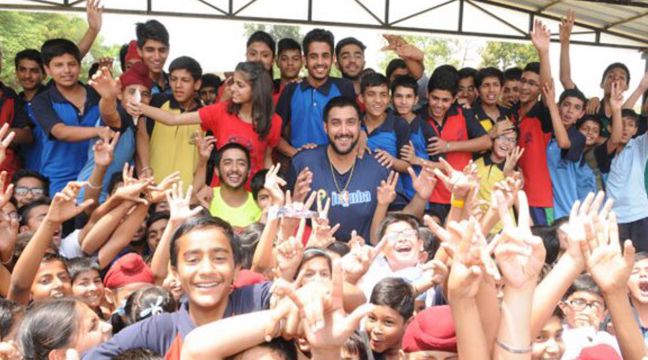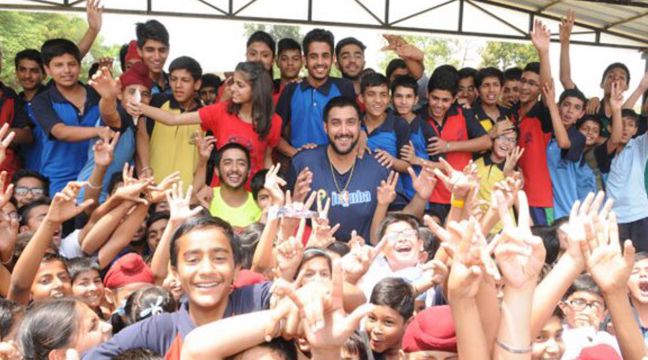 On April 07,2015 – 7ft 5in Sim Bhullar made NBA history by becoming the first player of Indian decent to play in the league. Support for Sim began pouring in from all across the globe; as a result the NBA constructed a one-week tour in Sim's native country. From May 02- May 07 the gentle giant had set forth on what had been a life changing, eye-opening excursion. Accompanied by his mentor, basketball Superfan Nav Bhatia and his PR company Rinku Ghei of FictionStreetMedia- the trio visited Mumbai, New Delhi, Armitsar and Chandigarh.
"Sim is like one of my kids. Everyone knows my passion for basketball. To be able to go back to India and motivate thousands of kids is my passion. Sim has an opportunity to impact so many of today's youth and keep them on a positive path, away from drugs and gangs. I believe Sim is doing a great job at it" – Nav Bhatia
The purpose of this trip was to spread the word of basketball and motivate the children to keep up with the ever growing sport – a task held difficult in a country where cricket spoke as religion; nonetheless the trip was an enormous success.
"I think we came here looking to spread the game but the overwhelming response we've been receiving is a clear indication the game is already here and just needs support. Sony Six, the Reliance Foundation and NBA India are doing a fantastic job building an infrastructure in India and it looks as though Sim will be a crucial part of basketball's success in India" – Rinku Ghei
The first stop was Mumbai where Sim immediately got a taste of what India was all about. At the YMCA Sports camp in Bandra, Sim provided a once in a lifetime opportunity for hundreds of children by joining them on the basketball court. His impact on the youth was clearly evident and documented by hundreds of reporters at each turn. With the spotlight on Sim Bhullar from the minute he stepped into Mumbai, it was no surprise Bollywood came calling.
During the NBA India press conference a few surprise guests, Ranveer Singh and Priyanka Chopra crashed the party to show their support for the first Indian player in the NBA.
Priyanka took to Instagram to share her fangirl moment and captioned the picture: At 7.5 ft, he's just a bit taller than we are! Look who we just bumped into… @simbhullar2 NBA's first player of Indian descent! @ranveersingh.
Later in the evening, perhaps India's basketball superfan, Abishek Bachchan – known for his love of the Los Angeles Lakers, invited Sim to his offices for an impromptu basketball discussion.
The day was capped off by an appearance on one of India's most watched shows, Extra Innings, a one hour ode to the religion of Cricket. Today however it was Sim Bhullar day and the media frenzy to hear what Sim Bhullar had to say about basketball in India was insatiable.
"I believe basketball has a huge opportunity for growth in India. It's already making huge grounds. I mean look at the response, hundreds of kids are turning up at each spot we go to and it's humbling. I hope to motivate these kids and show them the dream is possible as long as you work hard and stay disciplined." – Sim Bhullar.
New Delhi, Amritsar and Chandigarh all followed suit, hundreds of reporters, thousands of children all wanting a picture with the 7ft 5in gentle giant. In Amritsar, not only did Sim spend time with the children but he also visited the Golden Temple. Sim never left Amritsar without visiting the temple however, this time it was a very special visit, this time he was visiting as player from the NBA. The honour of being bestowed the Siropa was given to Sim and his NBA India colleagues and blessings were given to the entourage by none other than Giani Gurbachan Singh – the acting Jathedar of the Akal Takht, the highest temporal seat of the Sikh community. The state of Punjab was very proud of one of their own making it.
At Pingalwara, Sim on behalf of his family donated 5 Lakhs to help those unfortunate. His family has always kept Sim humble and from an early age have always instilled the values of hard work and honesty. Often when he returns home you can find Sim at his parents Gas Station helping behind the counter.
The final day was devoted to the High Commissioner of Canada to India Nadir Patel who proudly donned Sim's Kings jersey for a little one on one at his home.
Sim Bhullar still has some work to do. He has been invited to attend summer League sessions and continues to improve his fitness each day. Sim is by no means the most popular NBA player but he is the very first of Indian descent and for one week in May, Sim Bhullar was the most popular NBA player in India.
If the response from the youth is a measure of how successful basketball can be in India then the sport has nothing to worry about and we should be seeing Sim Bhullar there again very soon.