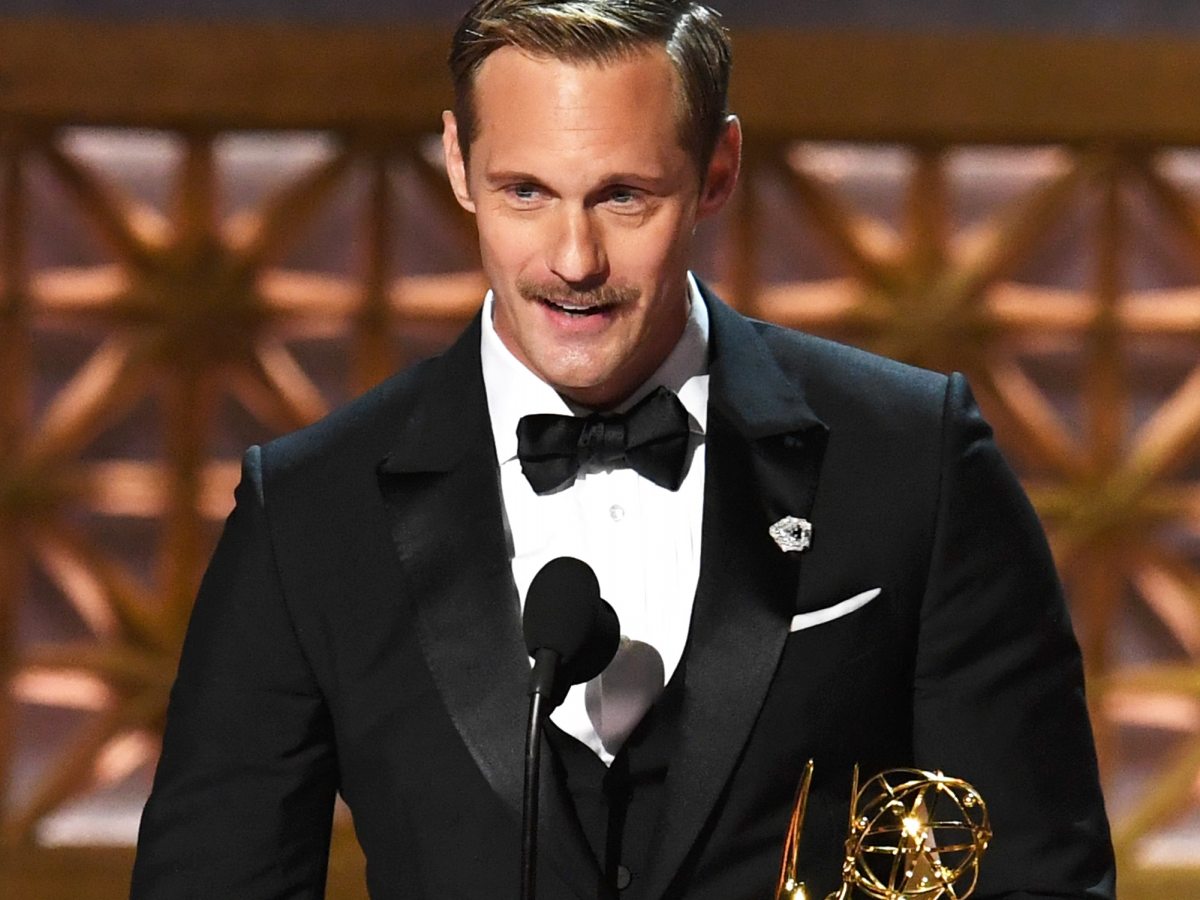 We don't usually pay too much attention to the men on the red carpet. Don't get us wrong, their tuxes are slick and their salt-and-pepper hair is sexy, but they'll never serve up a look quite like Priyanka Chopra or Laverne Cox.
There's always an exception, though, isn't there? So here we are, eating our words tonight at the 69th Annual Primetime Emmy Awards — all thanks to Alexander Skarsgård's new facial hair.
We never thought a mustache could start so much conversation outside of the month of November until we saw the HBO star's brand-new one on the red carpet. But we were shook when we saw it — mostly because we didn't get creepy pornstache vibes (okay, maybe for a second) — and as always, Twitter felt the same.
Alexander Skarsgard is trying to look less attractive with that creepy mustache, but sorry, jokes on you Askars! #ERedCarpet #EmmyAwards pic.twitter.com/qOYn2appuf
— Zen (@ZenLizzie) September 17, 2017
Would you still do alexander skarsgard with a mustache?
#Emmys
— Candace Lowry (@TheCandaceLowry) September 17, 2017
Alexander Skarsgard can still get it… even with a creepy mustache. ???????????? pic.twitter.com/PuqMi4uU0K
— Just Another Person (@GRIZZtina80) September 18, 2017
Alexander Skarsgard is "even with a mustache" handsome.
— Josh Gondelman (@joshgondelman) September 18, 2017
So why the new look for the star? We suppose he could be embracing No Shave November months early, or maybe he's looking to hide his famous mug behind a thick upper lip of hair because, let's be real, there were few fictional characters as despised as Big Little Lies' Perry.
But if we've learned anything this year, it's to never underestimate the power of a Skarsgård transformation. Case in point: We still think Pennywise (a.k.a. Bill Skarsgård) is #bae despite his nightmarish grin. If we can get through all of It without forgetting the real face behind the clown, loving Alexander's 'stache should be no problem, no problem at all.
Click HERE to read more from Refinery29


Loading ...