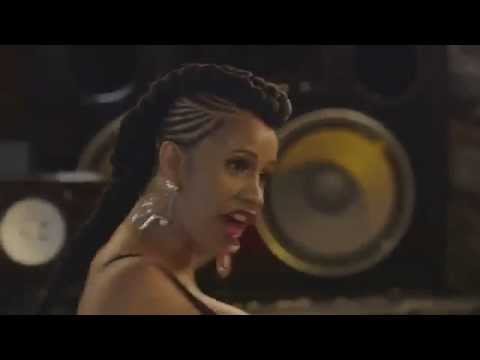 Everyone loves a good Cinderella story. Perhaps that's why Belcalis Almanzar, also known as Cardi B, has amassed over 11 million followers on Instagram and Twitter since 2015 — and the numbers keep boomin'. Some OG fans remember watching the college student-turned-grocer-turned-stripper's hilarious Instagram videos back in 2015, where she outlined her sexcapades, her plastic surgery procedures, and anything else you — or she — could imagine.
Her audience grew by multitudes once she landed a spot on Love & Hip Hop: New York. Even though that whole "love" part wasn't all that prevalent (her ex-boyfriend is incarcerated and they ended up calling it quits), America still loved the Bronx native's sharp wit, endless one-liners, and rainbow of colorful hairstyles.
As her spotlight grew brighter, Cardi's beauty game has become stronger. She'll still pull a wildcard by throwing on a fiery red, waist-length wig or a bright green lip, but lately, the star has been playing with softer looks, too. Of course, she's had ample opportunity to do so: She's become a red carpet and Fashion Week regular.
But perhaps the best part of this epic come up? Cardi has solidified her position as an artist, too: "Bodak Yellow"
hit number one
on the Billboard charts yesterday, making her the first female rapper to do so since Lauryn Hill's "Doo Wop (That Thing)" back in 1998. That means we'll be seeing a whole lot more of the "regular degular shmegular" New Yorker…
forevaaa
.
To celebrate this rising star, we're walking through her beauty evolution, ahead.
Don't let the bright smile fool you. "I ALWAYS BEEN UP TO NO GOOD," Cardi captioned a throwback Insta post.
Photo: Via @iamcardib.
Class of 2010's best bob cut goes to… (If only we were giving out the graduation accolades.)
Photo: Via @iamcardib.
"Yes I did my own makeup," a pink-haired Cardi captioned a post in October 2015 — and she did a damn good job, too. We can't decide what we love most: the carefully-winged liner, expertly-placed shimmer, or that glossy red lip.
Photo: Via @iamcardib.
Shortly after VH1 announced that she'd be joining the cast of Love & Hip Hop: New York, a raven-haired Cardi (with even shinier lids and chocolate brown gloss) made this unapologetic introduction: "For the new followers my name is Cardi. Im crazy, I spell fucked up, my teeth all chopped up but I got good pussy:)."
Photo: Via @iamcardib.
Cardi, pictured in May 2015, once admitted that braids are her preferred protective style. "If braids didn't pull out so much of my hair I would go back to this," she wrote. "The Original Cardi with the braids. I can't stand rocking weaves and wigs."
Photo: Via @iamcardib.
Bangs are obviously Belcalis' thing.
Photo: Via @iamcardib.

Even though we love her in bright colors, Cardi's sleek, jet-black locks and light mauve lips were refreshing to see at the BET Hip Hop Awards in September 2016.
Photo: Paras Griffin/BET/Getty Images.
If we could like an Instagram post more than once, well, it would be this one. "When I was a little girl I used to hate my hair. Now I loooveeee it," she captioned a photo in October 2016, letting the world see her gorgeous head of natural hair. Ditto, CB.
Photo: Via @iamcardib.
If you asked us, we'd say that Cardi's short hair phase was one of her best. For example, it gave us space to really see her long lashes and pretty matte lip in November 2016.
Photo: @iamcardib.
Back to bangs? Duh. Later that December, she opted for a blunt, shoulder-length cut, blue highlights, and soft makeup.
Photo: Via @iamcardib.
The self-described "sexy alien forehead bitch" sported some poppin' highlighter in January 2017.
Photo: Via @iamcardib.

When Cardi commits, she really goes for it. In March 2017, around the time she dropped her single "Red Barz," Cardi rocked a lot of red hairstyles: bobs, ponytails, and this waist-length wig were all in the mix.
Photo: Johnny Nunez/Getty Images.

Hello, blondie! The "Bodak Yellow" rapper hit the 2017 BET Awards with a blonde, blunt bob. And she wasn't the only one…
Photo: Allen Berezovsky/WireImage.

For an August 2017 event, Cardi inadvertently channeled her fellow New York musician (and fan!) Nicki Minaj with these long locks.
Photo: Prince Williams/WireImage.

Still riding the wave off the success of "Bodak Yellow," Cardi attended the 2017 MTV Video Music Awards with a wavy bob, Champagne eyeshadow, and light brown lip gloss.
Photo: Steve Granitz/WireImage.

A storm's a comin'! We're not sure if she meant to channel an X-Men character, but Cardi pulled it off perfectly at Christian Siriano's September 2017 fashion show.
Photo: Jamie McCarthy/Getty Images.

Followers compared Cardi B's Diamond Ball look to Cinderella — and rightfully so. Her elegant low bun and curly tendrils went perfectly with her ice blue Christian Siriano ballgown and Helen Yarmak diamond earrings. All she needed was the glass slipper.
Photo: Gonzalo Marroquin/Patrick McMullan/Getty Images.
Click HERE to read more from Refinery29


Loading ...