This article was last updated on April 16, 2022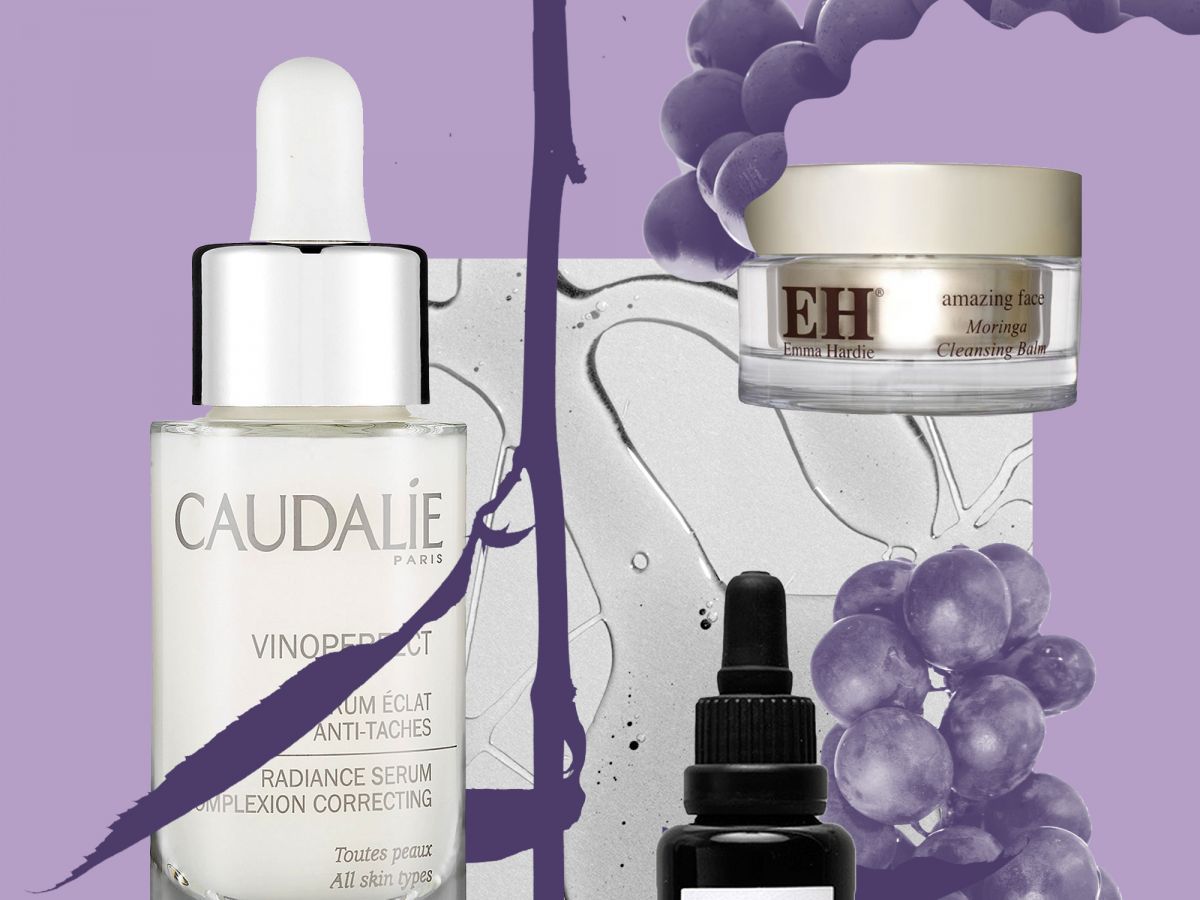 When it comes to beauty products, we're as intrigued by the ingredients inside as we are by the impact they'll have on our skin. Whether it's vitamin C or hyaluronic acid, we're always on the hunt for the next wunderkind that will transform our visage – and a recent browse through the labels of our bathroom shelf staples led us to discover the latest star of the show: vitis vinifera.
The Latin name for grapeseed extract, we found that many of our hero brands are extracting various parts of the seed for its youth-enhancing skin-care benefits. "There are over 5,000 varieties of vitis vinifera and for thousands of years, they have been harvested for medicinal, nutritional and ceremonial value," April Gargiulo, founder of Vintner's Daughter, explains. "Owing to the profound nutritional value, grape skins, the juice, and the seeds offer incredible skin-care benefits ranging from protection against environmental factors, brightening due to the high level of antioxidants, firming, and nourishing due to the bounty of omega acids. There are also dozens of naturally-occurring chemical compounds that aid in everything from skin repair and rejuvenation to cellular turnover, detoxification, and evening of skin tone."
Gargiulo founded her brand after becoming concerned about the level of toxic ingredients in her skin-care regimen, and put two years of thorough research into formulating her Active Botanical Serum. An oil-like serum brimming with botanicals, it's widely regarded as the only product you need in your bathroom. Alongside avocado, rosehip and evening primrose oil, vitis vinifera is one of the serum's key ingredients. "We chose to work with grapeseed oil for many reasons," she explains. "First is the fact that it delivers powerful nutrition and multi-correctional performance. Also, quite uniquely, it is good for all skin types, ages, colors, and conditions."
"Secondly, we knew we could source the absolute finest quality, organic oil from the most conscientious producers right in our backyard. This is critical as the demand for naturals continues to rise. Third was the fact that it is an incredible carrier oil for our whole plant nutrition, due to its low molecular weight. Low molecular weight results in small particle sizes which ensure the delivery of Active Botanical Serum's 60+ skin-beautifying nutrients."
A natural and powerful ingredient that works for all skin types, vitis vinifera isn't just about delivering nutrients to the skin. For Caudalie's Vinoperfect Radiance Serum, its hyperpigmentation-reducing properties were also vital, says Patricia Manissier, Caudalie's head of R&D. "In this serum, you can find Viniferine, Caudalie's patented complex. It works to regulate the pigmentation process of the skin by regulating the melamine synthesis, and therefore improves radiance and reduces pigmentation spots." Making grapeseed extract perfect for those with darker skin, acne scarring, and sun damage.
Additionally, grape seed extract is the perfect anti-ageing ingredient. Immunocologie uses vitis vinifera in its Super 7 Elixir Face serum for this very reason. "We use a variety of the seed native to the Burgundy region of France, known for their exceptional Pinot Noirs and Chardonnays," Karen Ballou, founder of the brand explains. "This variety is a super-antioxidant that has been shown to help reduce the effects of skin-oxidation (aging) and stimulate microcirculation, providing what is called a vasodilator effect, which can help increase blood flow through the widening of capillaries and blood vessels. When applied to the skin, it helps improve microcirculation, providing increased oxygen and nutrients to skin cells, while also acting as a natural moisturizer.
You'd be remiss to think this wonder ingredient is only suited to high-impact serums, though. One of the industry's most coveted (and heavenly scented) cleansers, Emma Hardie's Amazing Face Moringa Cleansing Balm contains vitis vinifera, too. "We've included grapeseed extract in our Moringa Cleansing Balm because, being rich in antioxidants and vitamin E, it helps to protect the skin and neutralize pollution, which is essential when cleansing," says Hardie. "It's rich in linoleic acid so it's great as a skin moisturizer and doesn't leave skin dry and parched after cleansing, like so many cleansers can do. It also helps to soften lines and wrinkles so it's great for anyone concerned with a stressed, tired, or aging skin."
With other cult hits like Sunday Riley's Juno Hydroactive Cellular Face Oil and Nurse Jamie's Dermalase AHA Exfoliating Mask containing the hero ingredient, it's time you added grapeseed extract to your beauty regime. Glowing skin – what a wonderful way to start the new year.
Click HERE to read more.

You can publish this article on your website as long as you provide a link back to this page.
You can publish this article on your website as long as you provide a link back to this page.