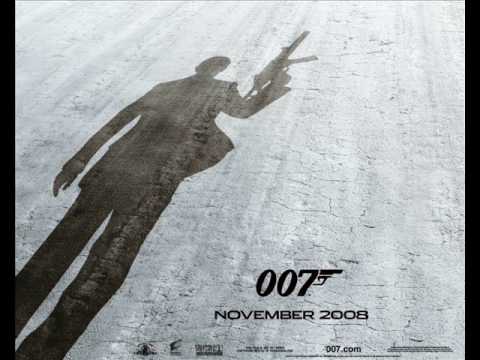 With the new Bond flick in the wings (Skyfall opens on November 9, 2012 in North America), I thought to take a look at all things Bond and compile some of what I considered to be the more interesting trivia that hopefully your not quite so fanatical fan of the series might enjoy. Yes, your true aficionado will devour absolutely anything related to Bond but for the majority of us, hey, let's not go nuts here. We do have a life.
One of the most distinctive, driving forces behind Bond is the musical theme. This short composition has come to define the character, the action, and the overall sense of drama associated with the films. Can anybody think of James Bond and not think of that theme? Heck, when I hear it, my reaction is almost Pavlovian: I salivate knowing I'm in for a whale of a time.
The history of the tune and its authorship makes for some interesting reading. Monty Norman apparently wrote the music but John Barry arranged it for the first Bond film Dr. No. It is that arrangement we all heard then and it is variations on that arrangement we have apparently heard since. But let the fights over credit begin! Barry, who by the way composed soundtracks for 12 Bond films, claimed partial credit for the music we all now associate with our favourite spy but even as late as 2001 when a court in London examined the question, sole authorship was awarded to Norman. Okay, Barry lost that one and while both men did have lengthy musical careers I note two honours accorded to Barry that eluded Norman. In 1999, Barry was awarded an OBE (Order of the British Empire) and in 2005 received the BAFTA Academy Fellowship Award. (BAFTA = British Academy of Film and Television Arts) Take that Monty!
The following videos demonstrate a certain range of, ah, interpretations of the theme.
1. From Casino Royale: a modern adaption of the classic
2. O..kay… robot quadrotors? Penn's School of Engineering and Applied Science present how their "innovative robotics research" can be adapted to, well, anything? Here's the video which premiered at the TED2012 Conference.
3. Eight floppy disk drives. Yes, you heard me, PC computer floppy drives.
4. One guy. One acoustic guitar.
5. The original as played by the John Barry Orchestra.
Uploaded by addggb12 on Dec 30, 2008
Casino Royale OST – James Bond Theme (High Quality Audio)

Uploaded by UnivPennsylvania on Feb 28, 2012
Robot Quadrotors Perform James Bond Theme
Flying quadrotors controlled by a computer play the various instruments.

Published on Jun 21, 2012 by MrSolidSnake745
James Bond Theme on eight floppy drives
Yes, I'm not kidding, eight floppy disk drives.

Published on Jul 12, 2012 by remyhansen
James Bond Theme as played by Remy Hansen
One guy, one acoustic guitar.

Uploaded by ThemeTunez on Dec 10, 2007
James Bond 007 Theme Tune (original)
The original theme, the original arrangement as played the John Barry Orchestra.

**********************************
To close my little video extravaganza about Ian Fleming's literary creation, I thought I would revisit two chases. While Bond is always associated with the inevitable car chase scene, the reboot of the series with Daniel Craig in the 2006 film Casino Royale started with the most novel of chases: on foot. Yes, on foot. This introduced me to the urban sport of
parkour
and you have to watch carefully what the bad guy does to try and evade capture by Bond. It is hard to believe a human being can actually do those stunts for real.
The second chase is the opening car chase from Quantum of Solace. If the film makers wanted to be different in the first film, they decided to return to classic car chase with all due gusto. I just love the build-up as the camera sweeps in across the water: the calmness and the beauty of the scene interspersed with cars moving with traffic, the music increasing the tension, closer and closer. You just know something really badass is going to happen then the musical reaches its crescendo and you hear the click of the car switching gears and the accelerator being put to the mat… que le spectacle commence!!!
Uploaded by bigjamesbondfan on Jan 16, 2010
Casino Royale Parkour Chase

Uploaded by Cameroncars on May 14, 2009
James Bond – Quantum of solace opening (HD!)

Click
HERE
to read more from William Belle
References
Wikipedia: James Bond Theme
The "James Bond Theme" is the main signature theme of the James Bond films and has featured in every Eon Productions Bond film since Dr. No. The piece has been used as an accompanying fanfare to the gun barrel sequence in almost every James Bond film.
Wikipedia:
Monty Norman
Monty Norman (born in London, UK on 4 April 1928) is a singer and film composer best known for composing "The James Bond Theme".
Wikipedia: John Barry (composer)
John Barry Prendergast, OBE (3 November 1933 – 30 January 2011) was an English conductor and composer of film music. He is best known for composing the soundtracks for 12 of the James Bond films between 1962 and 1987. He wrote the scores to the award winning films Midnight Cowboy, Dances with Wolves and Out of Africa, in a career spanning over 50 years. In 1999 he received an OBE from Buckingham Palace for services to music.
Wikipedia: Casino Royale (2006 film)
Casino Royale is the twenty-first film in the James Bond film series and the first to star Daniel Craig as fictional MI6 agent James Bond.
Wikipedia: Quantum of Solace
Quantum of Solace (2008) is the twenty-second James Bond film produced by Eon Productions, and is the direct sequel to the 2006 film Casino Royale.
Wikipedia: Skyfall
Skyfall is the upcoming twenty-third spy film in the James Bond series [due to be released in North America on November 9, 2012].