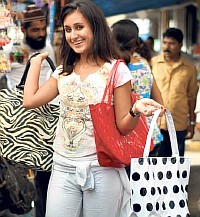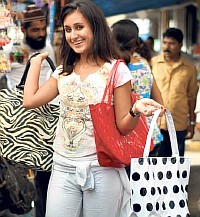 All study and no style is bound to makes any college goer's life dull.
And if you thought great style comes only with the big bucks, then here's reason to cheer. Stop fretting over recession because Fashion Street, Colaba Causeway and Bandra's ever popular Hill Road and Linking Road are spilling over with some uber cool and very trendy items you can pick up for a steal. Here's more:
Purani jeans:
So your workout sessions have yielded results and you're all slim and trim. Don't throw away those old jeans which no longer fit you. Instead, get them altered to your current waist size. Keeping in tune with the current slim jeans trend, straight cut bottoms can be narrowed down and if it's capris your looking for, just get them cut at knee-length. Team this with a trendy bright coloured tops or even a layered single top costing Rs 80 – 100, available at Fashion Street.
Tunics:
Bored with your existing array of tunics and want to rev it up? Opt for colours like beige, olive, black or brown and get it dyed. Once done, team the tunic with a long beaded necklace. Coil it once around your neck and leave the rest hanging right to your waist. Wear flats or simple canvas shoes which will cost you just about Rs 200 with this. You are so ready to roll!s
Salwar Kameez:
In college, you can surely do without your dupatta. Just team your kurta with a pair of skinny jeans. Kareena Kapoor's Jab We Met look of harem pants and a T-shirt is still 'in', so go for it. Old salwars can be teamed with printed tees sporting a trendy message or those with a motif. Costing anywhere between Rs 60 to Rs 100, you can pick them up in a variety of colours. The kameez on the other hand can be altered and modified to be worn with a pair of jeans.
Dupattas:
If your dupatta is starting to lose it's colour and sheen, it's time to cut it shorter, scarf size. Pick a spaghetti top or a ganji for Rs 50 to Rs 100 at Hill Road or Linking Road in colours including red, black, blue or yellow. Team it up with a skirt or pants and knot your scarf around your neck. Try out a variety of knotting options. You'll be an instant head turner.
So go on, gift yourself a trendy look and enjoy your college sessions. And don't keep these secret to yourself, make sure you pass on the buzz about how you own an enviable wardrobe, one that you don't need to break a
bank for.
Crochet Ponchos:
Crochet is currently an international rage. You can flaunt a crochet top, skirt or poncho by picking it off the racks at the Colaba Causeway for anywhere between Rs 150 to Rs 250. Make sure you wear a monotoned singlet inside. Black and white singlets, for Rs 50, go well with most ponchos. Colourful, strappy and beaded sandals or Osho chappals, which are a hot choice among most collegians, costing just Rs 50 will complete your look.