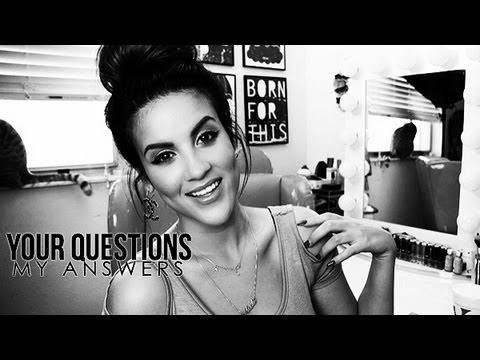 No matter what any politician tells you, here is the truth: Hispanic women and men are a force to be reckoned with — especially within the beauty industry. Just think back twenty years; you'd never see the face of a Latina actress splashed across the pages of a makeup ad. Of course, that's not quite the case anymore. For example, one of MAC's fastest-selling collections to date was centered around Mexican-American Selena Quintanilla. The multicultural shift is real.
The demand for product lines and advertisements that tailor to this relatively untapped market is at an all-time high. More and more consumers are searching for items that serve this multi-textured world of different backgrounds, skin tones, and hair types. Which is where we come in.
In the slides ahead, we're taking a closer look at the changemakers within the beauty biz — many of whom are rooted in countries like Mexico, Argentina, and Cuba, among others — who have shaped the way we do (and think about) hair and makeup. Some are actors; others, tattooists, hairstylists, activists. But each one of them share this commonality: They are Latin entrepreneurs living the American dream — and breaking down the walls within the beauty industry while they're at it.

Kat Von D
The Mexico-born tattoo artist first introduced the world to her eponymous beauty line in 2008 — and has since become an unstoppable force within the industry, continually rolling out makeup
collabs
, lip vaults, and eyeshadow palettes of epic proportions. Even better, Von D is an outspoken champion against animal testing, garnering even
more
love from fans. (In fact, countless of her
cruelty-free products
have earned the top spot of best-sellers at Sephora year after year.)

Jessica Alba
The Mexican-American actress has changed the way we all think about natural products. In 2015, she expanded her Honest Company empire — which is worth a whopping $1 billion, according to Forbes — to include a bevy of hair, skin, and makeup products. Every single item within the line is formulated without sulfates, parabens, or harsh chemicals, making her the unofficial patron saint of natural beauty.

Rea Ann Silva
Silva is the mastermind behind the egg-shaped makeup sponge, Beautyblender, which has completely transformed the way we apply foundation. Since its inception in 2007, the company has enjoyed a record-breaking $130 million in sales (and counting), according to Racked. She is Portuguese and Mexican.

Eva Mendes
The Cuban actress has spent countless hours perched in the hair and makeup chair, so it makes sense that she's logged face time for Revlon and Pantene, respectively, in the past. And in 2015, Mendes helped launch Circa Beauty, the affordable, pro-grade drugstore beauty line sold exclusively at Walgreens.

Katia Beauchamp
If you're among the four million people who've used Birchbox — the OG subscription beauty box service that delivers travel-sized goodies straight to your door — you have the Mexican-American CEO and co-founder to thank. The beauty entrepreneur started the company six years ago, and has since racked up a whopping one million subscribers.

Oribe Canales
Since coming to the States in the late '80s, the Cuba-born hairdresser has become nothing short of a legend within the beauty industry — working with everyone from Jennifer Lopez to Cher to Kate Moss. Then, in 2008, Oribe launched an eponymous hair-care line that has become a staple in the bathrooms of celebrities, beauty editors, and consumers alike — with a signature scent that pays homage to his roots. It blends Cuba's national flower, la mariposa blanca, with notes of white amber, bergamot, and cedarwood.

Nicole Guerriero
Given her massive reach on social media — one that spans an impressive 2.7 million on her YouTube channel alone — it's safe to say this Argentinian (and Italian) vlogger is changing the way we approach beauty advice. Her expertly applied, blended, and buffed makeup tutorials (not to mention that always-on-point highlight) is enough to give J. Lo a run for her money.

Salma Hayek
Mexican-American Hayek is many things — filmmaker, activist, director, and 25-year acting veteran — but she quickly shot to beauty mogul status after launching her CVS-exclusive cosmetics line, Nuance, in 2011. Since then, the brand has brought affordable skin and hair-care products to the masses, too.
Click HERE to read more from Refinery29.



Loading ...