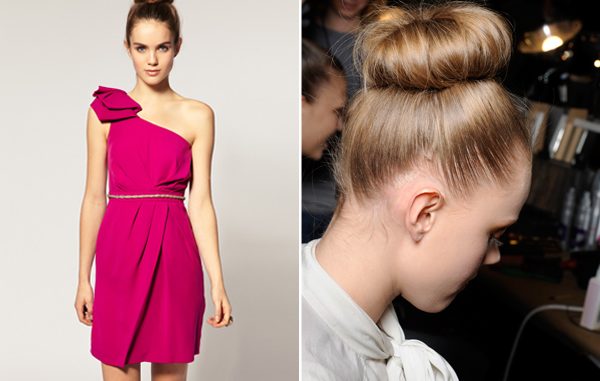 After tons of searching, you've finally found the perfect New Year's Eve party dress, one that manages to effortlessly toe the line between sexy, shimmery, and girly all in one pretty package. Now what are you going to do with your hair? Sure, you could throw it up into a messy bun, but why spend all that time looking for the right dress, only to half-ass it on your hair? Your mane not only frames your face, it also showcases the lines of the dress, so you want to be sure you're picking the right 'do to best accentuate that fly frock. We asked Edward Tricomi, a celebrity stylist and co-owner of Warren-Tricomi Salons, to help find the perfect hairstyle for seven stunning New Year's Eve dresses. Click through to see his cool coiff picks and the hot dresses to match. Now all you have to worry about is who you're going to kiss at midnight.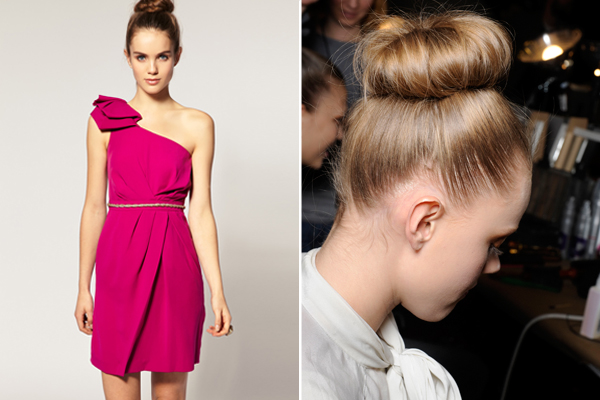 The Dress — Warehouse Origami One Shoulder Dress, $136.35, available at ASOS.
The Hair — Since one-shoulder dresses are all about the clean, sloping neckline, Tricomi says it's important to wear your hair up. Leaving your tresses loose will mess with the asymmetry and make you look unbalanced. Pair this dress with a French twist, chignon, or high bun like this one from the Donna Karan fall '11 show.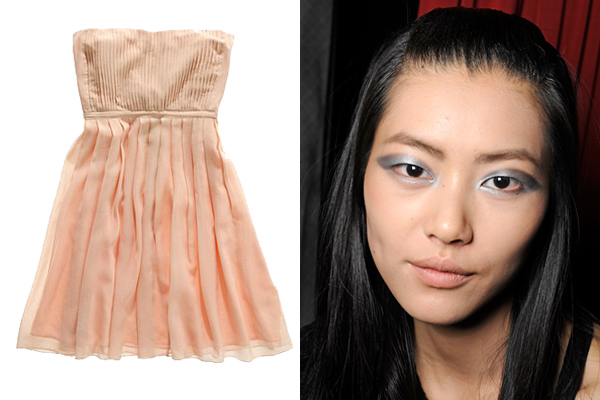 The Dress — Madewell Storybook Dress, $188, available at Madewell.
The Hair — A strapless dress is surprisingly versatile when it comes to your hair — it looks equally awesome with your locks up or down. One thing Tricomi suggests you avoid is a center part because it can come off as too severe. Try a side-part, or take a cue from Phillip Lim's fall '11 show and keep things interesting by brushing back the entire top section of your hair and securing it into a knot at the back of your head.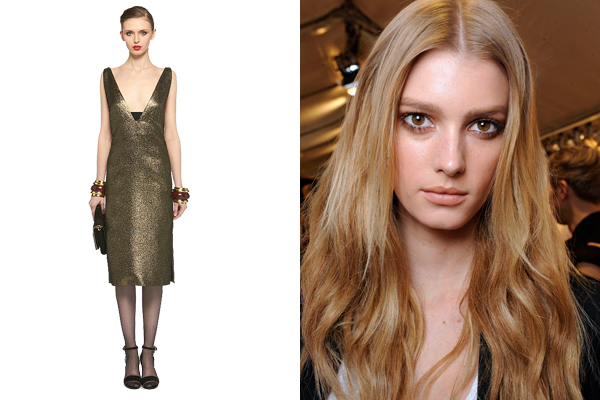 The Dress — Diane von Furstenberg Chastity Dress, $339.50, available at Diane von Furstenberg.
The Hair — A dress with a deep V-neck calls for soft, loose waves à la Chloe's fall '11 show. "The plunging neckline can handle the hair being down," says Tricomi. "You don't want to pull the hair back tightly – its too boring."

The Dress — Topshop Velvet Halter Dress, $120, available at Topshop.
The Hair — A halter dress needs a tough, textured style like this one from the Diesel Black Gold's fall '11 runway. "Long, waxy-textured hair will look sexy and will move throughout the night," says Tricomi. "You're worst option would be to pull it back straight and smooth – it doesn't go with the texture or the vibe of the dress. Remember: You're trying to complement fashion with hair!"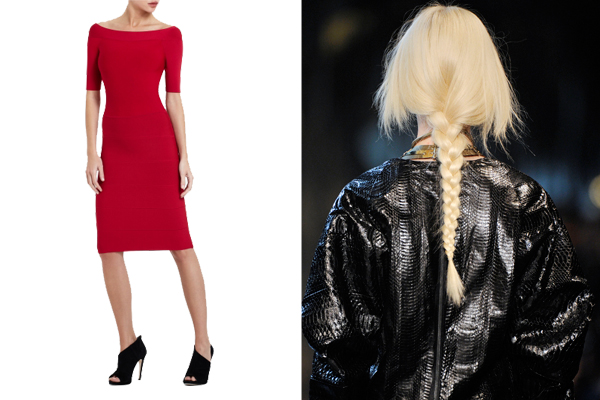 The Dress — BCBG Kisha Short-Sleeve Boatneck Dress, $298, available at BCBG.
The Hair — With a boatneck dress, you want your exposed shoulders to be the focal point of the look, but you don't want to wear your hair all the way up, or you risk giving off the sexy librarian vibe — blech. Tricomi says to try a thick, loose braid like those at Lanvin's fall '11 show. "This dress has a modern cut, so you don't want to age it by wearing a French twist or wearing anything 'frilly' — it just doesn't match the look. Go very modern with your hairstyle for this one," says Tricomi.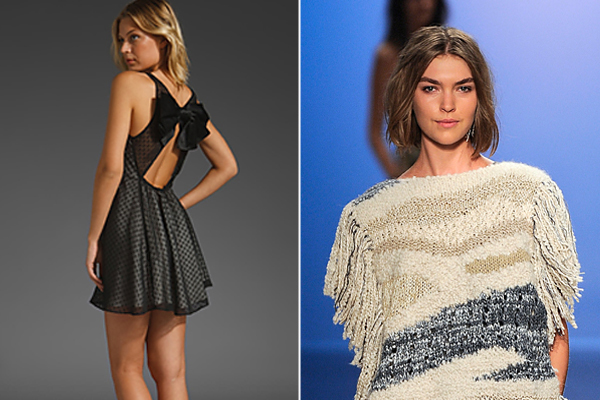 The Dress — DV by Dolce Vita Cameo Bow Back Dress, $143, available at Revolve Clothing.
The Hair — "A woman with a bob is meant for this backless dress," says Tricomi. You want to avoid covering up the sexiness of the bare back, so long, loose hair is a no-no. If you don't naturally have short strands like the lovely Arizona Muse, seen here on the Isabel Marant Spring '12 runway, tuck your hair under and pin it to create a full and messy faux-bob.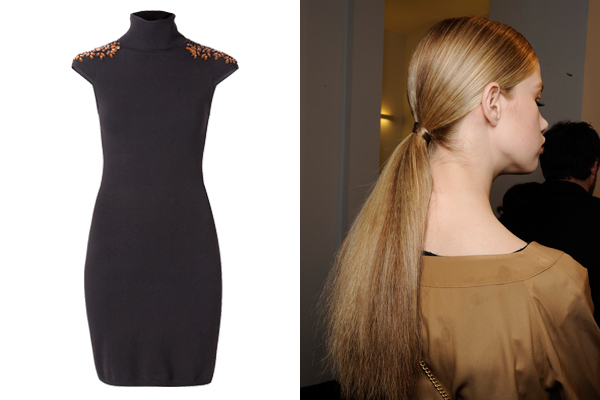 The Dress — Mango Knit Dress, $79.90, available at Mango.
The Hair — Rocking some shoulder bling on NYE? Then definitely make sure your hair is pulled back into a voluminous pony, as seen on the models at Gucci's fall '11 show. "This is a very clean-lined dress with detail on the neckline that shouldn't be covered," says Tricomi. "If you wore your hair down, it wouldn't reveal the appliqué on the shoulders and would take away from what the dress has to offer."
Click HERE to read more from Refinery29.