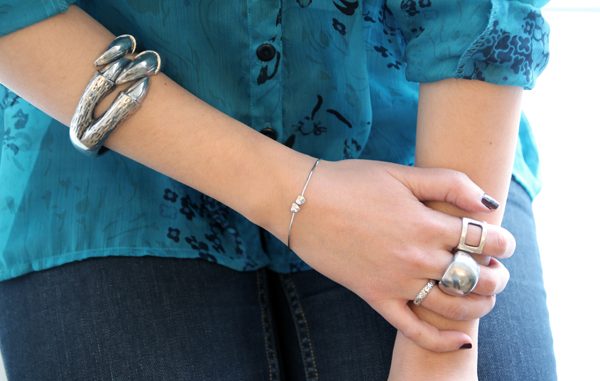 We like to get our war on. No, not like that. Think dance crews, nail-art battles and Zoolander-style walk-offs. That's why we asked our favorite purveyors of bling to show us what they're rocking around their paws for our holiday edition of Wrist Wars! From simple, shimmery strands to scene-stealing leather cuffs, these wrists certainly are well-stacked. There's a little inspiration here for every bracelet buff, from black-and-gold baubles to delicate tinsel-like strands — plus loads and loads of rings — here's your ultimate inspiration board for a holiday-themed arm party (minus the tinsel overload).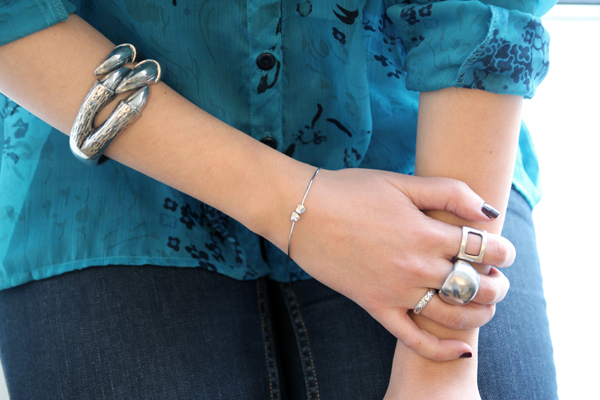 We're loving this pewter collection with a Topshop claw cuff and a Heart wire bracelet (flea market find!).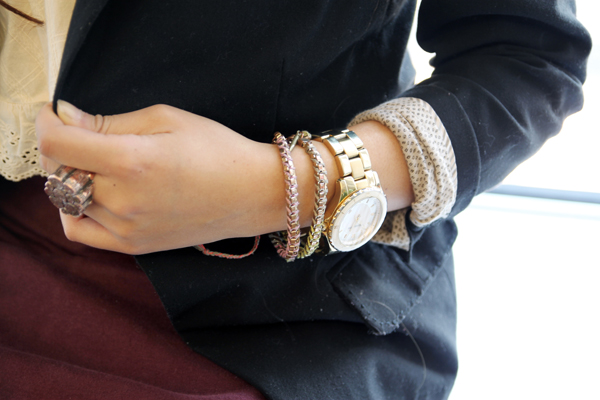 How lovely are those Lizzie Fortunato On The Road bracelets?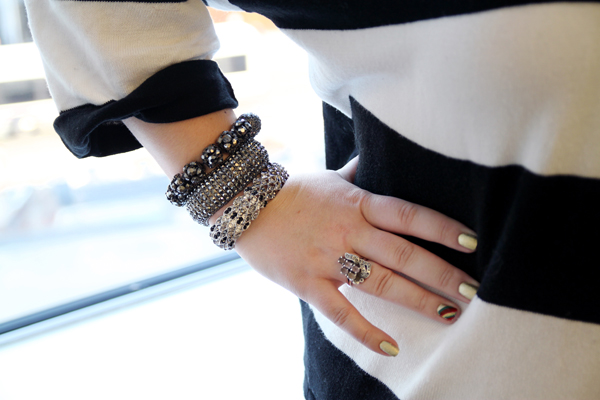 Stacked, sparkly bangles from Send the Trend.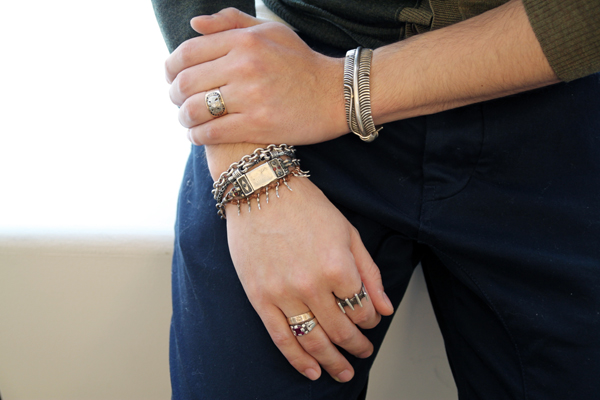 Vintage Secret Society ring, feather bracelet, and rings. Nick Potash sterling Silver Officer's Locket bracelet with onyx and garnet, Kria waxed cotton bracelet, and vintage Indian chain bracelets, most fromLove Adorned.

This is her aunt's vintage bracelet, a Thai evil eye bracelet, a Bing Bang bracelet, and a collection of rings from Mexico, Key West, and a custom horseshoe ring by Alushia Sanchia.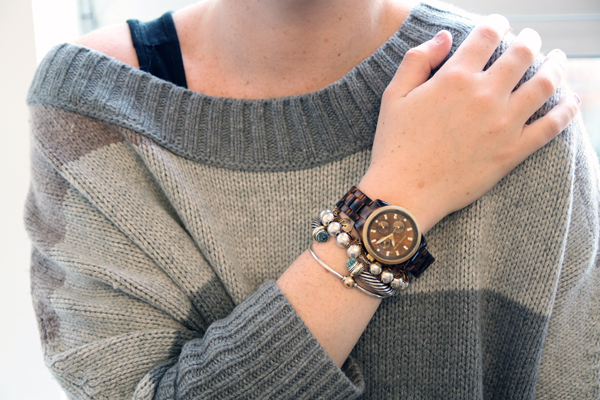 This is how you wear a men's watch. David Yurman cable braceelt, Cape Code braceelt, Madewell bracelet, and Michael Kors watch.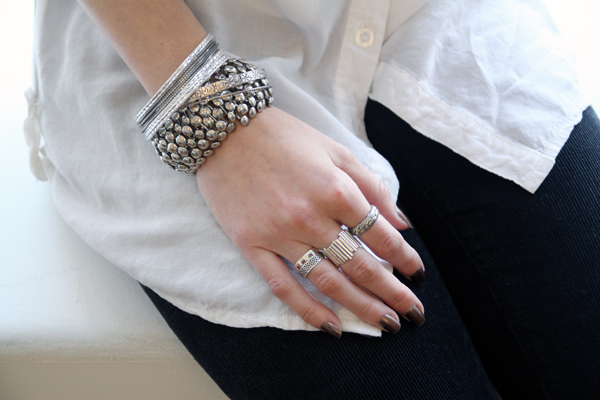 Bangles from an NYC street fair; the stretchy metal pin bracelet is ASOS, and the rings were picked from from all over the world (Portugal, Israel, San Francisco, in fact!).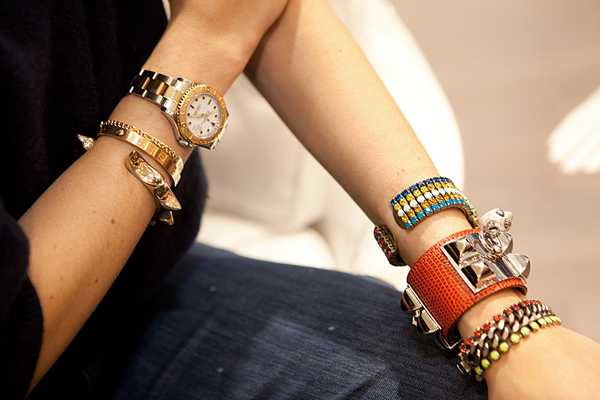 Can you count all the iconic pieces on these two wrists? Hermes, Cartier… yowza.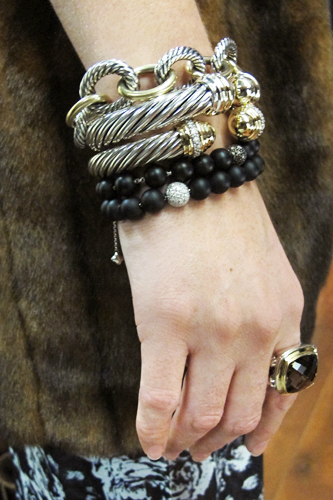 Lookie what we did. We stacked five wonderfully weighty — and very different — bangles, chains, and beaded loops of precious sterling silver, 18-karat yellow gold, pavé diamonds, and black onyx against one another to create the wrist of our dreams (we love our BFFs, but friendship bracelets have nothing on this bling). Just because we could, we topped off this sundae of baubles with a diamond and smoky quartz ring. Beat that for luxe accessorizing.
Extra-Large Oval Link Bracelet, $1,500, 10MM Thoroughbred Bracelet, $1,250, 10MM Pavé Diamond Bracelet, $3,400, 8MM Spiritual Black-Onyx Bead Bracelet, $1,550, 8MM Spiritual Black-Onyx Bead Bracelet, $850, Moonlight Ice Smoky Quartz Ring, $1,600, all available at David Yurman.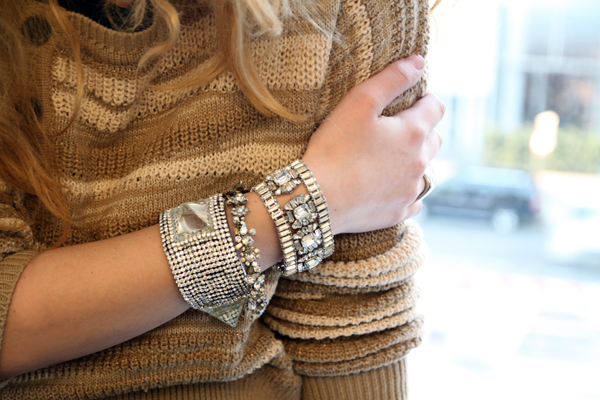 So, so sparkly!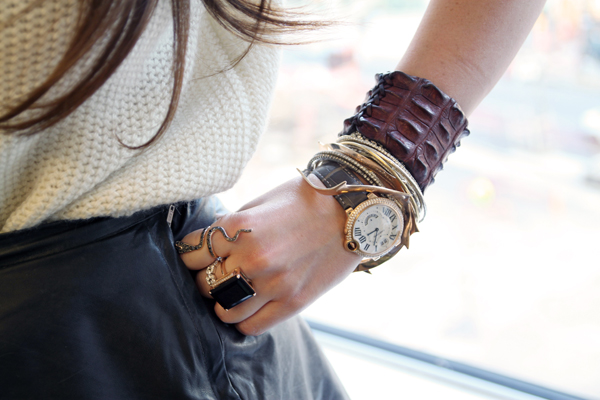 Check out that serious reptilian cuff.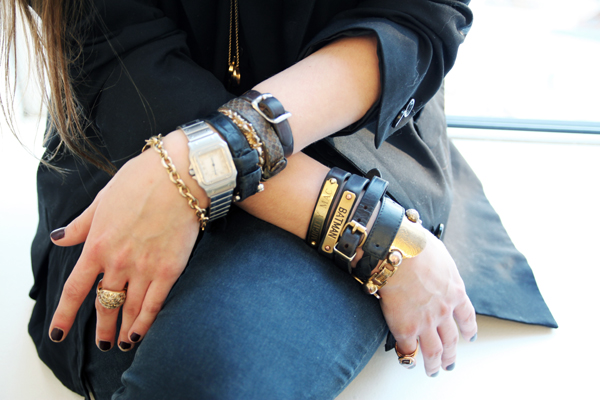 Ready for this wristful? The watch was Sydney's grandfathers (nevermind that it stopped ticking in 1998), the bracelet is Gucci, the snakeskin bracelet and black aligator skin bracelet are Kieselstein-Cord, the gold stingring braceelt is Genevieve Jones, the leather bracelet is actually an old luggage tag, the gold diamond rings are Mauboussin, the rose-gold brown diamond ring is Shaill, the gold and diamond Medusa bracelet is Versace, and the Might Mac, Batman, and Arbott Street leather nameplate bracelets are created by Sydney Racquel Reising (they're the names of her horses!).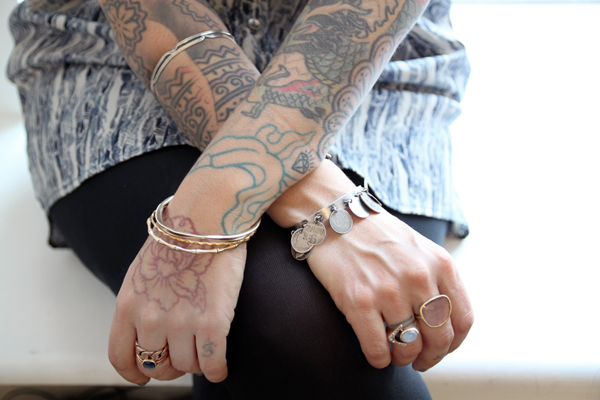 Check out this roundup from Love Adorned: Late Victorian bracelet, Lori Leven bangle, Ten Thousand Things gold bangle, Katie Finn tourmaline ring, Lola Brooks blue sapphire ring, Anna Sheffield diamond moon ring, Lori Leven link ring, and a vintage gray sapphire ring. Got all of that? Whew.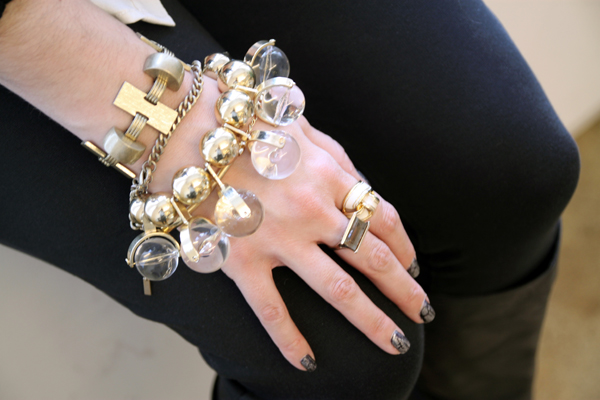 Some serious baubles of our own, on Shani Silver. These are two necklaces (one Jewelmint, one vintage) wrapped around twice, along with vintage rings.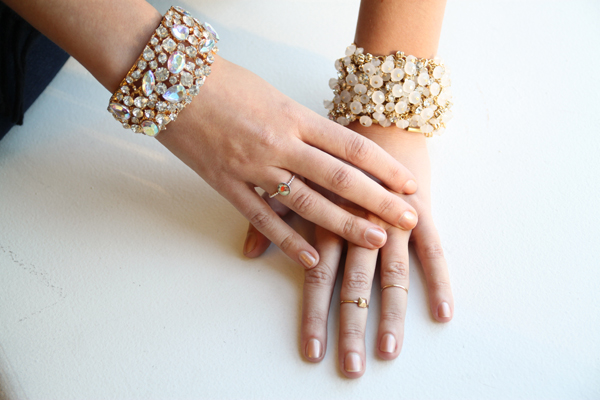 Brilliant baubles from Send the Trend.
Photographed by Shanita Sims.
Click HERE to read more from Refinery29.