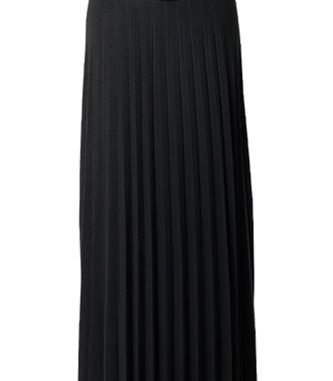 What to do when an occasion calls for something fancy, but you're just not feeling it? Hibernators beware: Even in the dead of winter when your brain is fried by finals, you'll still have to step out in high style. But just because you have to dress up, doesn't mean you can't feel dressed-down. In the name of comfort and time, we put together five easy tips to instantly elevate any ensemble with zero effort and maximum style points.

A maxi-skirt will give the illusion and glamour of a dress, but is so easy to move, in feels like your favorite sweats.

Nadine Pleated Maxi-Skirt, $32.90, available at Alloy.

If you layer correctly, shorts can be worn all year long. These wine-colored faux-leather shorts look like a million bucks, but are so soft you can sleep in 'em.
Dress Monster Wine Leather Shorts, $118, available at Need Supply.

Without stepping out of your favorite pair of jeans, step into these glittery-but-practical shoes that'll take your look to new heights.
Topshop Konfetti Lace-Up Shoes, $120, available at Topshop.

A fuzzy sweater in a lovely, thick knit is super-stylish, but a sweater is a sweater if you know what we mean — comfy-cozy through and through.
Threadsence Ombre Sweater, $49, available at Threadsence.

Lip stain is bright and long-lasting, and a simple swipe will dress up even the homeliest sweats-and-tee combo.
The Balm Stainiac Lip and Cheek Stain, $17, available at Sephora.
Click HERE to read more from Refinery29.