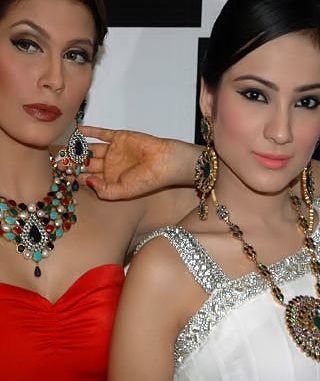 The Designers, Karachi.
Organizer: Savy PR & Events and Voila PR
Leading jewellery brand in Pakistan, Sonar Jewellers now makes its entrance at The Designers in Karachi feeding its clients with traditional Jodha maalas and rings by catering Mughal era designs.
Hamna Amir and Syma Raza of Sonar Jewellers held a launching event of Sonar Jewellers at The Designers inviting their close friends and fans. Many jewellery lovers and admirers of Sonar Jewellers attended the event. Fashion models presented some intricate jewellery pieces that carried inspiration from Ottoman era and the Egyptian style.
Hair & make up of the fashion models was done by Style Q salon under the supervision of Angie Marshal. Fashion designer Asim Jofa provided the clothes to the models.
VOILA managed the PR of launching of Sonar Jewellers at The Designers whereas savvy pr & events organized the event.
Click HERE to read more from Fashion Central.