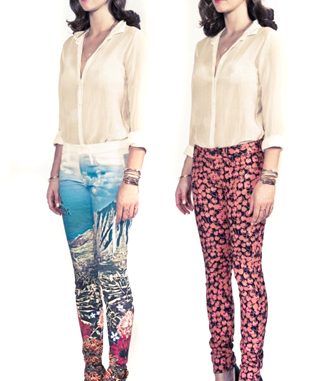 We think we've finally gotten to a point when the skinny jean is the standard shape, whether you're from Pleasantville, USA or actually make your home inside the Fashion Week tents. But, the ubiquitousness of skinnies might have put a damper on your imagination — because when was the last time you looked at a pair of drainpipes and felt inspired? Well, shake it off, because there's been a recent revitalization of the skinny shape, and we're here to give you five reasons to fall back in love with them—all over again. From minor new shape changes to a wash we can't get enough of, here's why the skinny jean should still reign supreme.

The Statement Piece — First came colored denim, then came subtly printed denim… now, it's time for your jeans to play first violin. Whether splashed in a graphic photo-print or an in-your-face pattern, these statement jeans make it easy to be a fancy pants.

The Modern-Day Audrey — Cropped, skin-tight, and impeccably tailored, the trouser jean of yesterday spent the summer in France, picked up a pair of pointy-toe pumps, and hung up a Funny Face poster in its hallway. Wear these just like Audrey did, with a cashmere sweater and some blingy earrings.

The Micro Cuff — Leave cuffing your jeans more than once to the lumberjacks. Turning up your hem just once makes an outfit just a little bit more interesting.

Vintage Redux — If you boil the perfect vintage jean down to its essential components, you'll end up with a mid-rise, slim-but-not-suffocating, ankle-length pair in a faded cornflower shade, which has the feel of puppy fur. If you can't find that Holy Grail of denim at your local thrift shop, you can cheat. Plenty of designers have mimicked the wear of the perfect pair of vintage skinnies… but it'll cost you.

The Convertible Mini-Flare — One of the season's newest silhouettes is the mini-flare, an early '00s trend that's slowly coming back into popularity. If you can't quite commit, a convertible jean like this one from Lot78 will let you play around with the trend while being able to slip back into skinnies whenever you'd like!
Click HERE to read more from Refinery29.