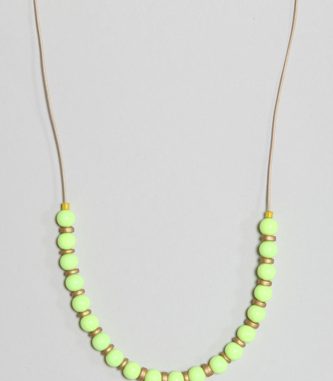 Every fashion lover worth his/her salt knows that it's the accessories that can turn a "meh" outfit into something really magical. For those who might not be in the place to drop a few hundred on a killer piece of jewelry, there are a treasure chest of special, expensive-looking necklaces, rings, and bracelets that'll cost you less than $50. In fact, starting from just $7, this jewelry roundup will bound to provide at least a few gimme gimme moments that you won't feel guilty about cashing in on.

Alyson Fox Neon Yellow Necklace, $42, available at Totokaelo.

Nasty Gal Zipper Cuff, $15, available at Nasty Gal.

Modcloth Leaf Ring, $15.99, available at ModCloth.

Banana Republic Purple Line Bracelet, $49.50, available at Banana Republic.

AV Max Black Chevron Necklace, $48, available at Shop Twigs.

BCBGeneration Armor Ring Set, $28, available at BCBG.

LOFT Resin Bracelet, $49.50, available at LOFT.

Aqua Chunky Gunmetal Necklace, $30, available at Bloomingdale's.

Betsey Johnson Pearl Crystal Studs, $38, available at Betsey Johnson.

Dannijo Derek Foreal Rings, $38, available at Dannijo.

ASOS Perspex & Tube Necklace, $36.36, available at ASOS.

Miss Selfridge Gold Rhinestone Spray Earrings, $7.68, available at Miss Selfridge.

Made Nne Moja Brass Rings, $42, available at The Outnet.

Forever21 Scalloped Bib Necklace, $14.80, available at Forever21.

H&M Necklace, $12.27, available in-store at H&M.

Jenny Jenny Tassel Earrings, $31, available at Farfetch.

Beth Lauren Bengal Necklace, $48, available at Beth Lauren. Get this necklace for a steal, now on R29 Reserve!
Click HERE to read more from Refinery29.