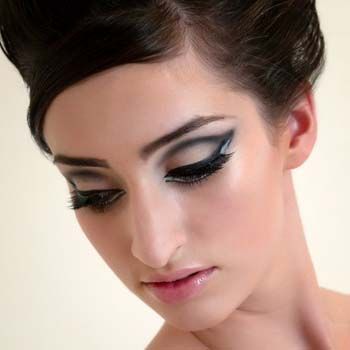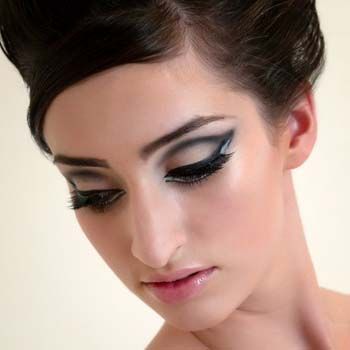 There is nothing that matches the classic yet pretty look of the 60's. With the coming winter season, everyone is trying on with different styles either with their attire or their personal looks and there's nothing better than a good and nicely done 60's make over. The main thing about the 60's look is the
60's style eye makeup
which makes you look like a complete stunner if you have done it the perfect way. The
60's style eye makeup
is definitely the trend of the season and here is the easiest way for you to try
60's style eye makeup
and
look gorgeous this winter season
.
Start your 60's style makeover by cleaning your face and washing it with a good quality face wash. Pat it dry. Once you are done with the cleaning part, make you're your eye area, where the makeup is supposed to be applied is clean and dry. For the 60's style eye makeup, get a grab on the darkest shades of black for your eye liner or eye pencil. It is totally perfect to use any one of these products. The eye liner can be in gel form too. Starting with the 60's style eye makeup, choose a light colored eye shadow because using a dark eye shadow is not the thing for 60's style eye makeup.
Moving on to the eye lash line, pick your favorite dark colored eye pencil or eye liner and start applying it along your lash line. Keep your hand steady and firm. If you cannot keep it steady, use a gel eye liner instead of a liquid one. Now repeat this application once more so that you can enhance the shape of your eye by giving it a complete 60's style eye makeup. Moving towards the end of the lash line, make the eye liner or pencil thicker. This is where you actually give your eyes the 60's style eye makeup. If you want to make this look of 60's style eye makeup more glamorous, apply false eye lashes.
As for the mascara, use the color black. Apply it on your eye lashes. After you are done with the mascara, you can balance out the whole look if you see any problem according to your style. A lash curler at this stage will also do the trick. Curl you lash, but keep in mind, do NOT smudge your eye liner. You can also do retouching on the eye liner edges if you think it is not enough. Make sure the edges of your lash line are going smoothly with your 60's style eye makeup because we do not want it to be too artificial.
When it comes to 60's style eye makeup, it is important that you work on the rest of your makeup too. This does not mean that you should over do the rest of the makeup. Remember to keep everything else very simple. For example use a good quality pinkish lipstick that also compliments your skin tone. Use a very light toned blush on and do not over do on this part.
Follow the above mentioned simple tips, and add glamour to your winter season by looking classic yet sexy by trying the 60's style eye makeup.
Click HERE to read more from Fashion Central.