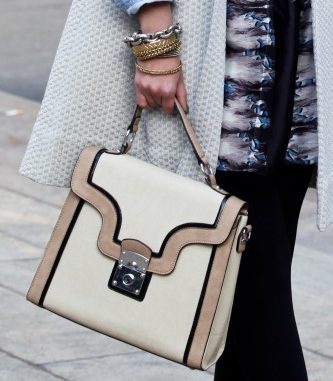 If It bags could talk, they would have filed a restraining order against NYFW tent-goers ages ago — it's calledbag stalking, and we've all been guilty of it (sorry, we're not sorry). But can you blame us? A handbag can make or break an outfit, so it's really no wonder we find ourselves constantly searching the stores (and each other's arms) for the best new carryalls.
Fashion Week is undoubtedly the best time to keep our eyes wide open. With all the totes, clutches, messengers, and more, there is an infinite number of carriers to covet. To help you ooh and aww more comprehensively, we've compiled the best of the best. So, welcome to the it's-not-creepy-it's-fashion art of handbag stalking — let the games begin.

We love the geometric shapes on this angular little bag, plus the neutral shades make it totally timeless.

French photographer Julien Boudet carries a chic little tote emblazoned with his country's flag.

Could this possibly be the coolest beaded clutch ever? It's Banana Republic, and we're totally lusting after the soft mint hues.

Blogger and stylist Carolina Engman totes around this chic Rebecca Minkoff pouch, with some added fur to keep warm.

Teen Vogue editor Naomi Nevitt sports a minimal, boxy vintage bag.

Vogue fashion assistant Preetma Singh carries a curly Marc Jacobs satchel.

Fashion entrepreneur Marissa Webb sports the Proenza Schouler bag of our dreams. Sigh.

Harper's Bazaar editor Christine Whitney slings a prototype Alexander Wang bag she scored at a sample sale. Um, best find ever?

Jen Ford from Lucky Mag has a badass Rebecca Minkoff tote that's a little Pepé Le Pew, but we totally love it.

Kristina Lepore, assistant fashion editor atO magazine totes a pebbled leather and studded Alexander Wang carryall.

The Man Repeller, Leandra Medine, totes around a bright red PS1 with a cute little brooch.

Margaret Zhang's bright yellow bucket bag is the perfect spring-y accessory to compliment her heavy knit sweater and dark black pants.

This color-loaded confection reminds us of the swirly screen saver on our Mac computers.

The soft metallic hardware and the stout rectangular shape of this Proenza Schouler PS11 proves that you don't need a lot of bells and whistles to have a drool-worthy bag.

Check out the creative inverted handle on this chic white clutch.

Squee! We can't get enough of this super-adorable polka-dot bag from Anthropologie that fashion designer Tchelet Feldman is carrying.

Georgia Collins, beauty writer for BritishElle, slings a studded vintage bucket bag.

Who says backpacks can't be drop-dead gorgeous? We wish we had a chic leather number like this to tote around our textbooks back in the day.

Of course, it wouldn't be Fashion Week without a Céline bag in the mix.

Can you ever go wrong with gold studs and black leather?

We've got our eyes on Victoria's Secret swimwear designer Sarah Bergenheim's sunny snakeskin satchel.

A quilted bag is always a good idea, and gold? We think that's a girl's best friend.

Jeana Kolson of Barney's carries an eagle-embellished tooled-leather bag.

Neon galore from the Cambridge Satchel Company.

Peekaboo! A killer see-through contraption from Anndra Neen.

Another Céine bag. Do you like this neon pink, or the red one from slide 19 better?

We're a little surprised this lady was able to find an orange and purple Fendi bag to match her orange and purple coat.

We're almost afraid to touch this Valentino tote, because it looks like it might hurt.

Another killer backpack, this time vintage!

You'd think this bag must be from some fancy label, but, of course, it's just another incredible find from Zara.
Click HERE to read more from Refinery29.