Glam metal, by '80s definition, is the sector of rock in which leather studs, teased hair, and smudged eyeliner are as embedded into the music as distorted guitar riffs and catchy hooks. But if you think it died a long time ago, Urban Decay is here to bring it back to life. Enter: UD's Heavy Metals Metallic Eyeshadow Palette.
After 21 years (!) of nudes and neons — from Naked 1, 2, 3 to Vice, respectably — cofounder Wendy Zomnir tells R29 she had an "a-ha" moment: Why not create a metallics-only palette? A first for the brand, it features 20 brand-new, molten hues louder than Judas Priest's "Electric Eye," with shade names that sound like they belong on a Van Halen tour bus. Even the packaging is decidedly metal: The purple sleeve is designed to look like a matchbook — because how else could you embody the guitar-wielding era of rock 'n' roll without that?
As for the colors, they strike a subtle resemblance to Urban Decay's
first-ever nail polishes in 1996:
"We did a flashback collection last year, so some of those shades were top of mind," Zomnir says. But if they seem muted in the pan, "the foiled pigments come alive when applied," she promises.
Don't just take her word for it, though. Check out an exclusive first look at the palette ahead, along with how all 20 shades look on two different skin tones. Ready for the mic drop?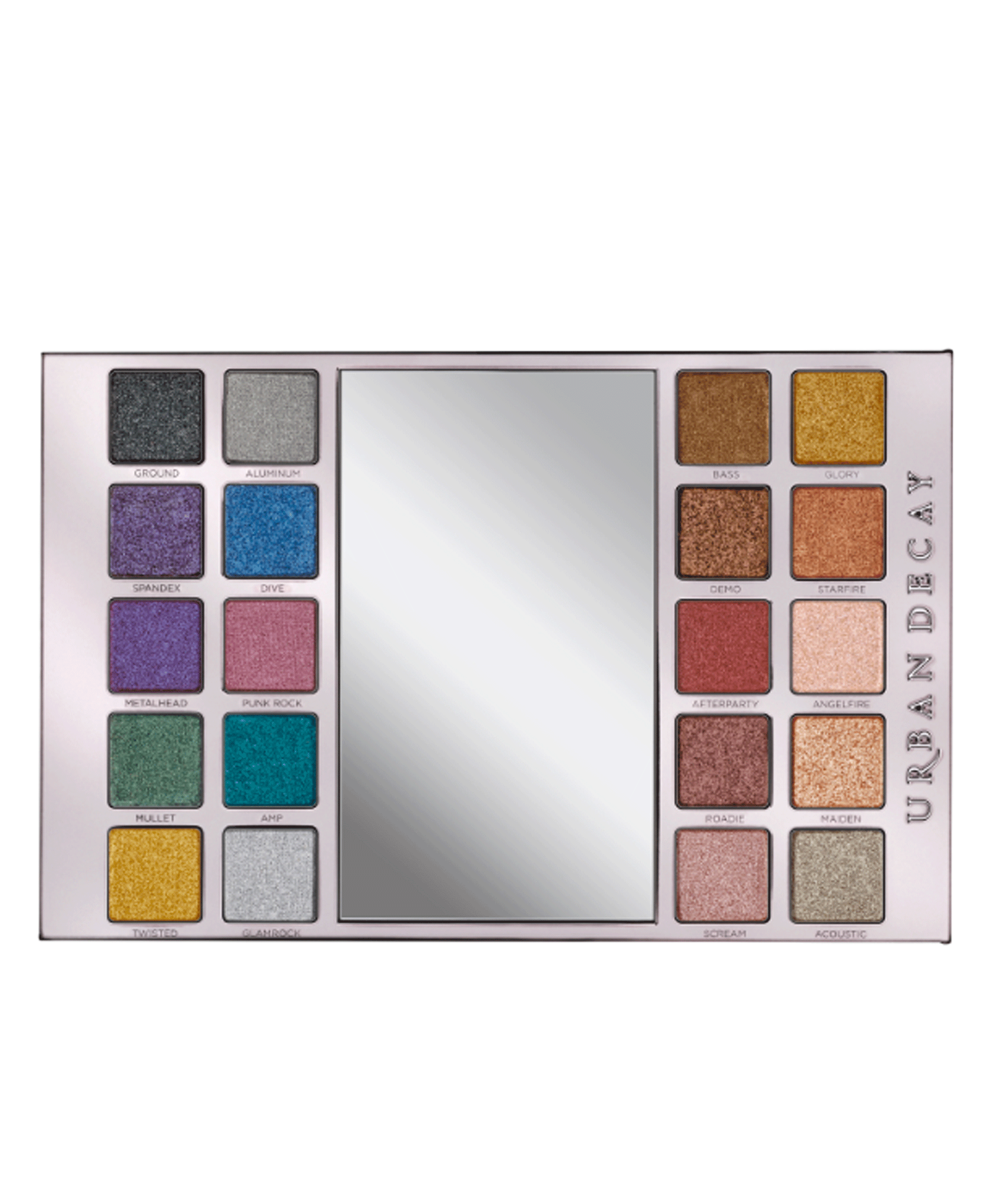 Urban Decay Heavy Metals Metallic Eyeshadow Palette, $55, available at Urban Decay and Sephora on October 11.

From top: Ground (sparkly black); Aluminum (molten silver); Bass (metallic bronze); Glory (golden bronze); Spandex (glimmering indigo); Dive (bright teal); Demo (rosy bronze); Starfire (copper); Punk Rock (metallic fuchsia); Afterparty (shimmery red); and Angelfire (ballerina pink).

From top: Metalhead (metallic purple); Mullet (emerald green); Amp (bright teal); Roadie (red-burgundy); Maiden (iridescent beige); Twisted (sparkly gold); Glamrock (foiled silver); Scream (rosy mauve); and Acoustic (shimmery champagne).
Like this post? There's more. Get tons of beauty tips, tutorials, and news on the Refinery29 Beauty Facebook page. Like us on Facebook — we'll see you there!
Click HERE to read more from Refinery29


Loading ...