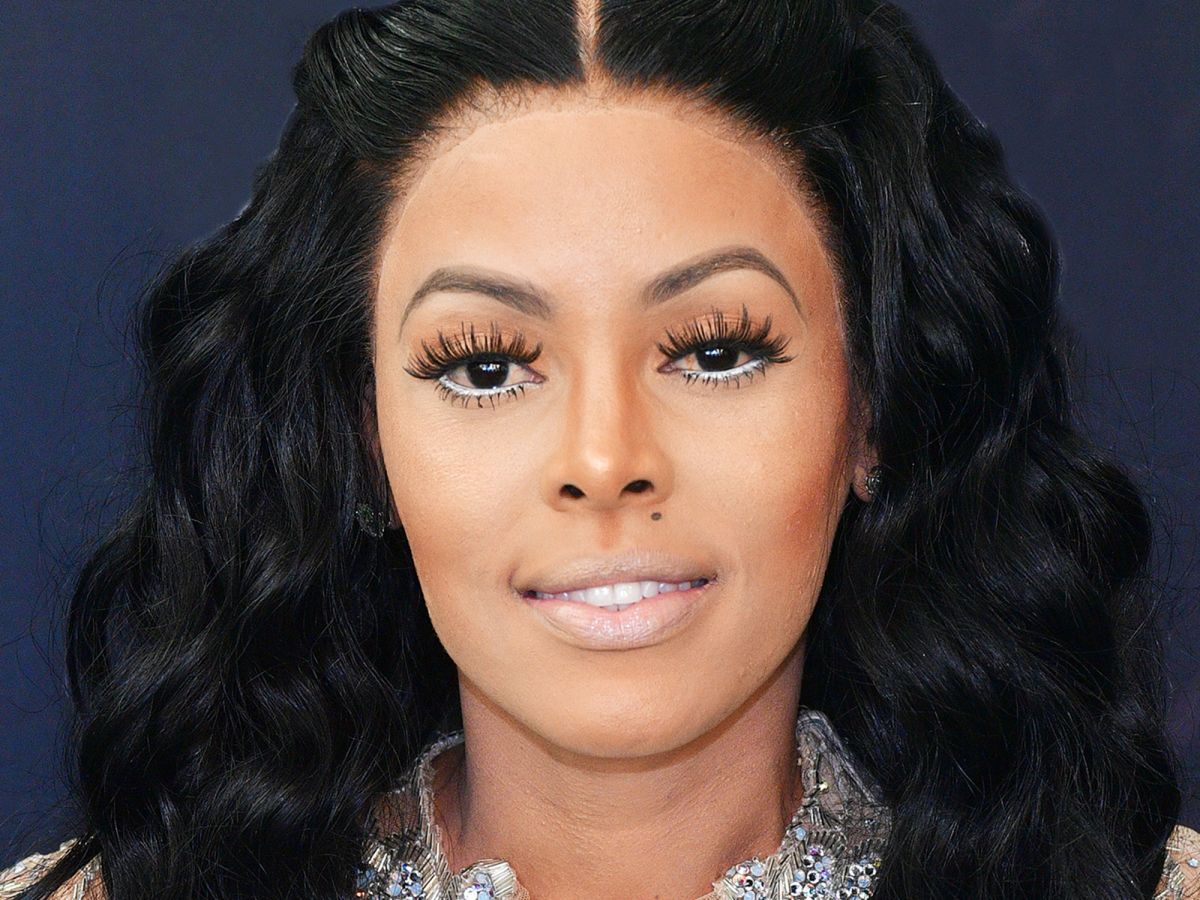 When makeup artist Angie Martinez was asked to do Keyshia Ka'oir 's bridal makeup for The Mane Event, she was nervous — and understandably so. For one, Keyshia is the mastermind behind Ka'oir Cosmetics, a line of vivid, pigment-rich lipsticks (and shadows) that predate your favorite lip kit. Second, her groom-to-be, Gucci Mane, has a history of going big…really big. (See: The entire Miami ceremony ended up costing nearly $2 million, which, you know, is totally casual.)
Then there was the whole televised special on BET aspect, which clocked in 1.6 million viewers and will be included in a 10-part docuseries to follow. Did we mention that the guest list included Diddy, Jhene Aiko, 2 Chainz, Monica, Rick Ross, Big Sean, Trina… do you see where I'm going here? Ka'oir and Gucci, whose fans call the Wopsters, are all about extravagance.
With all of that in mind, you'd think that Martinez would be directed to only use Ka'oir goodies mixed in with luxe, prestige brands. But it turns out that a key part of the finished face was achieved with a drugstore liquid lippie that looked like a million bucks.
A post shared by Keyshia Ka'oir Davis (@keyshiakaoir) on Oct 17, 2017 at 5:57pm PDT
"Keyshia is very specific. She's the dream client — she knows what she wants and how it should be executed," Martinez tells
Refinery29
. For
The Mane Event
, Ka'oir's directive was to make her up like no one's ever seen before. "She knew she wanted an all-nude look. Normally, her makeup is very bold. She does the crazy-colored lipstick or the glitter on her lips. For the wedding, she wanted something that people wouldn't expect from her," Martinez says.
Of course, that doesn't mean low-key. If "budget" isn't in Gucci's vocabulary, then "neutral" isn't in his (now) wife's. "She still wanted the eyes to be a little dramatic, to sparkle and match her beautiful bouquet and gown, which was all glam and glitz," Martinez says. "She's not a natural makeup person. [Keyshia likes] a heavy contour, a beaming glow that really pops, sharp and precise brows, and her nose contour to be snatched."
In order to really bring out that bridal glow, Martinez moisturized Ka'oir's skin with Tatcha Water Cream and let it sit while working on her eyes. She primed her eyelids with Embryolisse Lait-Crème Concentré and used base shades from Morphe's Jaclyn Hill Eyeshadow Palette for a gold smoky eye, then lined her eyes with Urban Decay's Heavy Metal Glitter in Midnight Cowboy.
A post shared by Keyshia Ka'oir Davis (@keyshiakaoir) on Oct 18, 2017 at 6:35am PDT
Then came the lashes, which are extremely important to Ka'oir. "Keyshia loves really full lashes and prefers them to have a spacey effect, almost spidery," Martinez, who used Lilly Lashes' Mykonos, says. "When it comes to makeup, her biggest pet peeve is when the lashes don't look like they're coming out of the lash line perfectly."
As any bride (or sideline spectator) knows, a crucial aspect of glam is the lips. You want a formula that lasts from "I do" smooches to the cake-cutting. Ka'oir requested a nude: not a brown or a tan, but a true flesh-toned color. Martinez lined with MAC Lip Pencil in Cork, and filled in with NYX Soft Matte Lip Cream in London — a formula that rings in at just $6.49! To top it off, she mixed NARS Orgasm Lip Gloss with Ka'oir Lip Pop Gloss in Take It Off.
A post shared by Keyshia Ka'oir Davis (@keyshiakaoir) on Oct 17, 2017 at 9:48pm PDT
Martinez actually came up with an idea that made one of the cutest moments of the night, all based on the lipstick. Thanks to the gloss, her lips weren't exactly kiss-proof — but she liked it that way. "We had an idea where she could wipe his lips after they kiss, like a playful thing, and that's what she ended up doing," she adds.
All in all, Martinez's nerves went away as the day progressed. As for Mrs. Wopster? Cool as a cucumber, just like hubby. "She was calm and very sweet," Martinez says. "And she didn't sweat at all!" For the rest of the wedding day breakdown, check out Martinez's Instagram.
Click HERE to read more from Refinery29


Loading ...