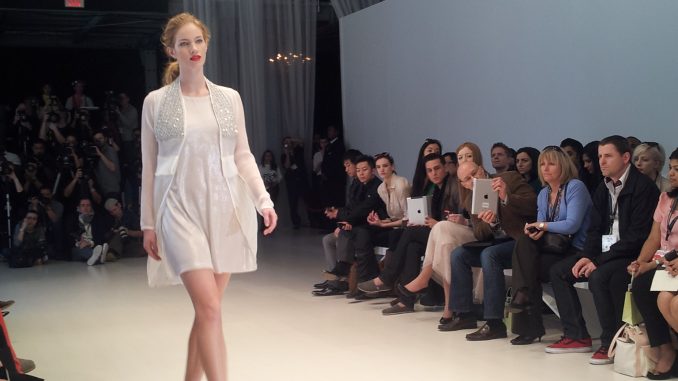 You can publish this article on your website as long as you provide a link back to this page.
This article was last updated on April 16, 2022

Saniya Khan dazzles again!
Torontonians got a double treat this past week- not only was the weather record breaking warm but the city was treated to front row seats to some of the hottest new designs in the Great White Tent of the World Mastercard Fashion Week at David Pecaut Square. One such big name designer is Toronto's very own Saniya Khan who has showcased her work at the Toronto Fashion Week on several occasions.
Saniya Khan started out as a very passionate and successful textile designer and her collection embraces a unique fusion of fabrics and textures brought together in stunning timeless creations for the modern feminine appeal. Her fall/winter 2012 collection displayed in the stark white Canadian catwalk, is a reflection of her "romantic and philosophical thoughts", as she wanted to express and depict "a spirit's evolution and a soul's journey through dark times leading to peace, love and hope."
The great white tents with white bleacher-style seats were the perfect setting for her artistry to come to life. The colours were all about light- shades of white and delicate Chantilly cream on figure skimming outfits flowed with ease and comfort alongside heavy trimmings of fur and embroidered embellishments. Chiffons and crepe georgettes with touches of richly embroidered cuffs and panels were resplendent under the lights. The shapes were loosely skimming the upper body while the legs were in the spotlight with ruched and straight line leggings showing off the feminine figure. Tunic tops and short dresses told romantic stories with bell sleeves and the rich red velvet embellished with sequined embroidery told rich tales of romance in modern times.
Capes and leggings were in abundance in muted shades of cream, mushroom and olive greens with a surprise element of colour in turquoise, silver and gold.
Once again, Saniya Khan has won accolades for her trademark embellishments of velvet and fur mixed comfortably with lightweight crepes and silks. A stunningly wearable collection for the modern woman still hankering for an old fashioned romance expressed through the clothes she wears.
Congratulations to Saniya Khan and may the world enjoy her collection for years to come.
View Photos: https://www.oyetimes.com/club-oye/photos/album?userid=3771&albumid=212