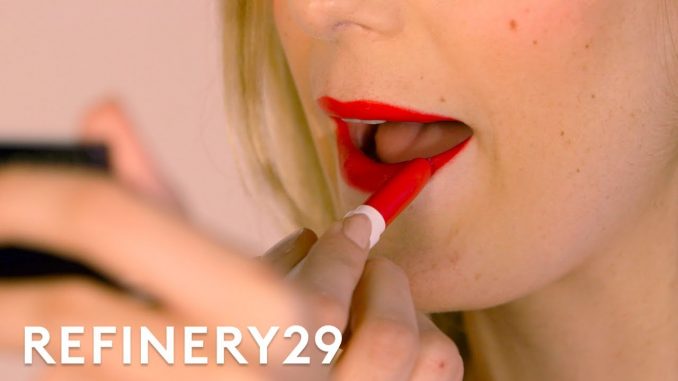 You always want what you can't have — especially when it comes to beauty products. That's why we're getting the inside scoop from your favorite retailers on what's selling out right now, how to sign up for waitlists, and where to go to find the next best thing. Because if everyone's buying it, you know it has to be good.
Thanks to lipstick 's unwavering popularity, long-wear formulas now come in countless textures, colors, and delivery methods. Dior recently launched its Addict Lip Glow Color Reviver Balm in a velvety shade that's hydrating and lasts all day. Urban Decay took a crack at the powdered lip trend with its bouncy, pigmented mousse that wears like a blotted stain that never flakes away. And Burberry just dropped the ideal lip hybrid that wears like a matte stain with the impact of a liquid lipstick.
Innovative formulas that give us the most bang for our buck is the future of makeup, which is exactly why the latter formula — Burberry's Lip Velvet Crush Sheer Matte Lip Stain — is already sold out in four shades on Sephora.com. Luckily, there are four shades still in stock, but we'll do you one even better. We've rounded up alternatives that also feature unique applicator tools and buttery matte pigments. Check out our favorites ahead.

Sheer and matte are two lipstick characteristics that rarely go together, but alas, they make a beautiful pair. The feature that makes this possible? The cushion tip applicator you see here. Although the brand may not be the first to capitalize on this innovation, it is one of the first to combine it with a liquid, no-fade finish formula that wears for hours like a stain.
Burberry Lip Velvet Crush Sheer Matte Lip Stain, $30, available at Sephora

From a distance, this balmy lipstick looks just like it sounds, but take a closer look and you'll notice a foam tip at the top of the lipstick bullet. (We missed it the first time, too.) This cushion applicator delivers a generous, but not unreasonable, amount of creamy, whipped pigment that eventually dries to a lightweight velvet matte.
Givenchy Le Rouge Liquide, $37, available at Sephora

Although this product isn't made up of a liquid formula, its powdery matte texture glides on like butter. Plus, it can be sponged all over your lips for a blurred stain, or built up to be more of an opaque wash of color.
Buxom Cosmetics Pillow Pout Creamy Plumping Lip Powder, $22, available at Sephora

These shakable liquid lipsticks are partially why we're so into the cushion tip. Since the color saturates the entire jumbo-sized foam applicator, you're able to cover your lips in bold, matte pigment in just two swipes.
Lancôme Matte Shaker High Pigment Liquid Lipstick, $22, available at Sephora

The name says it all: This bold liquid stain lasts and lasts and lasts. But what it doesn't tell you is that although it's budge-proof, its weightless, natural finish is actually subtle — in the best way.
Dior Dior Addict Lip Tattoo, $30, available at Sephora

Hate thick and goopy liquid lipstick? Here's the alternative you've been waiting for. This formula is lightweight, more opaque than most all stains we've tried, and thanks to the quill-like tip, is ultra-precise.
Giorgio Armani Beauty Lip Magnet Liquid Lipstick, $38, available at Sephora
Click HERE to read more from Refinery29


Loading ...