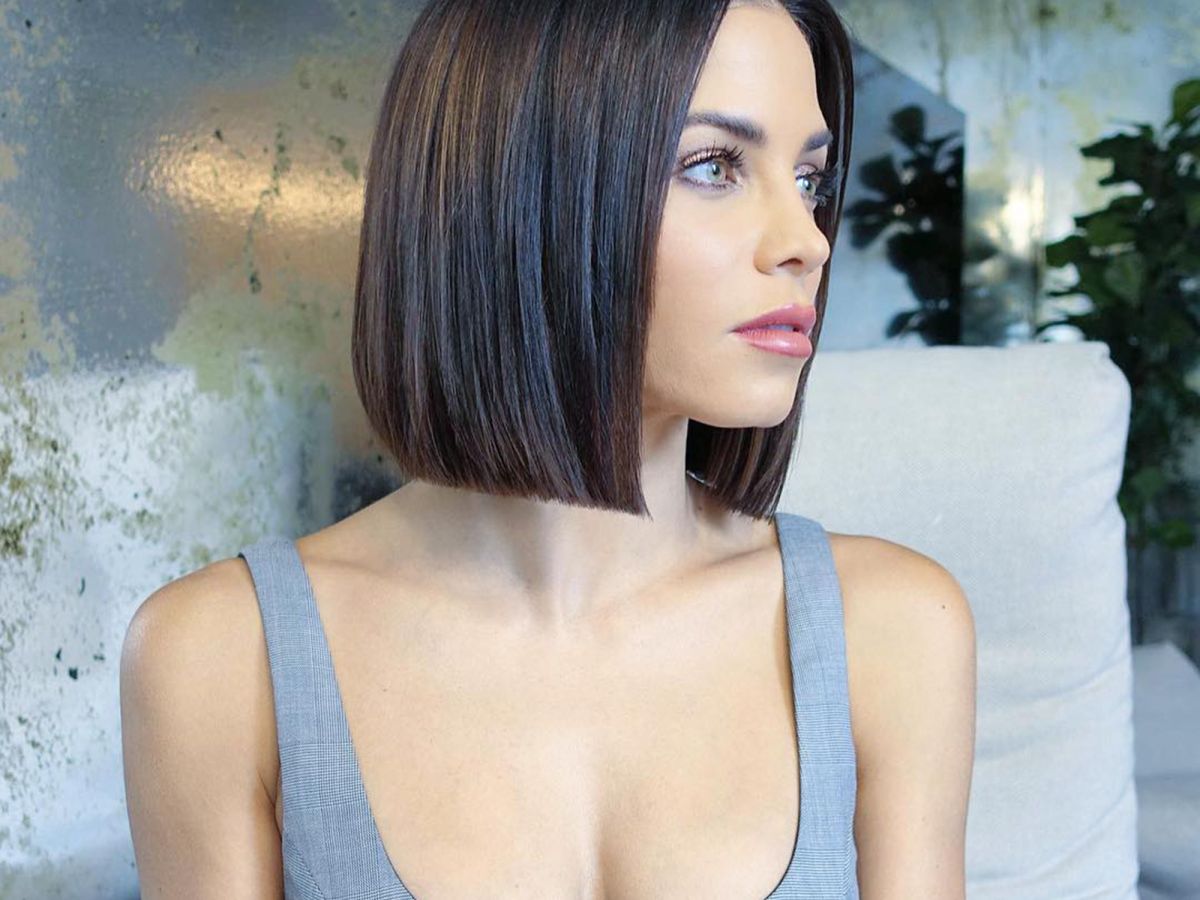 Aside from just about everyone going blonde this summer, bob haircuts have been the trend du jour in Hollywood. And with new haircuts comes the responsibility of thinking of new ways to style them, which has prompted top celeb hairstylists to create a trending look that's been dubbed "glass hair." No, it has nothing to do with actual glass, but rather a sharp cut that is styled to look perfectly polished, smooth, and shiny — resembling the reflective qualities of the material.
"We first saw polish and shine in a glass-like manner popularized by Vidal Sassoon in the '60s," says celebrity hairstylist Cash Lawless. "He was achieving immense levels of shine on short geometric cuts. Now, videos have began to go viral and hairstylists started picking up on the trend." From where we're sitting, the trend isn't slowing doing anytime soon. So, if you're feeling the look just as much as we are, call your stylist and click ahead for all the celeb-inspiration and tips you need.
Kim Kardashian
"The inspiration was '90s, swishy glass hair," celebrity hairstylist Chris Appleton wrote on Instagram. "I wanted to create a really intense shine for the hair." To achieve the look, Appleton prepped Kardashian's hair with ColorWow Hair Dream Coat (he is a spokesperson for the brand).
@chrisappleton1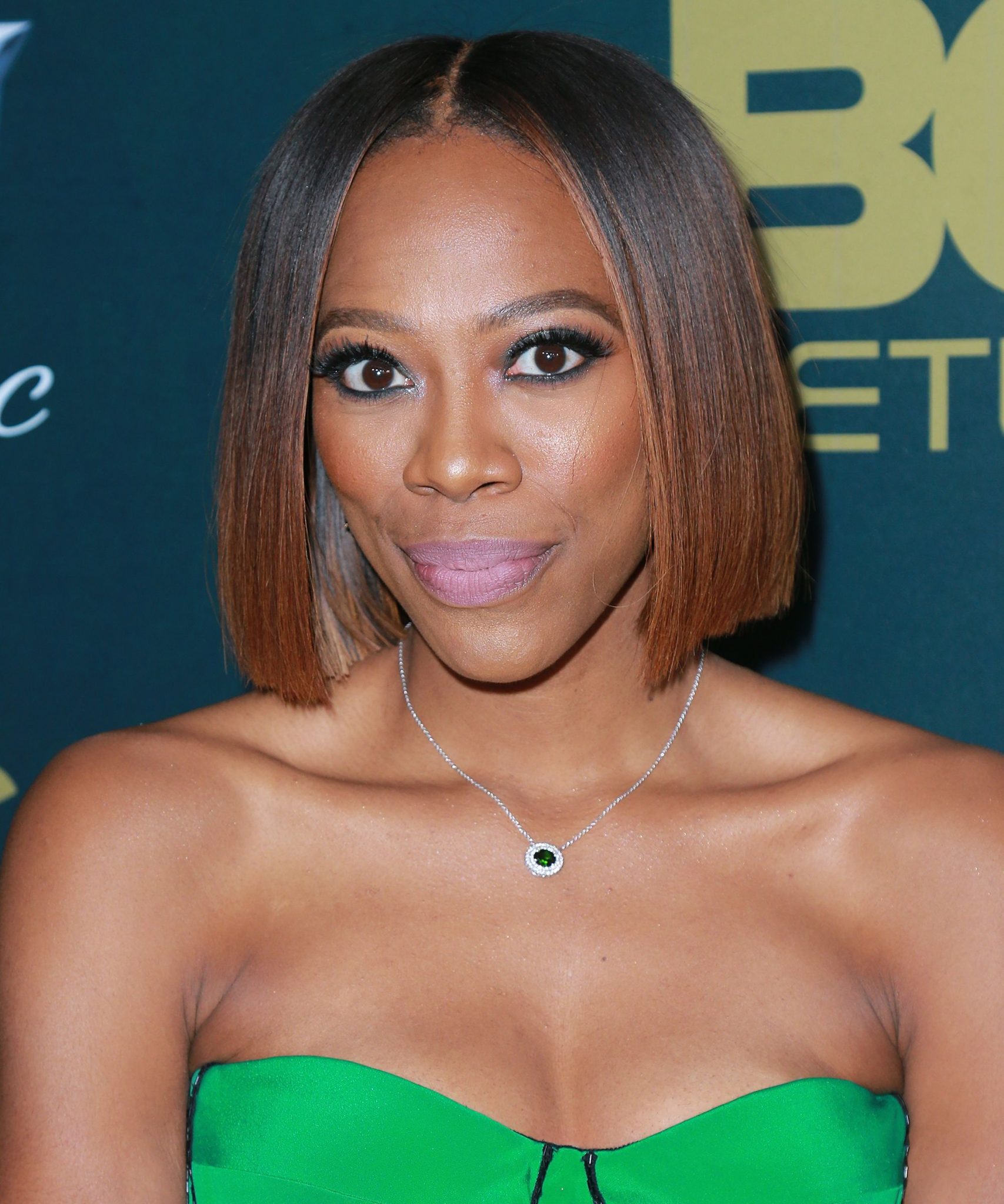 Yvonne Orji
This look works on all textures, but celebrity hairstylist Nicky B says that women with natural textures should avoid using water-based products when straightening. "The goal is to keep it straight and sleek for as long as possible," she says. "But using water-based products will take the hair back to its natural state."
Photo: Leon Bennett/Getty Images.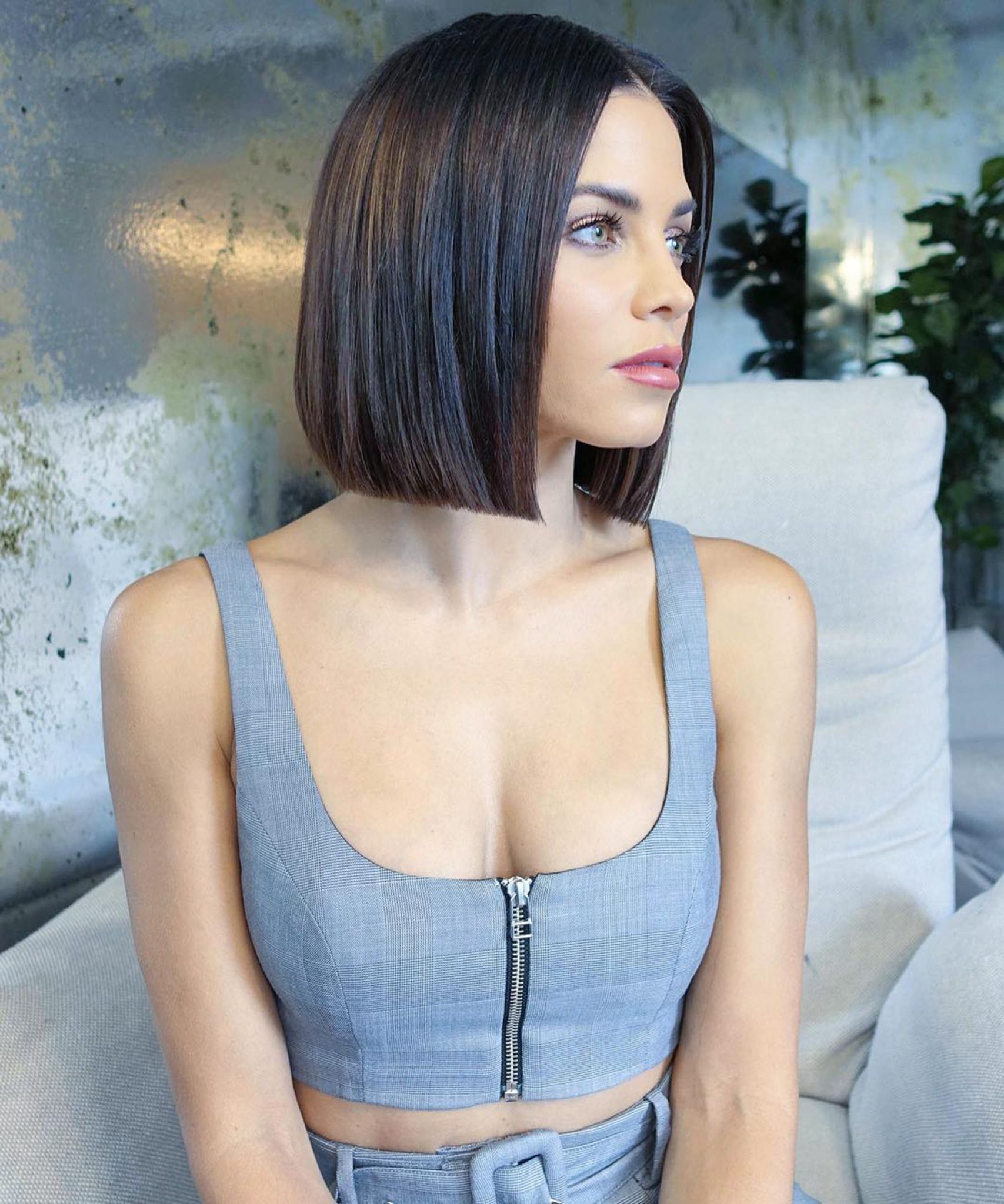 Jenna Dewan
The trick to this smooth look? Lawless flat ironed Dewan's hair in small sections, then applied SEVEN's Polish Balm on the first inch of the roots to tame the flyaway at top before running a small amount of shine serum through the rest of the hair for the glossy effect.
Photo: Courtesy of Cash Lawless.
Jourdan Dunn
Seems easy, right? It is, but it's still important that you use the right products, Lawless explains. "Using the wrong product for a glassy look can destroy your hair," he says. "For example, if you used a salt spray and applied the flat iron to your hair, you're going to be in a serious breakage situation."
@jourdandunn
Olivia Culpo
Culpo's Instagram page is just one big hair inspo board — and this glassy hair look validates it.
@oliviaculpo
Ashley Graham
Hairstylist Justine Marjan went all in for Graham's Met Ball look, cutting off most of the model's hair to create this sleek, blunt style.
@justinemarjan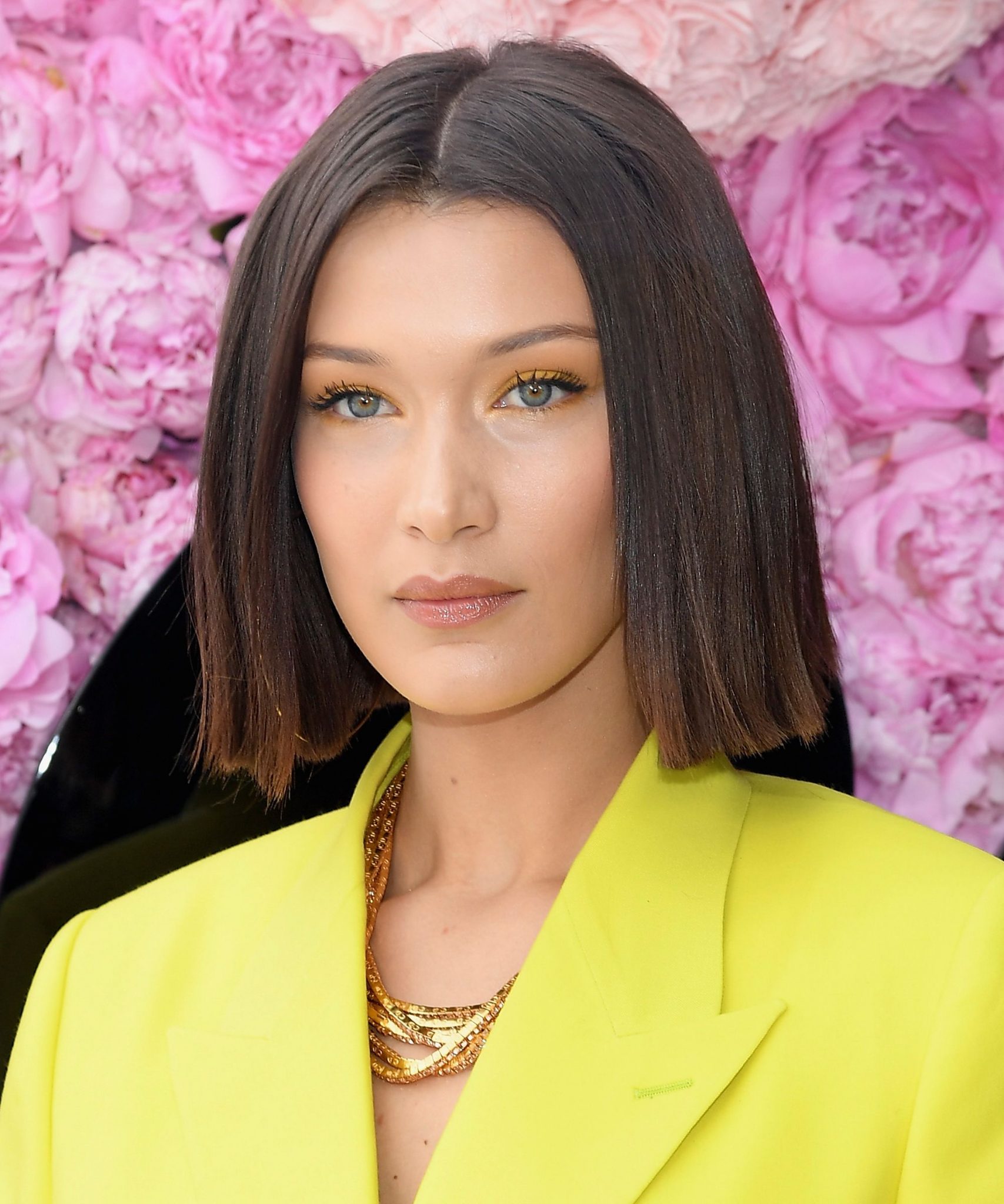 Bella Hadid
There's no talking of smooth bobs with Bella Hadid's name coming up — and for good reason. If you find yourself scrolling through her Instagram page, you'll discover that the model has been on the glassy hair trend for quite some time.
Photo: Pascal Le Segretain/Getty Images.

Naomie Harris
"For coarse textures, go no higher than 400 degrees with your flat iron," Lawless says. "Start lower, and if you need more, slowly kick it up. This one little trick will save you from frying your hair."
Photo: Karwai Tang/WireImage.
Dua Lipa
Lipa's cut is as sharp as it is shiny.
@dualipa
Khloe Kardashian
Hairslist Tracey Cunningham had Kardashian camera-ready with zero frizz.
@khloekardashian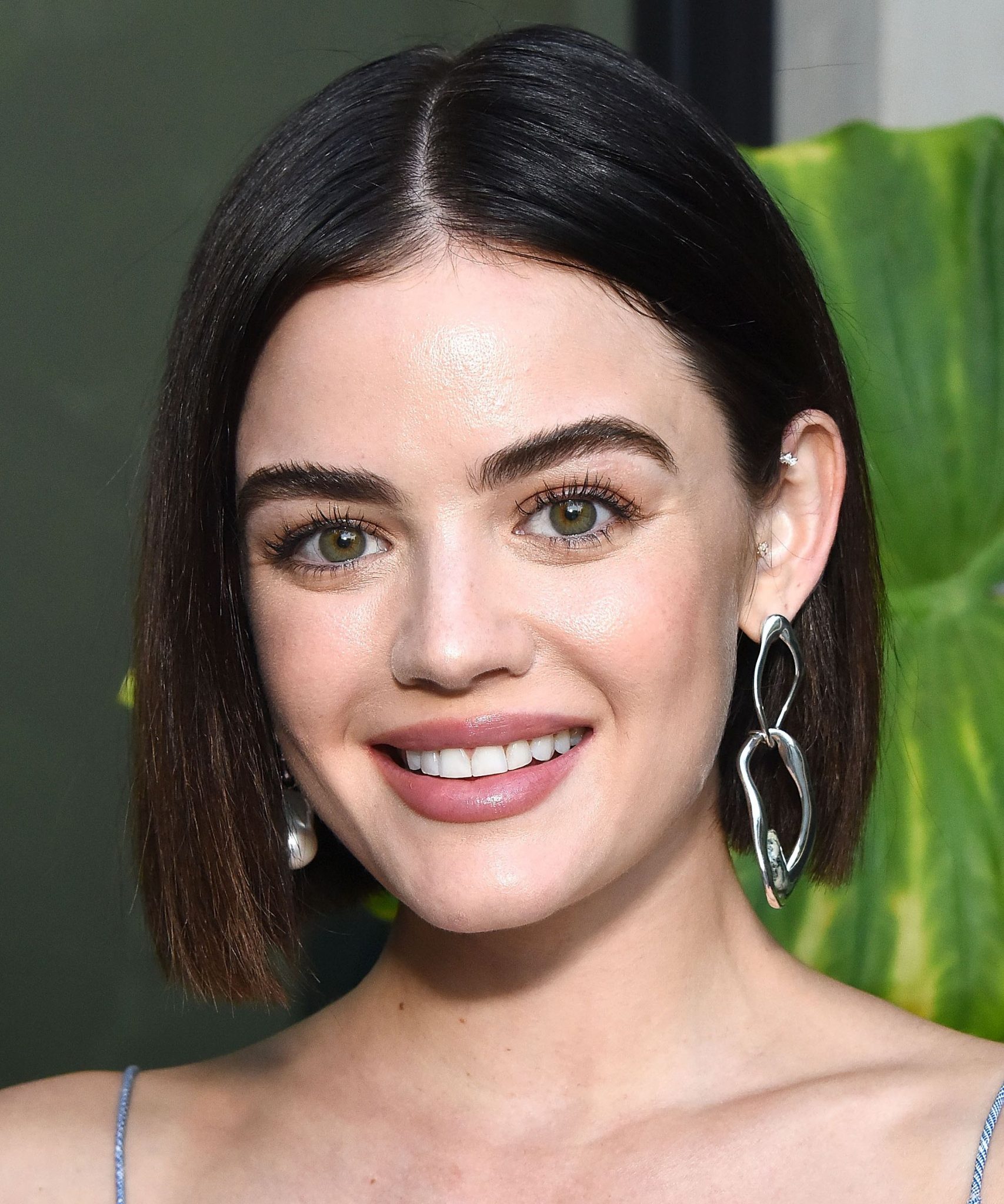 Lucy Hale
If you want your glass hair to last longer, Nicky B says that dry shampoo is your best bet. "It helps reduce moisture buildup so this will help keep that perfect sleekness longer," she says.
Photo: Araya Diaz/Getty Images.
Click HERE to read more from Refinery29


Loading ...