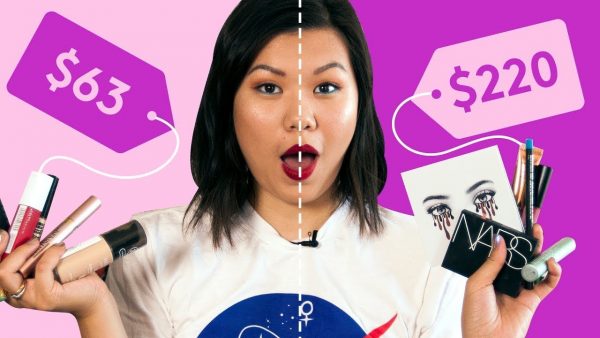 There are a handful of advancements that have changed the beauty industry so profoundly, we'd liken their creation to the invention of the wheel — and one of them is long-wear makeup. If all this sounds a bit dramatic, we hear you, but anyone who's carefully applied a face of makeup only to have it smudge, fade, or totally disappear in a matter of hours knows the struggle.
We've made strides in almost every category of long-wear makeup, but lipstick remains the most interesting to test — namely, because a good one must be comfortable, pigmented, kiss-proof, and food-proof. And as we approach Valentine's Day, what better time to start looking into a reliable formula? Whether you plan on dancing with your squad, doing date night with your S.O., or anything else, a budge-proof lipstick is a welcome addition.
We asked our editors to share the drugstore lipsticks they fall back on when it really counts — check them out in the slides ahead.

"I was in a rush to a birthday celebration one day and took my makeup with me to put on in the Uber, only to realize that I left my lipstick behind. Luckily there was a drugstore right near the venue, so I popped in and grabbed whatever I saw first. I'm so happy I did: This creamy formula didn't dry out my lips, lasted through a long night of drinking, and the color was divine. It's been in my stash ever since." — Thatiana Diaz, Beauty Writer
L'Oreal Paris Colour Riche Matte Lip Color, $5.99, available at Target

"This lipstick is called Superstay Matte Ink for a reason. I wore it for 12 straight hours, during which I biked across the Brooklyn Bridge in 90-degree heat and ate two slices of pizza. It didn't budge. Needless to say it'll see you through a makeout session, too. " — Mi-Anne Chan, Beauty Writer & Host
Maybelline Maybelline New York SuperStay Matte Ink Liquid Lipstick, $7.37, available at Jet

"Sometimes, the most important box a lipstick has to check is that I can put it on without a mirror. Bonus points if it looks like a wine stain for hours." — Sam Sasso, Beauty Writer
Revlon Lip Balm Stain, $4.29, available at Target

"Every once in a while, I'll remember the beauty of a really good lip stain. Unlike liquid stains or lipsticks, this marker looks surprisingly natural on your lips and isn't messy at all. Bonus: It's foolproof for subway application and lasts through even the oiliest salad for lunch." — Sasso
COVERGIRL Outlast Lipstain, $8.99, available at CVS

"This lipstick won't last through a heavy makeout session, but it does stay vibrant through the more PG activities, like meeting the parents or dancing — with plenty of space between you two — at the conservative family wedding." — Cat Quinn, Beauty Director
Revlon Revlon Super Lustrous Lipstick,, $6.02, available at Jet

"I have to admit that I, like many people, don't love the feeling of a matte liquid lipstick. Of course, I also hate when my lipstick fades or transfers onto my Champagne flute while trying to live my best life. This is my
red lip compromise
: The color is vibrant, and the formula is comfy and lightweight. Plus, it lasts all night — as long as you don't makeout with anyone or throw back three slices of pizza. For that, you'll need a quick touch-up." — Lexy Lebsack, Senior Beauty Editor
Milani Cosmetics Color Statement Matte Lipstick, $5.99, available at Milani Cosmetics

"If you and your boo love to eat — like me and my bf — this formula from the Lip Bar will last through burgers, tacos, and pizza. (I checked!) It never fades or smudges, but doesn't get that sandpapery feel of some liquid lipsticks. The color is super opaque, so you'll be sure to get a few 'W hat lipstick are you wearing?' compliments while you're out on your date." — Aimee Simeon, Beauty Writer
The Lip Bar The Lip Bar Matte Liquid Lipstick, $12.99, available at Target
Click HERE to read more from Refinery29



Loading ...