Now that we've thoroughly devoured all of the September issues and our cover curiosity is satiated, we've also gotten the chance to really study those stunning ad campaigns padding the front of our fave glossies. And what we've seen is nothing short of amazing.
We know the covetable clothing and decadent accessories probably caught your eye first, but what left a lasting impression on us were all of the stunning makeup looks.
Blush gone bonkers, nudes with attitude, and color galore — we were mesmerized. We couldn't let all that glam go to waste, so we asked three top editorial makeup artists — Rachel Wood, Vincent Ford, and Marina Gravani — to break down our favorite faces from the fall ad campaigns and show us how to score the looks we loved most.
Read on for their tips, tricks, and product picks, then get ready to welcome autumn with a fresh, fashionable new look.

Chanel's Sculpted Nude
There's a lot of structure happening this season, both for the body and the face. According to makeup artistVincent Ford, Chanel's sculpted beauties manage to straddle the line of soft and bold thanks to a combination of strong contouring on the cheeks and eyes, and muted tones for the rest of the face.
How To Pull It Off: Ford recommends choosing a cheek color close to your skin tone to contour your cheekbones, then apply a natural blush above the contour, while trying to avoid the apples of your cheeks to keep the depth of the contour. Apply a highlight shade at the top of your cheeks.
For the eyes, Ford says to keep the colors matte and cool-toned, like mauves, smoky purples, and grays. Wash the shadow from your lash line to the brow bone. Blend up toward the temple from the eye — this will not only pop the top of the cheekbone, but will also elongate the eyes, says Ford. Finish the look with a natural pink or nude lipstick that isn't shimmery. Apply the color onto the lips and blend slightly at the lip line with a cotton swab, so that there are no defined edges.
Make Up For Ever Eyeshadow in #76 and #15, $20 each, available at Sephora; MAC Eyeshadow in Quarry, $15, available at MAC; CoverGirl Lip Perfection Lipstick in Romance, $6.99, available at Drugstore.com.

Lanvin's Sexy Brow
"This new take on a fresh face has the added bonus of a strong, sexy brow, like actress Lily Collins," says makeup artist Rachel Wood. Best of all, she says it can be achieved in just three easy steps.
How To Pull It Off: Wood suggests lightly patting with your fingers to apply a medium-coverage, matte-textured foundation — this will give you a more natural finish. Use a multiple stain product on the apples of each cheek, as well as to the lips to give a fresh, sheer stain. Fill in your brows with shadow, accentuating the top arch of the brow to give drama, then brush up the hairs on the brows with an eye brow gel to keep in place, or Wood says you can use a toothbrush with hairspray.
NARS Sheer Matte Foundation, $42, available at NARS; Laura Mercier Brow Powder Duo, $24, available at Nordstrom; Benefit Benetint, $29, available at Benefit.

Miu Miu's Colorblocked Face
Leave it to the Sev to take a whackadoodle trend and make it totally covetable. According to Wood, if you're daring enough (we are), it can look amazing. "For the full effect, make sure you use a tone that's matte and vibrant," she says.
How To Pull It Off: Using either an eyeshadow pad or stiff eyeshadow brush, Wood says to apply your color, working it from the outer corner of the brows down to the top of the lid, until you hit the crease of the eye. Finish off with a tangerine cream- or satin-textured lipstick, or to soften the look, she suggests using a sheer, orange-toned gloss.
Make Up For Ever Eyeshadow in #72 and #2, $20 each, available at Sephora; MAC Lipstick in Morange, $15, available at MAC.

Oscar de la Renta's Retro Liner
"This ad is a '60s-inspired look — it's more about shading and liner, not color," says makeup artist Marina Gravani.
How To Pull It Off: Start off by applying a pinky-nude shadow to the lid, rounding out the eye at the crease. Using a shadow brush, apply a bright white shadow underneath your arch to make the eye color pop. Using a liquid liner, create a glossy, winged line. "Try to make the winged end first and connect it to the eye — this will make it easier to do," says Gravani. Next, take a black kohl pencil and drag it under the eye, connecting it to the wing from underneath. Gravani says to keep the pencil out of the rim of the eye for this look. Create a full lash using volumizing mascara.
For your face, Gravani reccommends a luminous, yet semi-matte finish, coupled with some subtle contouring just beneath the cheekbones. Use an illuminator on top of the cheekbone for what Gravani calls a "youthful sheen." Set with translucent powder and then apply a creamy nude color to lips and fill in your brows with a pencil.
Tom Ford Lip Color in Nude Vanille, $48, available at Saks; Dior Diorliner Precision Eyeliner, $34, available at Dior; Laura Mercier Matte Eye Colour in Cashmere, $22, available at Laura Mercier; L'Oréal Voluminous Carbon Black Volume Building Mascara, $7.49, available at Ulta.

Emilio Pucci's Dramatic Femme Fatale
This attention-getting look balances a bold eye with a vibrant and alluring lip for maximum impact.
How To Pull It Off: Gravani says to grab an eyeshadow palette in shades of plum and concentrate the darker colors on the lid using a shadow brush, then blend up using a "windshield wiper" motion, dragging the color out past the eye to extend the shadow. Then, apply a lighter hue on the lid and finish under the brow with the lightest color. "You will also take the darkest tone and drag it under the eye, blending fairly low," she says. Rim the eyes with a dark purple pencil and use a smudge brush to blend, then use a white pencil to line the inner rims and open up the eye area. Apply mascara on the top and bottom lashes, but leave your brows alone, as there is no emphasis on them in this particular look. In fact, Gravani says you can even lighten them up by brushing through them with a tiny dab of concealer.
Your face should have a matte finish, set with translucent powder, and the cheeks should have a rose hue applied into the hollows and blended upwards. Finish with a bold, matte red lipstick for extra drama.
Dior 5 Couleurs Eyeshadow Palette in #970 Stylish Move, $59, available at Dior; Laura Mercier Kohl Eye Pencil in Black Violet, $20, available at Laura Mercier; Vincent Longo Thinstick Lipstick in London, $27, available at Nordstrom.

Sonia Rykiel's Pop Blush
Wood calls this look "disco with a twist," because it's all about bright color and blush, blush, blush.
How To Pull It Off: Using a soft, fluffy brush, apply a bright eyeshadow on both the top lid and under the lash line, creating a wash of color in an oval shape around the eye. Curl your lashes and add a generous coat of mascara.
Using a small, round blush brush, apply a hot pink or fuchsia blush, starting on the apples of the cheeks and working the color up to the ear and into the hairline by the temples. Dust what's left of the color onto the temples for an elongated look. Finish with a bold red lip for, as Wood puts it, "wow power."
If the overall look is too daring for you, Wood says you can still get a ton of impact by focusing on one part of the face. "Just choose one area to concentrate on: The cheeks, eyes, or the full-on red lip paired with a clean and natural look makes for something special."
Lorac Pro Mascara, $23, available at Lorac; Illamasqua Powder Blusher in Thrust, $24, available at Sephora; Giorgio Armani Beauty Rouge D'Armani Lipstick in 401, $30, available at Giorgio Armani.

Tom Ford's Fierce Smoky Eye
In typical Tom Ford fashion, this look is all about the alluring, mysterious eyes.
How To Pull It Off: To start, Gravani says to use an eye primer on the lid to help intensify color. Then, using the darkest hue in your eyeshadow palette, apply it on the lid only, not going past the crease. Apply it underneath the eye as well. Using a warm brown shade, apply it just on top of the black using a blending brush and blend upwards taking it up towards the brow. Rim the upper and lower lash line (inner and outer) with a black kohl liner and smudge. Take the warm brown shadow and apply on the undereye, graduating the black pencil into the shadow. Apply mascara on top and bottom lashes.
For the face, create a glow using a luminous foundation, then use a puff to apply translucent powder to set. Apply bronzing powder on the outside of the cheeks blending circularly. Use a brow pencil to fill in brows, the fill in lips with a neutral lip pencil and lipstick.
Kevyn Aucoin The Essential Eyeshadow Palette in 3, $55, available at Barneys; Chanel Vitalumière Aqua Foundation, $58, available at Chanel; Laura Mercier Loose Setting Powder, $35, available at Macy's.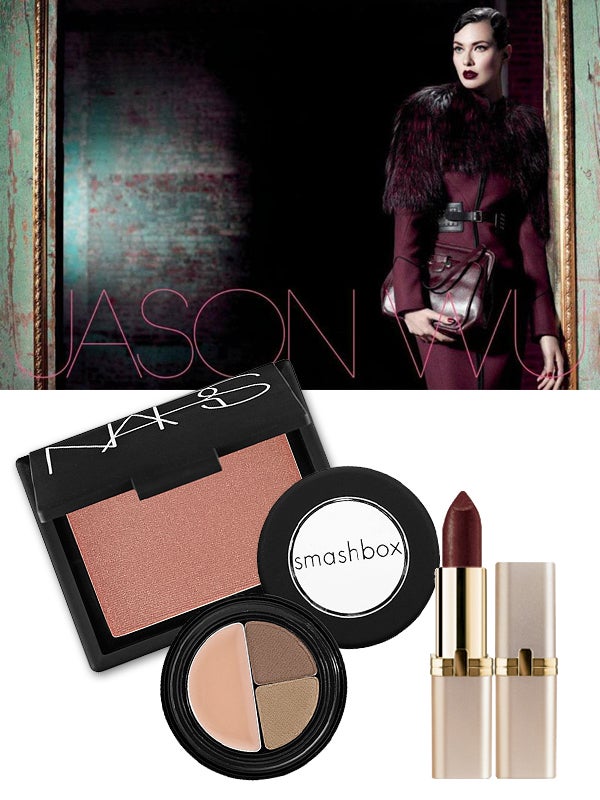 Jason Wu's Vamped-Up Lips
While the brows and blush in this look are strong, according to Ford, the focus here is all about the lip. "This deep burgundy lip is seductive and all the rage for this fall season," he says.
How To Pull It Off: To replicate this look, start off by defining the brows, keeping them full and shaped. "As this is a lip look, keep the eyes more natural and clean," says Wood. Start off with a neutral shadow and then focus on lining the upper eyelid and applying a few coats of black mascara.
Using a medium rose or berry blush, apply it from your hairline to the apples of your cheeks, keeping the color mostly in the hollows. Achieve the vampy lip look by opting for a deep red or purple hue. First, line your lips with a red or plum pencil making sure to define the peaks of your cupid's bow. Blend, then apply a lipstick or gloss on top of your lined lips.
NARS Blush in Sin, $28, available at NARS; Smashbox Brow Tech Trio, $25, available at Smashbox; L'Oréal Colour Riche Lipstick in Pure Burgundy, $5.99, available at Target.
Click HERE to read more from Refinery29.