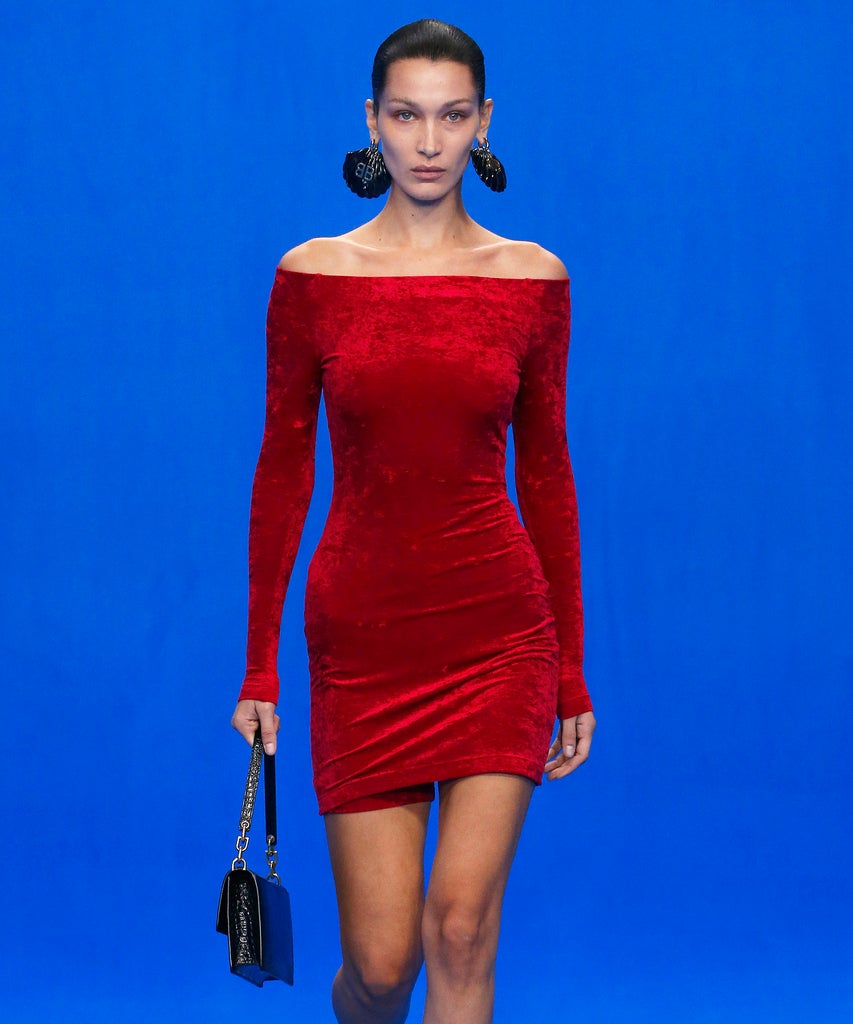 PARIS, FRANCE – SEPTEMBER 29: Model Bella Hadid walks the runway during the Balenciaga Womenswear Spring/Summer 2020 show as part of Paris Fashion Week on September 29, 2019 in Paris, France. (Photo by Estrop/Getty Images)
Bella Hadid has gone back to brown. Though the model definitely hasn't shied away from trying new hair trends, she has been noticeably less adventurous when it comes to deviating from her signature dark hair color, which is why we were all stunned when she decided to change things up and own her blonde roots this summer. But, just in time for Paris Fashion Week, Hadid has made the switch back to brunette, a look she premiered on Balenciaga's runway.
Blonde is actually Hadid's natural color, but she has been dyeing it darker since her teenage years. "I started dyeing my hair when I was 14. I dyed it black and blue, I wore eyeliner — I was a punk kid," she told Glamour in 2016. "I might want to go blonde eventually!"
"Eventually" turned out to be this summer: Hadid had an entire blonde hair evolution. In March, Hadid showcased a dirty blonde style on Instagram, which progressed into an ombré look in June. By August, her hair was "butterscotch blonde," a shade her colorist, Jenna Perry, compared to '90s-era Julia Roberts. It was perfect for summer — but now, she's back to classic Bella for fall.
It has been a busy few weeks for Hadid: for London Fashion Week earlier this month, she debuted a shorter haircut at a Burberry show. And so far this Fashion Week, Hadid has already walked for Balenciaga, Vivienne Westwood, Haider Ackermann, and Off-White. Her sister, Gigi Hadid, also walked that one.
Walking 4 @balenciaga ! Can't wrap my head around the genius @demnagvasalia having me, But from the bottom of my heart, to watch you work and be a small part of your large vision will be something that I will never forget….🖤The most radical team from the core…..nothing like the Balenciaga house ….next level 👑🌬🖤 @ingegrognard @hollismithhead 🖤
A post shared by 🦋 (@bellahadid) on Sep 29, 2019 at 8:08am PDT
In a 2016 interview with Allure, Hadid explained that she made the decision to stick with a darker brown color, in part, to differentiate herself from her sister: "I just have a darker personality. And my sister being blonde and me being brunette, it's a good situation," she said.
Click HERE to read more from Refinery29


Loading ...