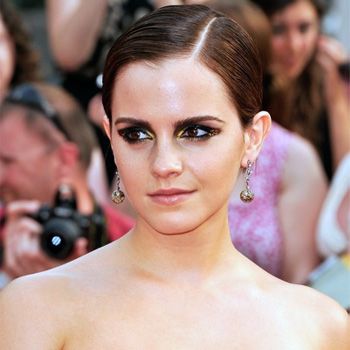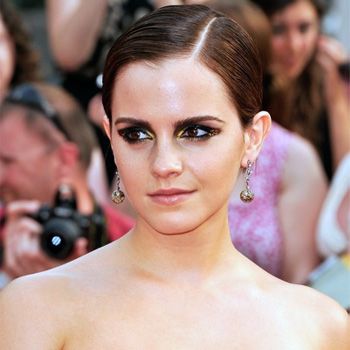 Emma Watson, the Harry Potter movie artist, is definitely on top of the latest eye
makeup trend
this season. Whether she puts on the smokey eye look or carries the soft and elegant colors, she sure knows to set precedence in introducing a new eye makeup trend. Emma is seen carrying the most natural makeup which seems as if she has applied no makeup at all. The artist has a naturally
beautiful skin
texture, has thin lips and full brows. Here is an insight to the
latest eye makeup trend
she has brought forward.
Green and Minty Eye Makeup
Her latest eye makeup trend is the green and minty eye colour she had put on during a film screening at NYC. Makeup artists did anticipate that "minty, turquoise-y blue-green" will be the new eye makeup trend in Spring 2013 and Emma decided to be the first to carry it out. Her eye colour was though not very turquoise but was definitely green and minty. The brightness in the eyes was balanced with a silver lining on her lids that helped mellow down the brightness of the green and bringing a very dazzled and melodious look in her eyes. The makeup was surely cool to carry and without doubt will be seen as a new eye makeup trend.
Smokey Eye Makeup
Earlier this year, Emma's smokey eye makeup was the latest eye makeup trend. Unlike the typical smokey eye, Emma introduced new shades of gold and yellow apart from the regular black and grey used to smudge the eyes. She carried the makeup by adding a little shade of green and gray in the eyelid and bright yellow and gold shade at the inside tip of the eye. The brightness in her eyes, along with the shades of grey and black, balanced her overall appearance with a flawless skin and soft arched brows.
If you wish to follow her eye makeup trend, start by applying a light moisturizer on your face and have an even coverage. You can also mix your moisturizer with a liquid highlighter which will give you radiant and glowing skin. Arch your eye brows. Emma has soft arched brows and you might have to grow your brows to get a full look. Over arched brows give a very crooked and aged impression. Use a light peach blush or pinch your cheeks a little to get the natural pink cheeks for a young look. Now copy her eye makeup trend and finish off with a dark colored eye liner on your upper eyelash and a white eyeliner pencil on the inner rim of your lower lash. Finish off by applying a lip gloss or a nude lipstick.
Click HERE to read more from Fashion Central.