This article was last updated on April 16, 2022
Canada:

Oye! Times readers Get FREE $30 to spend on Amazon, Walmart…
USA:

Oye! Times readers Get FREE $30 to spend on Amazon, Walmart…
The holidays present quite the conundrum — on the one hand, it's the busiest social season of the year, but on the other, it's unbearably cold out there. We love nothing more than getting all dolled up from our heads to our toes, but we're less fond of stepping outside and having the wind whip our hair into a frenzy, cause our eyes to water into a full-blown mascara meltdown, and chap our skin and lips into a flaky mess.
Lesson Learned. Since looking fabulous and harsh winter weather don't really go hand-in-hand, it's important to arm yourself with primpers that gussy you up and nourishing treats that help protect youfrom the ravages of Old Man Winter. Here, you'll find our list of holiday beauty essentials to up the glam factor and keep the rest of you from falling apart. Because it's hard to look chic when you're suffering from a severe case of wind-chapped everything.

1. The Liquid Liner — Smoky eyes are all well and good, but we prefer a thick black line on our lids when it's time to party. It adds instant definition to the eyes, keeps your look sophisticated, and stays put without smudging into that weird raccoon mask by sundown.
Essence Cosmetics Super Fine Eyeliner Pen, $2.99, available at Ulta; By Terry Ligne Blackstar Liquid Eyeliner, $43, available at Barneys.

2. The Scented Body Butter — Scaly winter skin calls for a body moisturizer with a bit more muscle. A thick, whipped butter — scented with a heady holiday aroma like cranberry or night-blooming flowers — will keep your skin velvety smooth and subtly scented.
The Body Shop Cranberry Joy Body Butter, $19, available at The Body Shop; Nest Midnight Fleur Body Cream, $50, available at Neiman Marcus.

3. The Festive Candle — Put your abode in the holiday spirit with a scented candle that looks just as lovely as it smells. Scents with spicy undertones or wood inspirations tend to feel extra-appropriate for this time of year.
Agraria Bitter Orange Woven Candle, $55, available at Bergdorf Goodman; Illume Balsam & Cedar Starlet Ceramic Candle, $24, available at Bliss.

4. The Curling Iron — Fancy fetes call for even fancier 'dos, meaning it's time to bust out that curling iron. A large-barreled iron will help you create everything from retro-glam waves to a chicly curled faux bob to top off your party frock in style.
Sedu Revolution Clipless Curling Iron, $119.99, available at Amazon; Gold 'N Hot Titanium Spring Curling Iron, $39.99, available at Folica.

5. The Dark-Circle Eraser — Late nights and no sleep take their toll on your body, but you're more apt to notice their effects on your face — specifically with those super-sized shadows that seem to have bloomed beneath your eyes overnight. That's why it's definitely a good time to be diligent with the eye cream to help soothe those puffy and tired eyes.
Bakel Cool Eyes, $119, available at SpaceNK; Nip + Fab Dark Circle Fix, $15.95, available at Target.

6. The Nourishing Hair Mask — The deadly combo of moisture-sucking indoor heat and super-drying winter temperatures means your dried-out strands need extra TLC around this time of year. A restorative hair mask, used twice a week, will help keep your tresses nourished and strong all winter long.
Christophe Robin Regenerating Mask With Prickly Pear Oil, $64, available at Woodley & Bunny; NeutrogenaTriple Moisture Deep Recovery Mask, $5.49, available at Walgreens.

The Soothing Serum — Red, chapped skin is not a good look on anyone, but unfortunately it's almost inevitable right now. Many of the skin-care potions you use year-round can be too harsh on irritated skin, so switch out those drying acids and exfoliators for calming serums that soothe and repair damage.
Jurlique Soothing Herbal Recovery Gel, $48, available at Saffron Rouge; Dr. Sebagh Rose De Vie Serum, $250, available at Barneys.

8. The Blinged-Out Lashes — It's not a party until someone shows up with glittery faux lashes. A hint of sparkle on the lash line — in the form of shimmer or tiny crystals — adds some razzle dazzle to your holiday look while also making your fringe look full and lush.
Sephora + Pantone Universe Gemstone Faux Lash Set, $12, available at Sephora; Beauty Is Life Lashes Celebration, $27, available at Barneys.

9. The Sparkly Nail Polish — Like a sequin dress for your nails, sparkly polishes add a festive flash of dazzling color, turning your digits into the perfect party accessory.
Sally Hansen Gem Crush Nail Color, $6.24 each, available at Walmart; The New Black Party Rock Nail Polish Set, $32, available at Urban Outfitters.

10. The Glitzy Hair Clip — A crystallized barrette is the perfect finishing touch for any holiday hairstyle. Pair it with a classic updo, or make it look fresh and modern by pinning one into an artfully disheveled look.
Jennifer Behr Crystal Willow Leaf Barrette, $198, available at Jennifer Behr; Ban.do Crystal Crush Bobbi, $25, available at Ban.do.

11. The Healing Hand Cream — Keep your mitts from cracking by slathering on a cream that's packed with essential nutrients and healing oils. Be sure you're applying multiple times a day — all that dry air and hand-washing only makes them more sensitive.
Rodin Olio Lusso Crema, $80, available at Rodin; Love + Toast Gin Blossom Shea Butter Handcreme, $9, available at Soap.com.

12. The Hangover Helper — Unless you're a teetotaler (more power to you), a hangover is a sad eventuality of the season. But, don't let feeling crappy get in the way of partying like a rock star — be sure to stock up on hangover remedies that help you beat that nausea, headache, and exhaustion into submission so you can do it all over again the next night.
21 Drops 04 Hangover Essential Oil Rollerball, $29, available at Sephora; Blowfish For Hangovers Effervescent Tablets, $2.99, available at Drugstore.com.

13. The Glowing-Skin Powder — Enliven dull, lackluster winter skin with an illuminating powder. A few swirls on your cheeks, browbone, and chin will help put the radiant glow back into your complexion.
Bare Escentuals Ready Luminizer, $26, available at Bare Escentuals; Chantecaille Rose Petals Highlighter Powder, $74, available at Nordstrom.

14. The Hydrating Hair Treatment — Prevent and repair static-y, frizzy, frazzled manes with a hydrating treatment that protects and heals your strands by locking in moisture and smoothing out the hair cuticle.
Pantene 2 Minute Moisture Masque, $6.99, available at Drugstore.com; Garrett Markenson Reverie Milk Leave-In Nourishing Treatment, $38, available at Beautyhabit.

15. The Jewel-Toned Lacquer — Everyone expects you to rock red or gold on your tips, so throw them for a loop by picking a bright and pretty jewel tone. Amethyst, sapphire, and teal hues look particularly fetching, especially when done with a metallic finish or accented by a few swipes of sheer glitter layered over top.
Illamasqua Nail Varnish Duo, $25, available at Sephora;Sephora By OPI Nail Colour in What Film Noir You In?, $9.50, available at Sephora.

16. The Lip Conditioner — We're not going to insert some lame line about piling on the balm to get your lips ready to be kissed under the miseltoe — that whole you-have-to-kiss-me-because-this-plant-says-so thing is kind of creepy to us. But, we will say that chapped lips suck, big time. So, if you don't want to deal with a painful, flaky pout, now would be a good time to start layering that ish on.
Belmondo The Balm, $14.95, available at Belmondo; Natura Bissé Lip Recovery Balm, $65, available at Bergdorf Goodman.

17. The Long-Wear Lipstain — Give your lips a pretty flush that will take you from your cubicle to last call at the office holiday party with just a few swipes. It's the low-maintenance way to glam up your look — once it's on, you really don't have to worry about it for the rest of the night.
Pop Beauty Stain Stay Lip Stain in Brick Beauty, $16, available at DermStore; Smashbox Limitless Lip Stain & Color Seal Balm in Berry, $23, available at Smashbox.

18. The Makeup-Setting Spray — After spending a ton of time crafting the perfect party makeup, there's nothing more frustrating than watching it all slide off or fade away before your party has even begun. Preserve your hard work and keep your fete face in place with a setting spray — it will lock in your look and keep it from smudging and slipping off.
Urban Decay All Nighter Long Lasting Setting Spray, $29, available at Macy's; E.L.F. Makeup Mist & Set, $3, available at Target.

19. The Pocket-Sized Palette The holiday season is notoriously packed with social engagements, which means sometimes you have to go straight from one event to the next, with no time to freshen up. Make sure to stash a makeup palette in your purse for just such occasions, so you can revive on the fly.
Too Faced Glamour To Go Spun Sugar Edition, $22, available at Too Faced; Dior Celebration Collection Eye Palette, $65, available at Sephora.

20. The Metallic Eyeshadow — A molten metal gaze is provocative without being pushy and looks perfect when paired with a black liner and a scarlet lippie. Opt for a Champagne shade — it flatters a wide variety of skin tones and the golden shimmer will keep it from looking too Queen Frostine.
Laura Mercier Illuminating Eye Color in Gilded Platinum, $24, available at Nordstrom; L'Oréal Infallible Eyeshadow in Iced Latte, $7.95, available at Drugstore.com.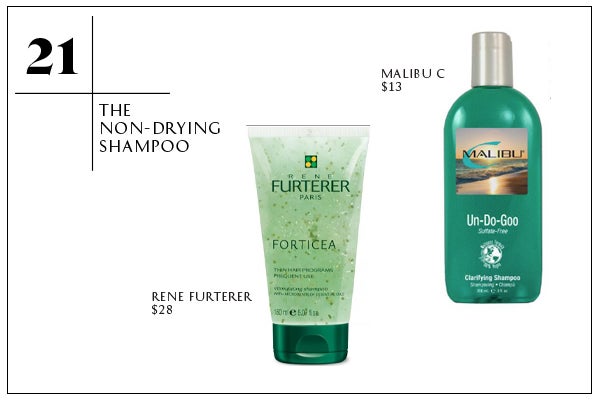 21. The Non-Drying Shampoo — All those pretty coiffs call for piling on the styling product, which means tons of build-up on your strands. A clarifying shampoo will help remove the dirt, excess oil, and product residue from your mane without stripping it of the hydrating natural oils it needs to stay healthy and supple.
Rene Furterer Forticea Shampooing Stimulant, $28, available at Dermstore; Malibu C Un-Do-Goo Clarifying Shampoo, $13, available at Malibu C.

The Moisturizing Face Wash — Take it all off —your makeup, that is. Choose a cleanser that will remove your long-wear foundation and super-dark liner without drying out your skin in the process.
Kahina Giving Beauty Facial Cleanser, $98 for 3-piece set, available at Refinery29 Shops; Simple Moisturizing Facial Wash, $6.99, available at Soap.com.

23. The Seductive Scent — Trade in those fruity, light scents for a perfume with a bit more depth. The cold weather calls for fragrances with spicy, powdery undertones that radiate warmth.
Nude by Rihanna, $59, available at Macy's; Tom Ford Jasmin Rouge Eau De Parfum, $280, available at Nordstrom.

We're equal-opportunity red-lip wearers — there's really no time of year this color doesn't look amazing — but a creamy crimson pout feels especially appropriate for the holidays. A matte texture gives lips a velveteen finish that looks extra luxe and lush.
Nyx Matte Lipstick in Perfect Red, $5.99, available at Ulta; Bobbi Brown Creamy Matte Lip Color in Jenna, $24, available at Bobbi Brown.

25. The Shimmery Gloss — Sparkle (sensing a theme yet?) looks just as ravishing on your lips as it does on the rest of your person. If a sparkle lipstick gives you a bad '90s flashback, opt for a gloss instead — it will give you all the shine you crave without being too overpowering. Or, layer a coat of it on over your fave lipstick to give an old shade new, party-ready life.
Milani Haute Flash Full Coverage Shimmer Lip Gloss, $7.49, available at Drugstore.com; Givenchy Gelée D'Interdit Smoothing Gloss Balm Crystal Shine in Enchanted Silver, $27.50, available at Sephora.

26. The Shine-Enhancing Spray — Frizzy, flyaway strands are not conducive to a polished party look. Tame your wayward mane with a shine lotion — a few spritzes on top coupled with some smoothing hand action will create a sleek, glossy look that will instantly elevate your 'do.
Tresemmé Smooth No Frizz Shine Spray, $3.98, available at Walmart; Blow Pro Time To Shine 3D Illuminating Mist, $21, available at Ulta.

27. The Travel Makeup Bag — Help make holiday travel a little less infuriating by investing in a beauty bag that will organize and store your essentials while you're away from home. Is a sparkly bag or cute bird pattern going to make the TSA agents and long lines any more bearable? Probably not, but they're not going to hurt, either.
Apple And Bee Carry All Traveler Cosmetic Case, $61.95, available at Beauty.com; Nordstrom Shimmer Cosmetic Bag, $22, available at Nordstrom.

28. The Essential Vitamins — Late nights, drinking, and general overindulgence around this time of year can lead to you feeling rundown and generally blah. Do yourself a favor and take a multi-vitamin to help keep yourself in somewhat tip-top shape. Sorry guys, but that meat-and-cheese plate isn't going to cut it, nutrition-wise.
Be Well By Dr. Frank Lipman Complete Multivitamin, $46, available at Be Well By Dr. Frank Lipman; Nature Made Multi Adult Gummies, $12.99, available at Drugstore.com.

29. The Volumizing Spray — Locks feeling limp and sad? Pump some life into tired tresses with a hit of volumizing spray — it will lift the roots and help give you a great foundation for an updo.
John Frieda Luxurious Volume Blow Dry Lotion Root Booster Weightless Spray, $5.99, available atDrugstore.com; Serge Normant Meta Lush Volumizer, $23, available at BeautyBar.

30. The Lash Enhancer — No holiday party look is complete without a hit of lash-enhancing mascara. Formulas that thicken and lengthen without clumping will help give definition and frame your eyes.
Guerlain Maxi Lash, $30, available at Sephora; CoverGirl LashBlast Clump Crusher, $6.99, available at Soap.com.
Illustrations by Ammiel Mendoza
Click HERE to read more from Refinery29.
You can publish this article on your website as long as you provide a link back to this page.